Are you looking for a 16ft French Fry Trailer? Look here! In the following, there is our most popular custom 16ft French fry trailer. You will love it when you see it. This is a French fry trailer we have manufactured for one of our customers from Bahrain. Our customer mainly use it to sell fried food. With this fry trailer, our customer not only can supply standard French fries, but also a wide array of choices such as fried fish, chicken, and more. We can manufacture a similar one for you or customize one according to your real demands.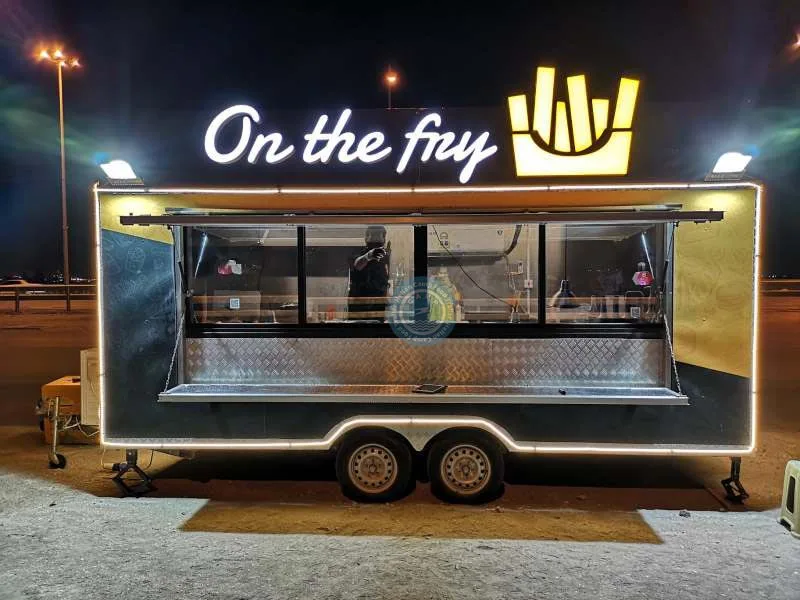 Configuration Of This 16ft French Fry Concession Trailer
As we can see from the photos, this French fry food trailer has a distinct, square shape. Its signage is eye-catching and very attractive when lit at night. Inside this fryer trailer, it has several essential pieces of equipment such as a countertop, preparation table, fryer, griddle, burger machine, and refrigerator. It fits two to three people and is doing quite well in terms of business. All in all, this trailer shows a lot of practicality and promises a high return.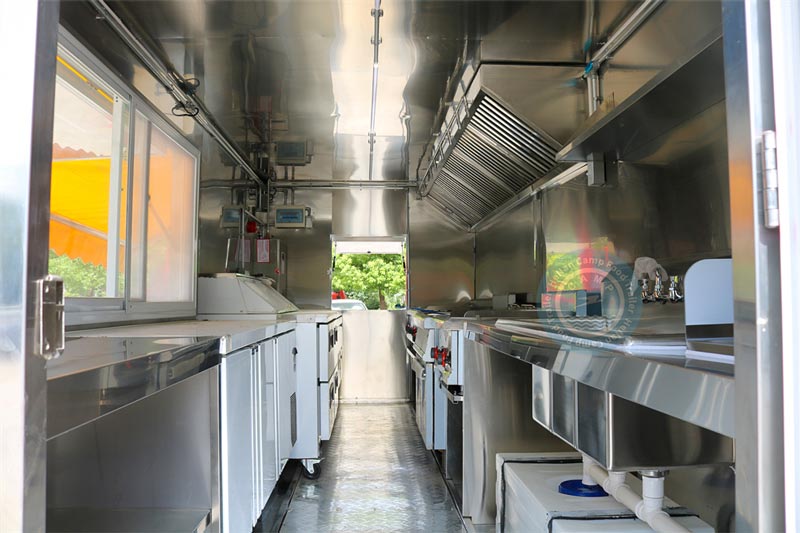 Internal Configuration
Additionally, the French fry food trailer is spacious enough to comfortably accommodate 2 or 3 staff.
Furthermore, there are also plenty of power outlets inside the trailer, giving you the opportunity to power multiple electrical appliances at once. Plus, with the 16ft of internal space, you can quickly load and unload your supplies.
Also, the French fry trailer for sale also comes with an ergonomic pull-out counter for convenience and better customer interaction. And, the two big windows provide ample natural light and a good view of the surrounding area, so customers can easily find the food trailer.
Likewise, the French fry food trailer has a durable mesh canopy, which makes it ideal for outdoor events. And, it's safe and secure, with a streamlined operation, safety features, and an integrated fire suppression system.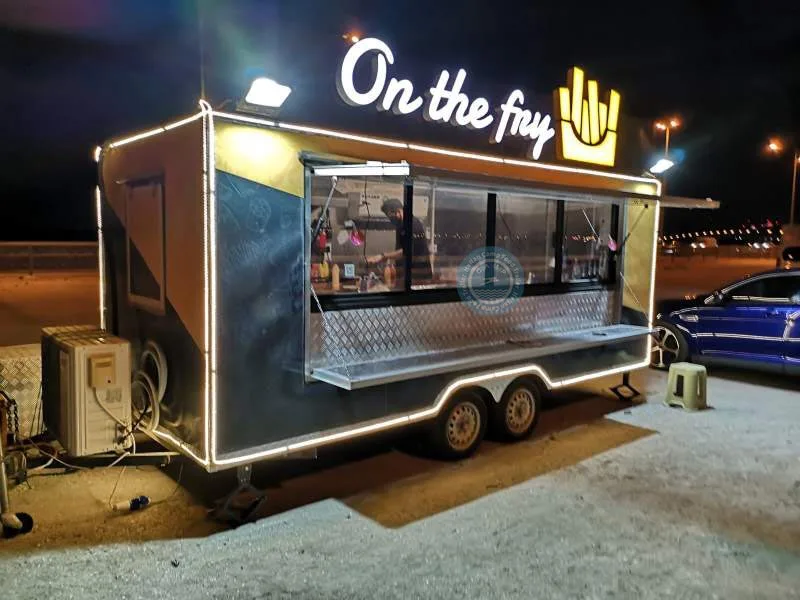 External Overview – Modern Design
Moreover, the sleek and Modern Design of the trailer helps to attract customers. Its lightweight construction makes it easy to tow and maneuver in tight spaces. Its appealing graphics will surely draw the attention of many people. Furthermore, the trailer has a beautiful and bright exterior, which can easily be customized for specific needs.
In conclusion, the 16ft French Fry Food Trailer is the ideal choice for anyone looking to serve delicious snacks on the go. It is functional, efficient, and easy to use. Ready to get started? Contact us today!
How About 16ft French Fry Trailers Prices
On average, Standard models of 16ft French fry trailers for sale can start from $5,000. However, as a professional food tailer manufacturer and exporter in China, Henan Camp Industrial Co., Ltd is able to provide customers with quality French fry trailers at a reasonable and competitive price. Contact us to get a free quote now!
Factors Influencing The French Fry Food Trailer Price
When it comes to French fry trailers, finding the right price that meets your needs can be a challenge. Nonetheless, the price range can be wide-ranging and depends on several factors.
First, the size of the trailer should be taken into account.  Second, the configuration of kitchen equipment inside the food trailer. Third, the raw material of the French fryer trailer. Our food trailer can be made of stainless steel or galvanized sheet. Of course, the different materials, and the different prices. In conclusion, The prices of French fry trailers will vary with changes in size, internal equipment, and raw materials.
Internal Configuration
Furthermore, the price can vary depending on the equipment included. Standard equipment is typically included in the trailer, such as griddle, fryer, sir fryer, oven, deep fryer, storage compartments, and a generator. Additionally, depending on your needs, you can purchase additional features or upgrades like specialized kitchen tools, signage, lights, water tanks, and air conditioners. Ultimately, the more features and tools you wish to add, the higher the overall cost will become.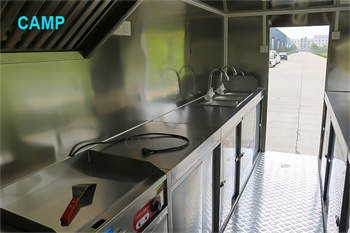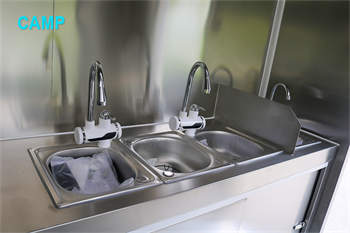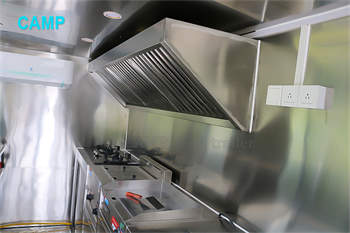 Type Of Raw Material Used
Additionally, the type of material used is a major factor in the price. Different 16ft French fry trailers can be made out of galvanized steel, or stainless steel. Depending on the make and model, the quality and durability of each material varies.
Aluminum is lighter and easy to maintain, however, may not stand up to normal wear and tear as well as other materials. Galvanized steel is ideal for trailers that will endure more rugged conditions and more abusive use. Stainless steel is resistant to scratching and denting and also provides a polished shiny look, many customers like it.
In the end, you must carefully evaluate your specific needs and then calculate your budget to get the most suitable 16ft French fry trailer. With so many options available and the importance of finding the right trailer that works best for you, you're sure to make an informed decision that will be worth your while.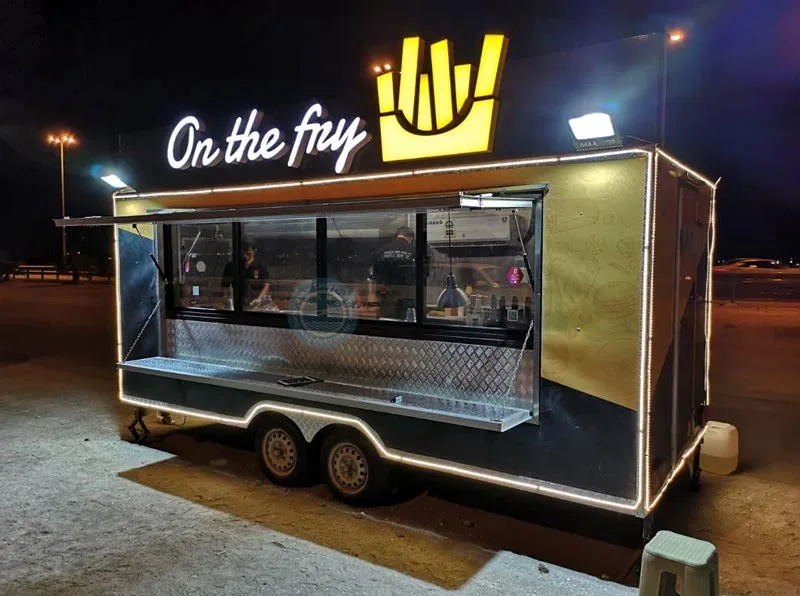 Contact Camp To Get Custom 16ft French Fry Trailer For Sale
Are you searching for french fry trailers for sale near me or french fry truck near me? Don't hesitate to contact Henan Camp now! As a food trailer manufacturer, we can supply customers french fry concession trailer for sale at factory price! That means, you can get a very competitive price from us! What's more, we are very experienced. Every year, we export several hundreds of food trailers to oversea countries. You can see our success cases here. In addition, we are familiar with the regulations of many countries. You can buy our fryer trailer for sale without worries. Just contact us now! Leave a message in the form below, our sales will contact you as soon as possible.