A 18 foot food trailer is a type of mobile food vending vehicle. People often pull it with a truck or other large vehicle. In fact, 18ft refers to the length of the trailer. Typically, people use a 18 ft food trailer to transport and serve food at events such as festivals, fairs, and other outdoor gatherings.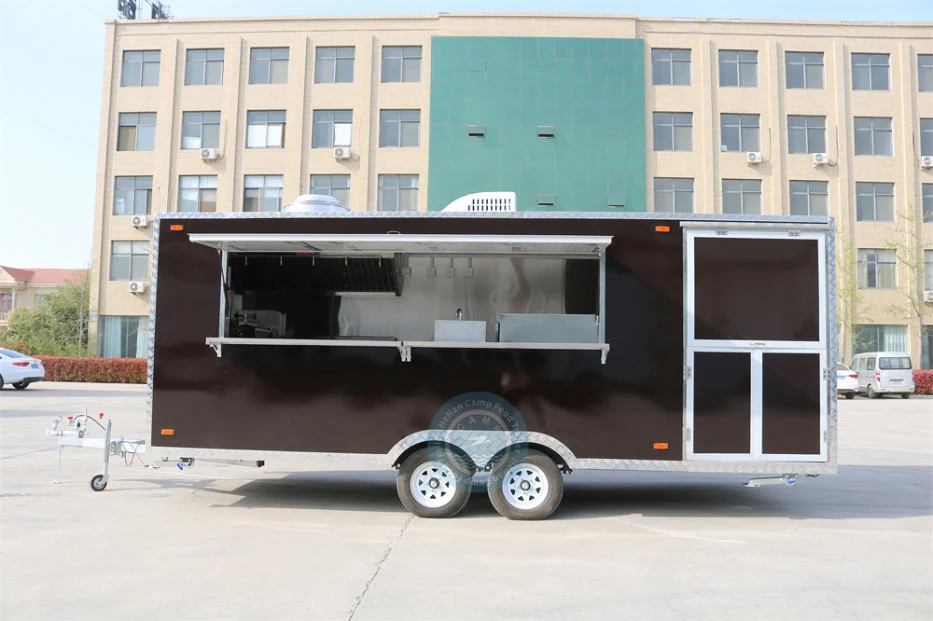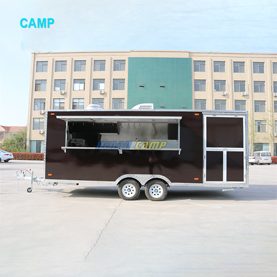 18 Foot Food Trailer For Sale
Material: galvanized steel
Inner equipment: customizable
Size: customizable
Typically, a 18 foot food trailer has a large kitchen space, including a stove, refrigerator, freezer, sink, and countertop. Also, there may be additional equipment such as a grill, deep fryer, and other food preparation equipment. In general, the trailer has windowed sides and a serving opening, allowing customers to order and receive food without having to enter the trailer. Plus, the trailer can also has a canopy to protect customers and staff from the bad weather.
Customer Feedback Of Camp 18 Foot Food Trailer
This 18' food trailer for sale was built for one of our customers from Slovenia. Indeed, this attractive food trailer is fully loaded and a golden goose indeed. There are griddle, refrigerator, salad bar refrigerator, range hood inside the trailer. In general, our customer use it to prepare burgers and salads for their customers. Inside the trailer, there is plenty of work tables and shelves, allowing multiple staff members to work together.
As we can see from the picture above, this 18ft catering trailer has several windows side by side so you can direct your customers to both the "Order Here" and "Pick Here" lines. Of course, we can build you a similar one or custom build your food trailer according to your budget and needs. Are you ready to turn your dream into a reality? Contact us now! Don't miss out on this exciting opportunity!
Interior Of A 18ft Concession Trailer
The interior of a 18-foot food trailer typically includes a kitchen area with appliances, counters, and storage space. In general, the kitchen may include a commercial-grade refrigerator, freezer, stovetop, oven, microwave, sink, and prep area. Plus, counters may be made of stainless steel and often have shelves, drawers, and cabinets for storage. The following are pictures of some parts inside the 18ft concession trailer.
To emphasize, the interior structure of this 18 foot food trailer for sale will be customized acoording to customers' actual deamnd. Of course, we can customize the full kitchen equipment according to your real demand.
Benefits Of Buying 18 foot Food Trailer
The 18 foot food trailer is economical and practical due to its size. It can fit into a 20 feet container with ease, making it more cost-effective to transport than larger trailers.
With a 18ft concession trailer, you can take your business anywhere. You can easily move the concession trailer to follow the demand for your food, or even to different cities or states. This is a great way to expand your business and introduce your food to new customers.
A 18ft food trailer provides enough space for you to prepare and cook food, store supplies and equipment, and serve customers. You can also customize the interior to fit your specific needs.
Compared to a brick-and-mortar restaurant, setting up a food trailer is much faster. You don't need to go through the lengthy process of obtaining permits, finding a location, and getting the necessary equipment.
How About 18 Foot Food Trailer Price In Camp
The cost of a 18 foot food trailer can range from several thousand USD to $20,000 depending on the condition, features, customization, and other factors. At Camp, we can customize any food vending trailer according to your needs and budget. Contact us now to assist you with a detailed proposal, and get your dream 18 ft food trailer built. Time is money, just contact us now!
Please Leave A Message In The Form Below