Food trailers for sale refer to mobile food service business that is typically used to sell food at festivals, fairs, and other outdoor events. Usually, food trailers feature a kitchen and can serve a variety of food items, such as burgers, hotdogs, tacos, and other snacks.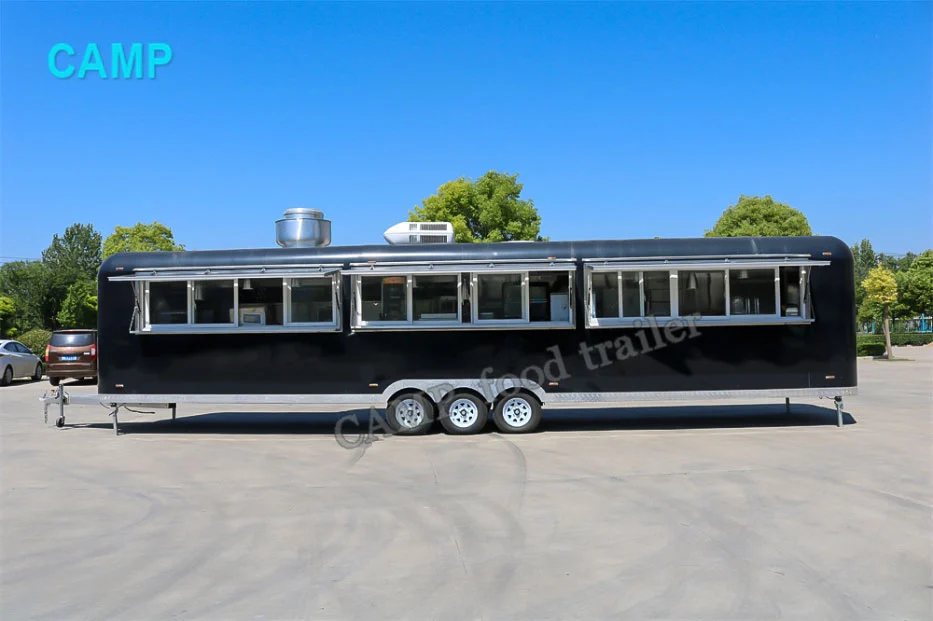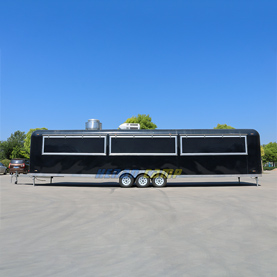 26ft Food Trailers For Sale
Material: stainless /galvanized steel
Inner equipment: customizable
Size: 10ft-36ft
A food trailer can be a great way to start a business or expand an existing one. Generally speaking, they are a cost-effective way to bring a kitchen to any event, from festivals to weddings. In fact, people can use food trailers to serve anything from ice cream and hot dogs to pizzas and crepes. Also, people can custom design the food trailer to fit the needs of any business. That includes equipping the food trailer with a range of cooking equipment.
Food Trailers For Sale Camp Can Supply
As a professional food trailer manufacturer and exporter, Camp mainly supplies the following types of food trailers. According to the structure, we can supply a square food trailer, concession food trailer, double-decker food trailer, airstream food trailer, food trailer with storage, food trailer with porch, and container trailer etc. While dividing by the dimension, we can supply 10 ft food trailer, 12 foot concession trailer, 14ft catering trailer, 16 foot food trailer, 18 ft concession trailer, 20ft food trailer, 24 ft food trailer, 28 foot food trailer and 36ft food trailer etc.
According to the food types it cooks, we can provide coffee trailer, BBQ trailer, pizza trailer, ice cream trailer, beverage concession trailer, hamburger food trailer, shaved ice trailer, hot dog trailer, pretzel concession trailer, taco trailer, etc. According to the budget, we provide food trailers under $5000, and food trailers over $5000. Besides, we can provide custom-designed food trailers for customers. For example, awnings colors, custom exteriors, custom interiors, custom signs, full custom wrap, graphics & design are optional.
Video of A 26ft Mobile Food Trailer
This is a video of 26ft mobile food trailer for sale from Camp company. From this video, you will have an overview of the exterior and interior of this trailer.
As we can see, the exterior of this trailer is wrapped with stickers. Inside the trailer, there are mainly some countertops, sinks, shelves and some kitchen equipment. We have customized the kitchen equipment inside the trailer according to our customer's actual demands.
 To emphasize, our company can customize the shape, color, size and the inner equipment according to customers' real demands. All we want to do is to help you get the food trailer you want. If you are interested in any type of our food trailers for sale, don't hesitate to contact us!
A food trailer typically consists of a counter, a preparation area, several sinks, several storage shelves and other kitchen equipment. To emphasize, the interior structure of a food trailer will be customized according to customers' actual demand. We can customize the full kitchen equipment according to your real demand.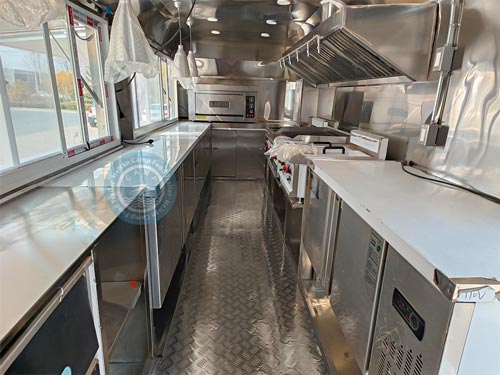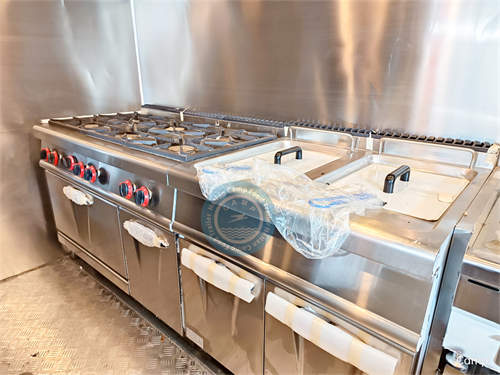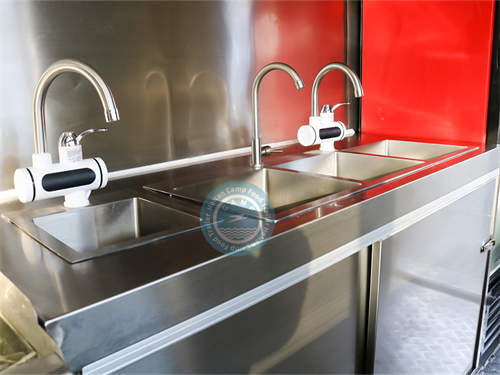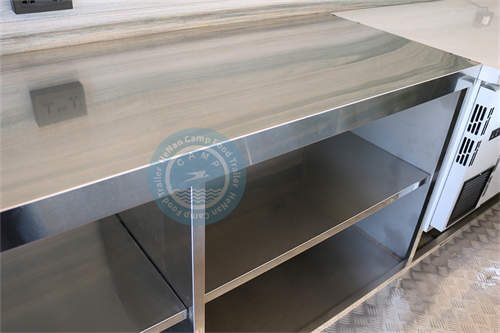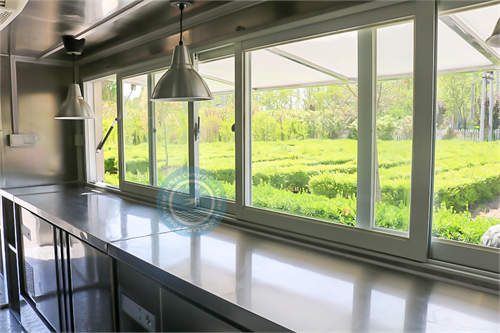 Global usage of food trailers
Food trailers are becoming increasingly popular in a variety of countries and regions around the world. In the United States, food stand trailers are becoming a popular alternative to traditional restaurants, offering unique and innovative food options. Estimates suggest that there are around 6,000 to 10,000 food trailers operating in the United States alone. In Europe, food stand trailers are a popular way to experience local cuisine. Also, food trailers are increasingly popular in Australia, New Zealand, and Canada. As for Asia, food trailers are becoming increasingly popular in countries like India, China, and Japan. While in South America, food trailers are gaining traction in countries like Brazil, Argentina, and Colombia. Since more people become aware of the benefits of food trailers, global usage is expected to grow.
Why food trailers are so popular?
Food trailers have become increasingly popular in recent years for a variety of reasons. First, they are often less expensive to start up than a traditional brick-and-mortar restaurant. Second, they are more mobile and can take advantage of different types of locations. Also, food serving trailers provide food that is often more unique than what you would find at a traditional restaurant, which can attract more customers. Additionally, many people find food trailers to be more convenient because they can often order food for pickup or delivery, rather than having to eat in the restaurant.
Food trailers offer an alternative to traditional restaurants. Often, these mobile eateries offer a unique experience that is more affordable than a sit-down restaurant. Food stall trailers not only have become an attractive option for entrepreneurs looking to get into the food service industry, but also for people who just want to enjoy a delicious meal on the go.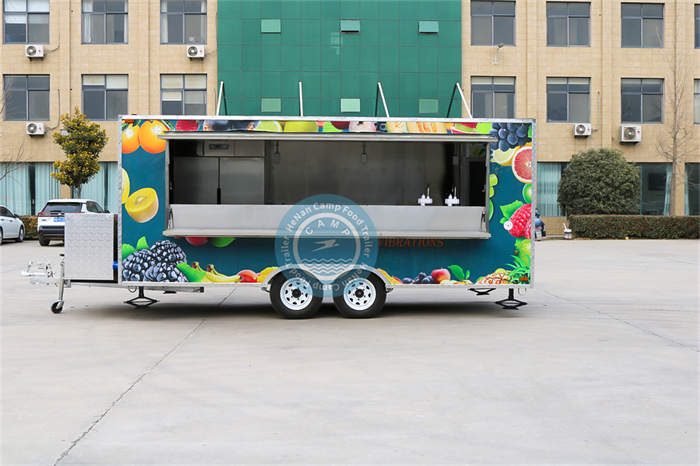 What To Consider Before Investing In A food trailer
Investing in a food trailer can be a great way to start a business. It can provide a way to serve food to a larger customer base and make a profit. First, you may consider the food trailer prices. The cost of purchasing a food trailer depends on factors such as size, features, and condition. You can make a preliminary plan according to your actual situation. Also, the cost of operating the trailer needs to be taken into consideration, including the cost of food, staffing, and any necessary permits. Additionally, research needs to be done to determine the best locations to set up the trailer, as well as the best type of food to serve. After thinking about the above questions, you can start to find a food trailer vendor.
How Much Do food trailers Cost
The food trailer cost will vary depending on the size, type, and features. A basic food trailer can start around $5,000 and can go up to $50,000 or more for a fully loaded model. Food trailer startup costs will be lower if you buy one from China. China factories have a large production capacity, so it is able to produce a large number of products in a relatively short period of time. This reduces the cost of production. Customers also can get nice food trailers for sale prices and tough quality food trailers from China manufacturers.
What Are The Requirements For Running A Food Trailer
A valid food handler's license 2. A valid business license 3. A valid health permit 4. Properly labeled food containers 5. A hood fire suppression system 6. A three compartment sink 7. An approved wastewater disposal system 8. An approved potable water supply 9. Refrigeration and/or freezer units 10. All necessary cooking and serving equipment 11. Adequate lighting and ventilation 12. A non-slip floor surface 13. An emergency shut-off switch 14. A fire extinguisher 15. A first aid kit 16. A hand washing station 17. A grease trap 18. An approved water heater 19. An emergency backup generator 20. Any additional equipment required by the local health department.
We Offer Customized Food Trailers For Sale
If you're looking to start a food trailer business, Camp is a good choice for you. We will serve as the perfect foundation for your business. With rich experience and wide range of accessories, we are able to help you run a successful food trailer bar business.
Are Food Trailers Profitable?
Yes, food trailers can be highly profitable. food trailers allow you to start a business with a relatively low initial investment, and they provide a good return on investment. food trailers can be used to serve a variety of foods, from burgers and hot dogs to gourmet dishes, and they can be located in areas with high foot traffic, such as festivals and events. They can also be used to cater private events, such as weddings and corporate events, which can generate a lot of revenue.
How To Create A Successful Food Trailer Business
There are many factors that go into creating a successful food trailer business. We will introduce in detail from the following five aspects.
1. Decide On A Concept And Menu
The first step is to decide on a concept and menu. For instance, many food service trailers specialize in a specific type of cuisine, such as Mexican, Asian, or American. Others focus on a particular type of dish, such as tacos, sandwiches, or pizza. Once you have established the concept, it's important to make sure the menu is unique and appealing.
2. Find The Right Location
The next step is to find the right location. The key is to find a spot that is near potential customers, and where there is plenty of foot traffic. Also, it's important to make sure the location is compliant with local health codes.
3. Get The Right Equipment
It's also important to get the right equipment. Depending on the menu, the necessary items can range from a stove and refrigerator to a full kitchen. What's more, it's important to make sure the equipment is in good working order and up to code.
The food itself is also an important factor. Quality ingredients are essential to making sure the food is tasty and appealing. Also, it's important to make sure that you prepare and serve the food in a safe manner.
Finally, it's important to find the right staff. Employees should be friendly and knowledgeable about the menu, and be able to take orders and handle money quickly and accurately. 
Food trailers can be a great way to get into the food service industry. With the right concept, location, equipment, food, and staff, a food trailer can be a successful and enjoyable business venture.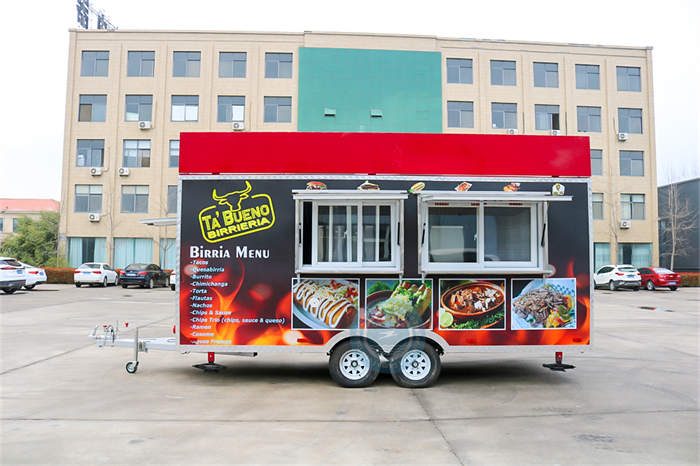 Camp Food Service Trailers For Sale Are Good Choices For Customers
Established in 2013, Henan Camp Co., Ltd. provides custom mobile food trailers for sale solutions for our customers in mainland China. Our team of design professionals and installers can create double-decker food trailers, square food trucks, airstream food trailers, and other customized mobile food trailers according to customers' needs. Also, we are able to customize the shape, size, and color of the trailer and add kitchen equipment and fast food machines.
If you are interested in mobile food trailer bushiness and are finding food trailer companies and dealers, Camp will be a great partner that help you earn more money through this business. Don't hesitate to contact us now! Just leave a message in the form below or call us directly. Tell us what kind of food you are interested to deal with, our professional sales will give you useful suggestions in 24 hours!
Please Leave A Message In The Form Below