Bar trailers for sale are a growing trend in the food trailer industry. They offer convenient, mobile bar services to events, festivals, and special occasions. Not only can you use them in your own business, but also for larger events. In a word, bar trailers provide a cost-effective and efficient solution for many occasions.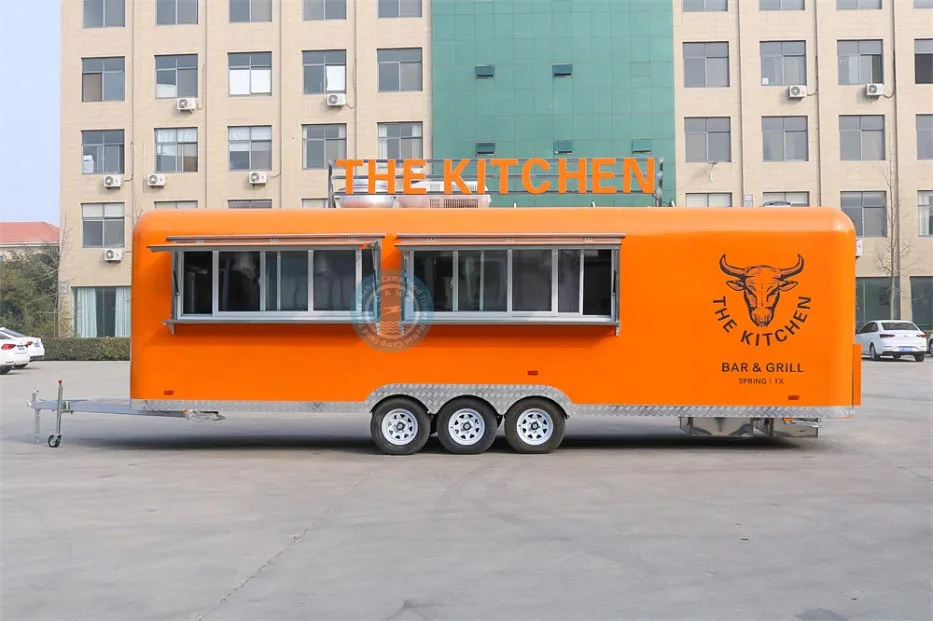 26ft Bar Trailers For Sale
Material: stainless /galvanized steel
Inner equipment: customizable
Size: 10ft-36ft
Bar trailers come in a variety of sizes and styles, from sleek and modern to traditional wood panels. All models provide ample counter space, shelves and foot storage to accommodate staff and customers. Smaller trailers often have the capacity to hold a full-size refrigerator and ice machine. Larger models can accommodate additional taps, kegs, and beer pumps.
For outdoor events, many custom bar trailers has insulated sides and roofs. That will allow customers to enjoy their drinks regardless of weather conditions. To ensure customers always have a cold drink in hand, many models will have their own power supply.
Bar Trailers For Sale Camp Has Exported
Bar trailers have become increasingly popular with entrepreneurs and food lovers alike. As an experienced food trailer manufacturer and exporter, Camp has exported a number of mobile bar trailers for sale to countries all over the world. The following are some pictures and videos of the mobile bar trailers we have exported to Spain and Canada.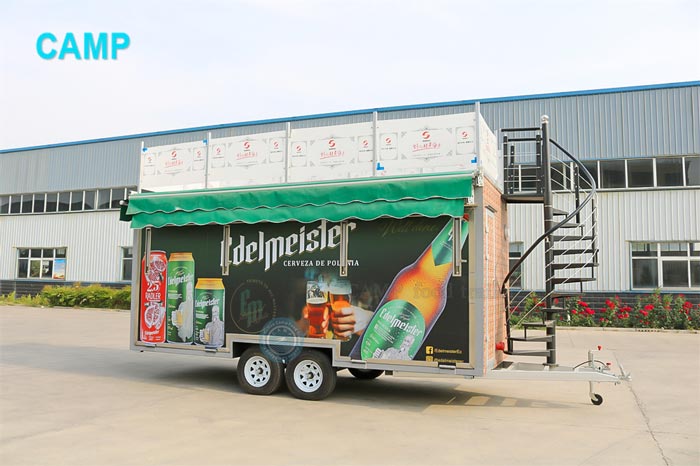 We can manufacture similar bar trailers like the above or customize one according to your actual demands. Also, you can choose the shape, color, size, raw materials, exterior decoration, and interior equipment of the trailer. Whatever type of food concession trailer you want, we can manufacture the perfect one for you.
Mobile Bar Trailers For Sale Camp Provides
Camp provides various types of bar trailers for customers to choose from. The sizes can range from 10ft to 36ft.  The following are some pictures of our hot-selling types. If you are interested in any type of bar trailer, please don't hesitate to contact us now!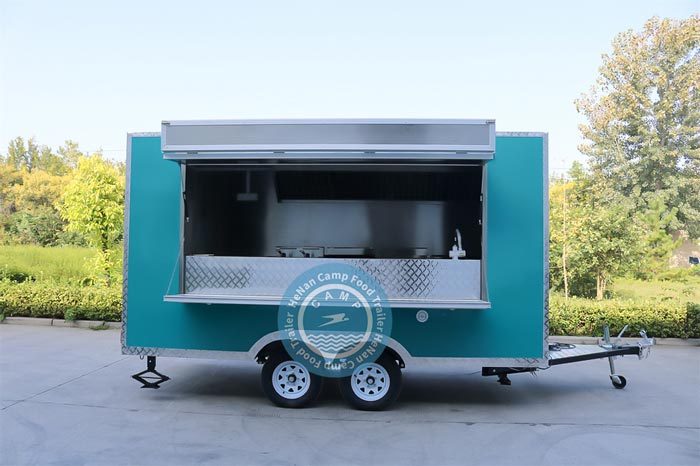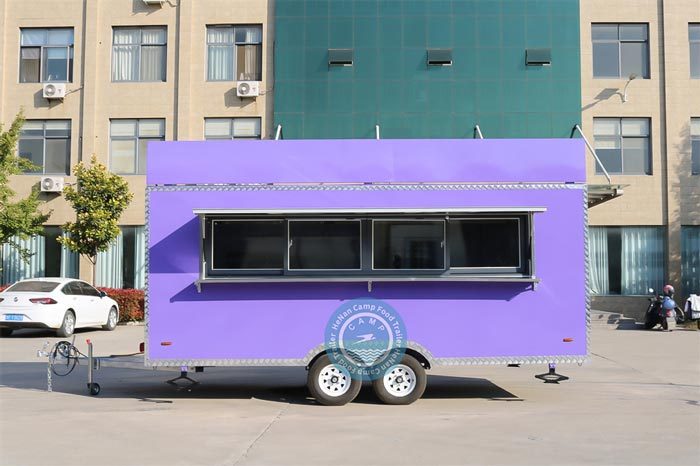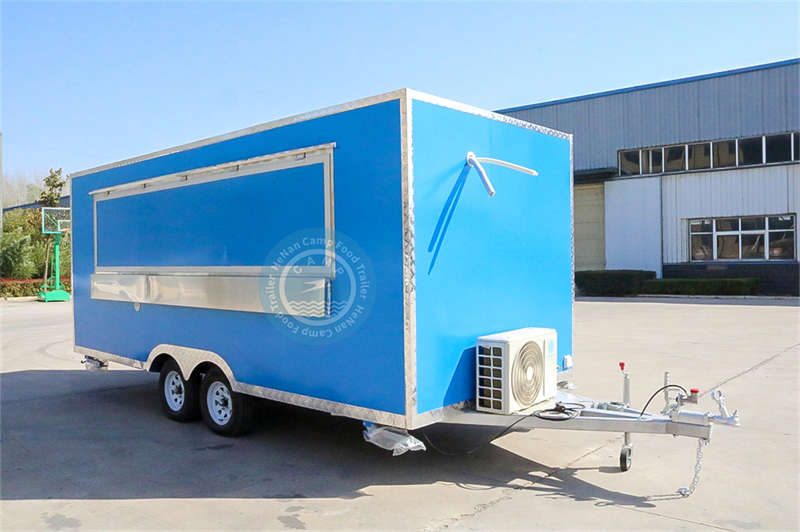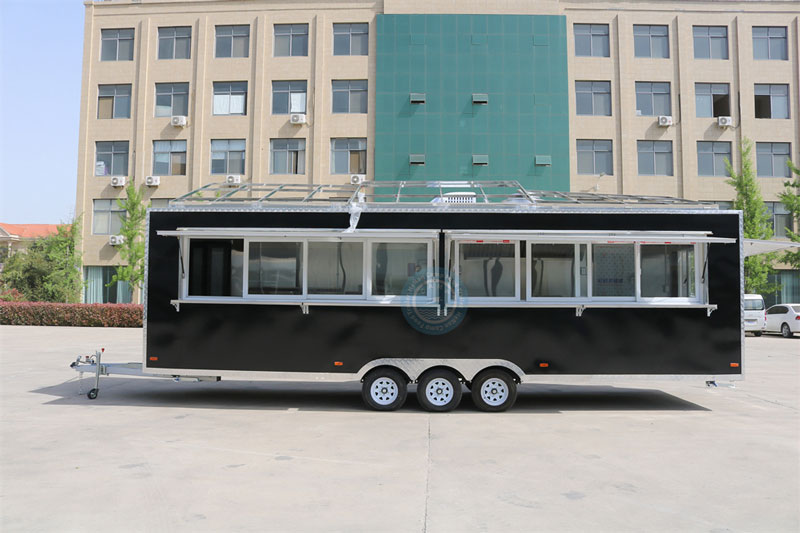 Video of A 26ft Mobile Bar Trailer
This is a video of 26ft mobile bar trailer for sale from Camp company. From this video, you will have an overview of the exterior and interior of this trailer.
The exterior of this trailer is wrapped with stickers. Inside the trailer, there are mainly some countertops, sinks, shelves and some kitchen equipment. We have customized the kitchen equipment inside the trailer according to our customer's actual demands.
 To emphasize, our company can customize the shape, color, size and the inner equipment according to customers' real demands. All we want to do is to help you get the food trailer you want. If you are interested in any type of our food trailers for sale, don't hesitate to contact us!
A mobile bar trailer typically consists of a counter, a preparation area, several sinks, several storage shelves and other kitchen equipment. To emphasize, the interior structure of a food trailer will be customized according to customers' actual demand. We can customize the full kitchen equipment according to your real demand.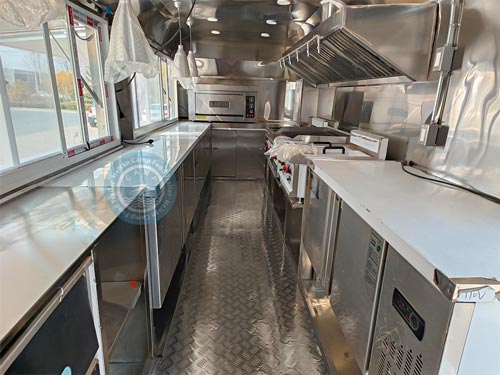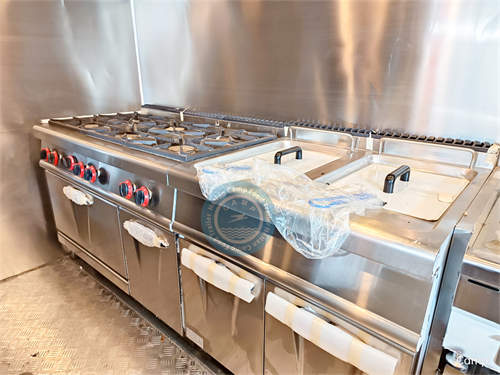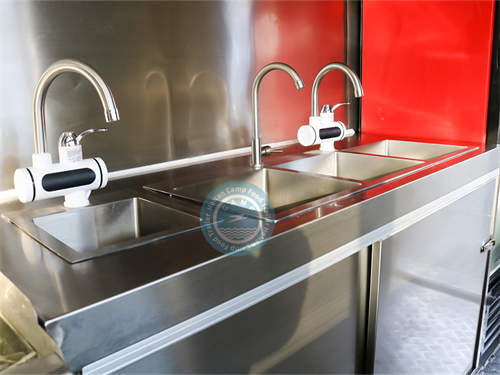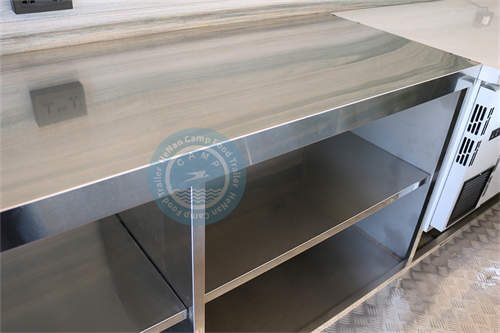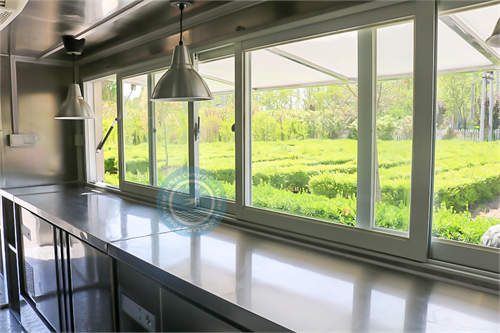 We Offer Customized Mobile Bar Trailer For Sale
If you're looking to start a mobile bar trailer business, Camp is a good choice for you. We will serve as the perfect foundation for your business. With rich experience and wide range of accessories, we are able to help you run a successful food trailer bar business.
Why Mobile Bar Trailers Are Popular?
The popularity of mobile bar trailers is due in large part to their convenience and versatility. Portable bar trailers have quickly become a mainstay in many areas.
1.The Versatility of mobile bar Trailers
First and foremost is the versatility that comes with mobile bar trailers. This type of trailer allows you to create an entire bar on trailer setup, either for a food truck, concession stand, or permanent location. When you own a bar concession trailer, your setup is totally mobile. That will make it easy to move from place to place to meet customer demands. You can also use mobile bar trailers to create outdoor and temporary settings such as festivals, concerts, sporting events, and more.
2. The Convenience of Portable Bar Trailers
Another factor that contributes to the popularity of portable bar trailers is their convenience. As mentioned, bar trailers are totally mobile. That makes them perfect for a business that needs to move from one physical location to another. With a concession trailer bar, you never have to worry about transporting heavy equipment and setting up again. Instead, you can just pack up your stuff and take it with you when you go.
Portable bar trailers also offer the advantage of being able to set up different looks. They come with custom colors and finishes that allow you to customize the look of your trailer. All that helps you to create a completely unique setup that stands out from the crowd. This also gives you the flexibility to change up your look if you ever need to attend a different type of event or offer different products.
A custom mobile bar trailer can also come with its own lights and sound systems, so you don't have to worry about renting additional equipment. This is helpful if you are running a food trailer bar business or just want to have the option to provide music for your patrons.
3. The Practicality of Mobile Bar Trailers
Finally, a mobile bar trailer is incredibly practical for anyone looking to create a mobile bar or concession stand. For one, bar trailers for sale are relatively inexpensive compared to traditional business setups, making them a great investment for those who are starting out. Furthermore, mobile bar trailers require very little maintenance, making them a cost-effective way to keep your business running.
In conclusion, bar trailers are incredibly popular because they offer a great level of convenience and versatility. Whether you're looking to run a mobile bar business or just want to set up a temporary event with your own mobile bar trailer setup, bar trailers are a great choice. With their unique designs, customizable looks, and practicality, bar trailers are a great option for those who want to run a successful business.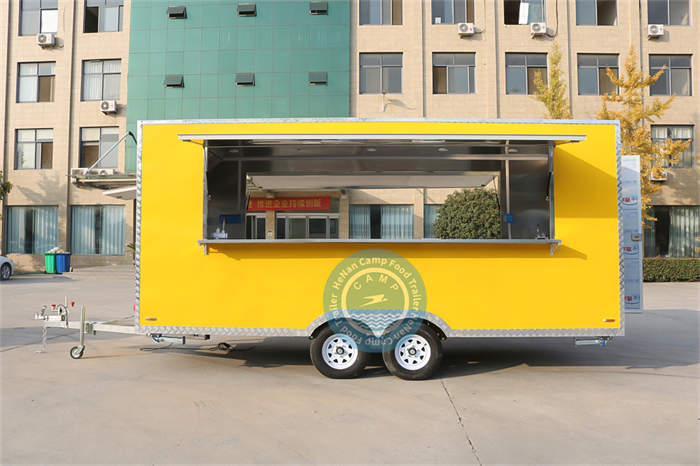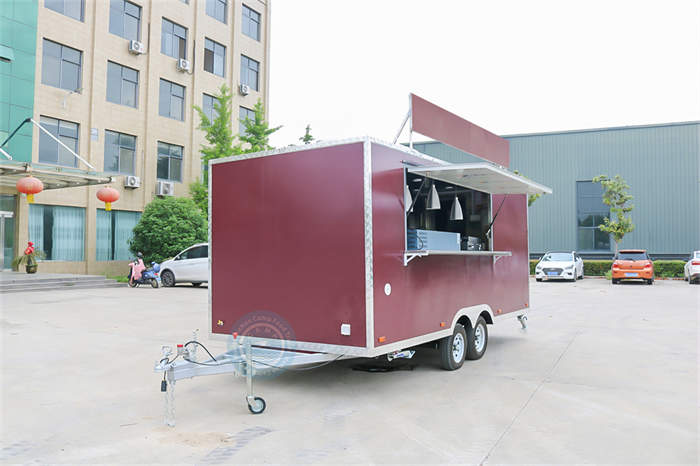 Find Reliable Mobile Bar Trailer From Camp
Are you ready to start your own mobile bar business, but don't know where to start? Consider buying a mobile bar trailer for sale from Camp. We provides many options such as shape, color, size, raw material etc. Besides, we have a wide list of food trailer accessories for customers to choose from. Further more, we can provide food trailers that meet the standards of various countries.
Take the first step towards owning your own business and buy a quality mobile bar trailer from Camp today! Just leave a message in the form below, our professional sales will contact you in 24 hours!.
Please Leave A Message In The Form Below