Shipping Container Food Trailer
Generally speaking, a full-size shipping container food trailer is a stationary structure. It can not move like a food truck or concession trailer. As you can see in the picture above, it has no tires. To position it at its final location, a crane will lift it from a flat-bed truck and set it in place. However, at Camp, we also provide customers with food truck containers for sale with tires. If it is necessary, we can also manufacture container trailers with tires to meet the demands of customers. We have experience of manufacturing and exporting both types of them, customers can rely on us.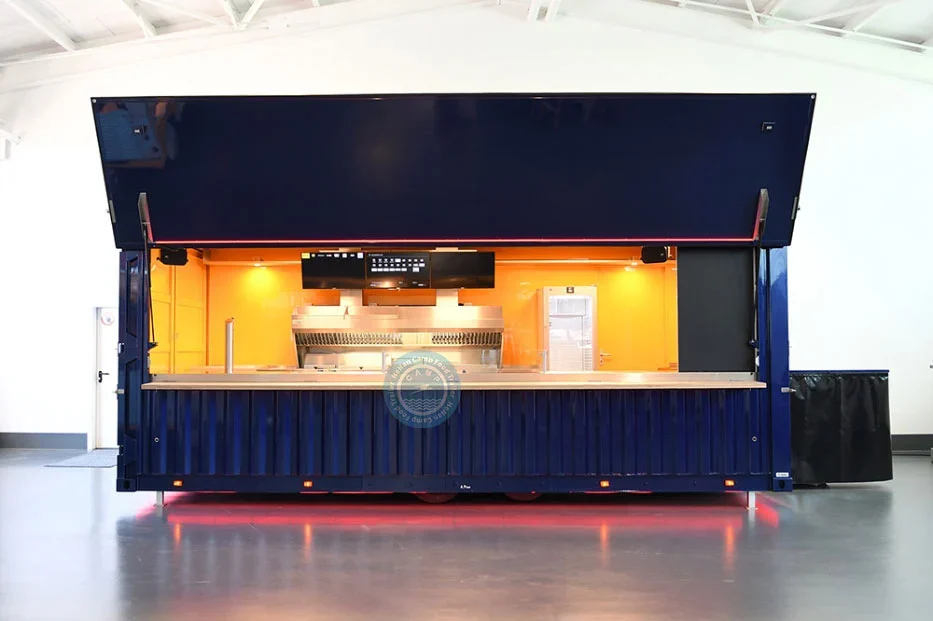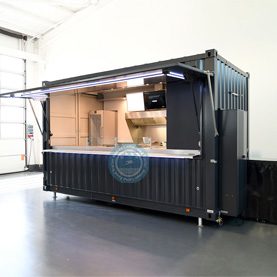 18ft Shipping Container Food Trailer
Material: stainless /galvanized steel
Inner equipment: customizable
Size: 10ft-36ft
At Camp, we specialize in helping you design and construct a commercial kitchen container with optimal efficiency. First of all, we will work with you to determine the layout of your kitchen container. That will include the placement of cooking equipment, cooling equipment, prep and work tables, sinks, etc. Next, we can help you decide which type of equipment you need for your menu and the expected volume. Finally, we will make sure your kitchen container meets the regulations of your local health department. With us, you'll have a perfect container kitchen that meets your needs.
Cases of Camp Shipping Container Food Trailer
The following are two shipping container food trailers we have customized for our customers in the United States. Both of them are 18ft food trailers. The black one on the left is a drinks container trailer. Our customer use it to sell various types of drinks. The grey one is a wood-fired pizza container trailer. Our customer use it to sell wood-fired pizza.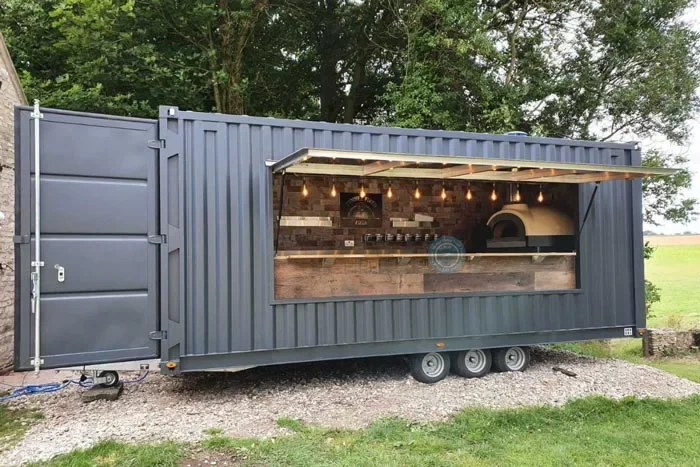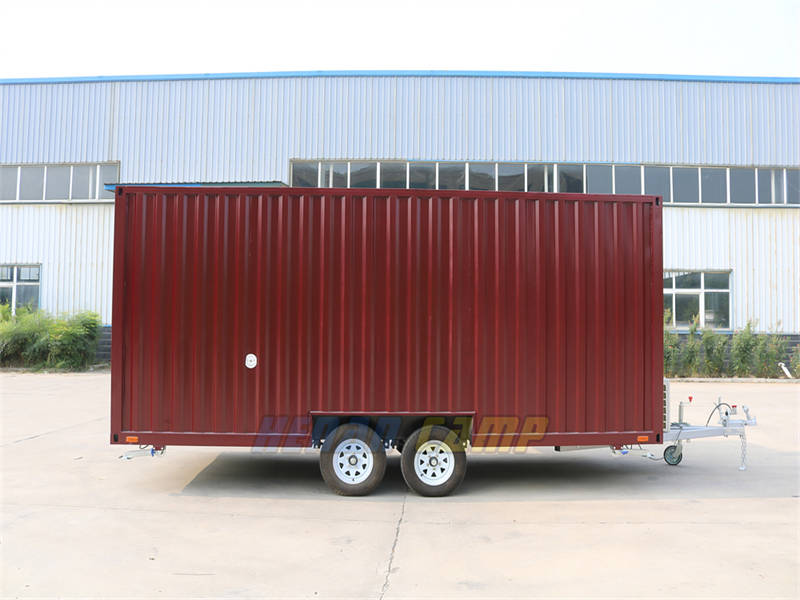 We can manufacture similar food trailers like the above or customize one according to your actual demands. Also, you can choose the shape, color, size, raw materials, exterior decoration, and interior equipment of the trailer. Whatever type of food trailer you want, we can manufacture the perfect one for you. So, if you are interested in any type of food trailer, please don't hesitate to contact us now!
Shipping Container Food Trailer For Sale Camp Provides
Camp provides various types of container food trailers for customers to choose from. The sizes can range from 10ft to 36ft.  The following are some pictures of our hot-selling types. To serve customers better, we provide a wide list of food trailer accessories for customers to choose from.  In a word, you can get the perfect custom food trailers that meet your demands from Camp.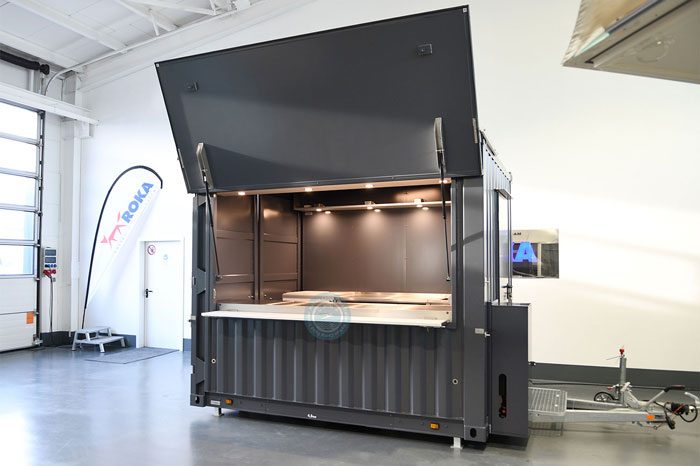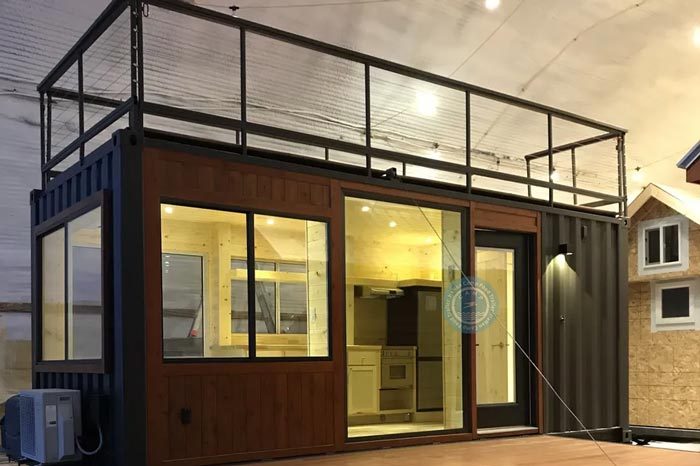 Video of A 18ft Shipping Container Food Trailer
This is a video of 18ft container trailer for sale from Camp company. From this video, you will have an overview of the exterior and interior of this container trailer.
Inside the trailer, there are mainly some countertops, sinks, and shelves etc. We will customize the kitchen equipment inside the trailer according to customers' actual demands.  
To emphasize, our company can customize the shape, color, size and the inner equipment according to customers' real demands. All we want to do is to help you get the food trailer you want. 
A fully-equipped container trailer typically consists of a counter, a preparation area, several sinks, several storage shelves and other kitchen equipment. To emphasize, the interior structure of a food trailer will be customized according to customers' actual demand. We can customize the full kitchen equipment according to your real demand.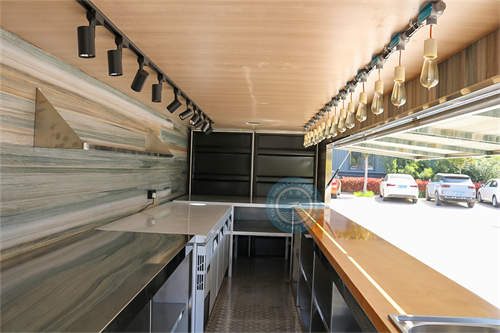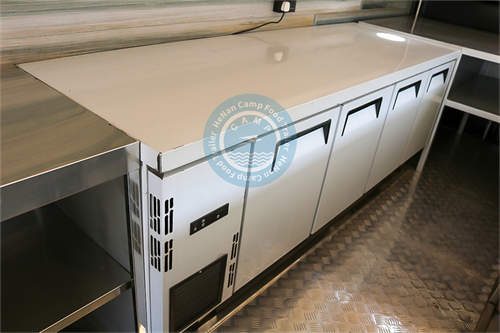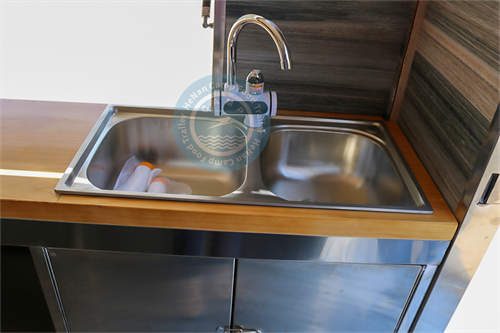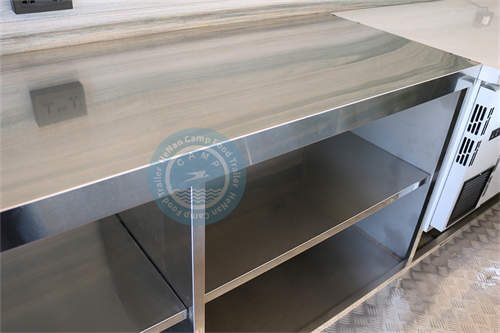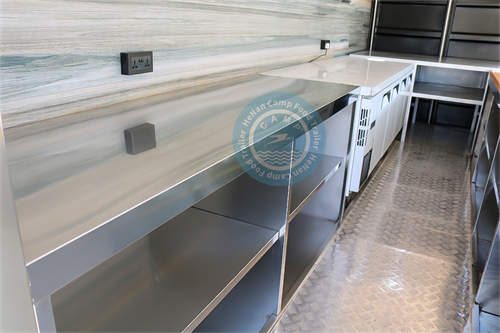 Main Advantages of Camp Shipping Container Food Trailer For Sale
Customize the container's size, appliances, color, light belt, logo, and vibrant words.
We can tailor the entire kitchen equipment to your specification and let you mix and match the accessories.
You can opt for a trailer design with wheels or a double-decker design.
We can show you 3D drawings of your customized container restaurant.
This product comes in a variety of specifications and sizes.
If you're interested, please contact us and we'll provide you with professional advice.
How Much Does A Shipping Container Food Truck Cost?
The cost of a shipping container food truck made by Camp can start from about $4,600. That is to say, the final price depends on the size, features, and customization of the truck. To point out, this price does not include factors such as cooking equipment and other appliances. That is to say, this price just covers the empty container. Hence, we will add the appliances you need and then give you the total quotation.
We Offer Customized Shipping Container Food Trailer For Sale
If you're looking to start mobile food trailer business, Camp has the perfect fully-equipped food trailers for sale to provide you. We will serve as the perfect foundation for your business. With rich experience and wide range of accessories, we are able to help you run a successful food trailer business.
Why People Choose Container Food Trailers
Container food trailers are the latest trend in the booming food trailer industry. Not only these food trailer containers are perfect for entrepreneurs looking to break into the food business, but also for established restaurants looking to expand their reach. Generally speaking, a shipping container food trailer for sale offers a variety of benefits including affordability, mobility, and convenience.
Container food trailers are cost-effective because they can be made from a repurposed shipping container, which is usually much cheaper than building a regular food trailer. In addition, they are also easily portable, allowing entrepreneurs to move them from location to location with ease. For this reason, a shipping container concession trailer is ideal for catering events, and festivals. What's more, people can even set it up in a specific area for a few days at a time.
Shipping container food trucks are also very versatile. First, we can customize them to fit any need. Second, we can equip them with a variety of cooking equipment. Also, we can equip them with other auxiliary facilities such as refrigerators, freezers, and serving counters. Even more, we can arrange seating and tables for customers. Above all, These features make a container food truck for sale a great choice for various kinds of food businesses. Even from a classic burger joint to a modern sushi bar.
The convenience of container food trailers is another big draw. For one thing, people can easily move and set them up quickly. In that way, it allows entrepreneurs to start serving customers in no time. Another key point, the shipping container concession trailer also comes with all the necessary permits. therefore, entrepreneurs don't have to worry about getting their businesses up and running.
Overall, container food trucks are a great choice for entrepreneurs looking to break into the food business. To summarize, they are cost-effective, mobile, and versatile. For the above reasons, shipping container food truck for sale is a great option for people. It allows people who are looking to start their own food trailers or expand their business. So if you're looking for an affordable and convenient way to start your own food business, a storage container food truck is worth considering.
Find Reliable Fully Equipped Food Trailer From Camp
Are you an aspiring business owner looking to start a food truck made from a shipping container? Have you been searching for a reliable and budget-friendly option that can help you get started? Look no further than Camp's cargo container food truck! Our trailers are designed to help you bring your food trailer vision to life. With convenient customization options, we give you the freedom to create the exact food truck storage container that you need. Contact us today to get started on turning your food trailer dreams into a reality! Just leave a message in the form below, tell us what kind of food you want to deal with, maybe pizza, burgers, BBQ, ice cream, or anything else. Just tell us, our professional sales manager will reply to you in 24 hours!
Please Leave A Message In The Form Below