A 16 foot food trailer is a mobile food trailer that is 16 feet long. Typically, the mobile food trailer has a built-in kitchen, enabling a chef or caterer to serve food on the go. In general, inside the food trailer, there are kitchen appliances such as a refrigerator, freezer, oven, stove, and sink, as well as counter space and storage. Besides, we can pull the trailer with a vehicle, such as a car. Often, restaurants, caterers, and food vendors like to use a food trailer to expand their business. Generally speaking, a 16 ft food trailer is a great way to serve up delicious food at festivals, parties, and other events.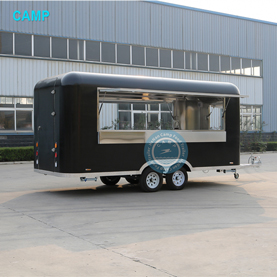 16ft Foot Food Trailer For Sale
Material: galvanized steel
Inner equipment: customizable
Size: customizable
If you are looking for a 16 foot food trailer for sale that is custom-built to your exact specifications, Camp can provide it. Our food trailers come with the option to modify the equipment and windows, and we guarantee the best quality and competitive prices. Contact us today for more information and to receive a detailed proposal.
Customer Feedback Of Camp 16 Foot Food Trailer
Are you ready to start your own food trailer business? Look no further! We built this 16 ft concession trailer for sale in 2019 for one of our customers in Bahrain. In fact, this trailer is fully loaded with all the necessary equipment, including fryers, griddles, a burger machine, refrigerator etc. Inside this food trailer, there are plenty of work tables and shelving space allowing multiple staff to work inside. As we can see, it has a window for customers to order and pick up. We can build you a similar one or customize a concession trailer to your budget and needs. Don't wait any longer to realize your dream – call us today to get started on your own food trailer!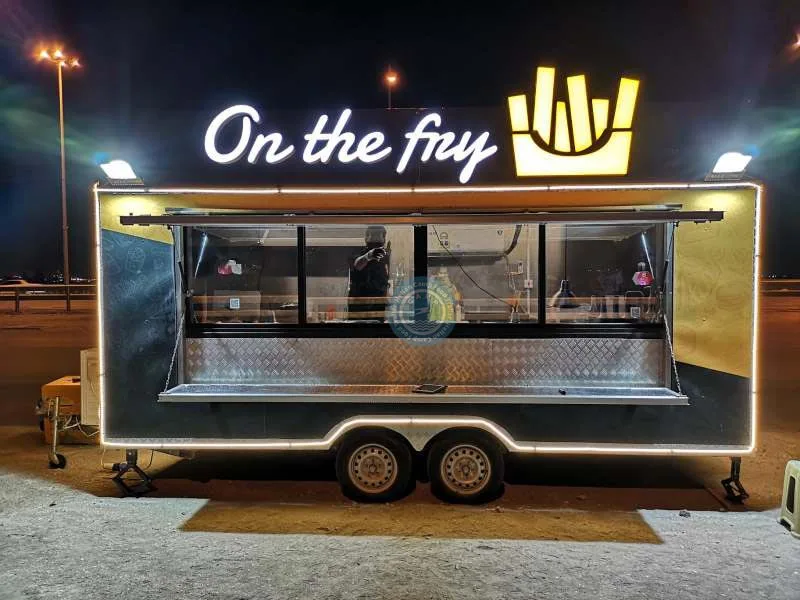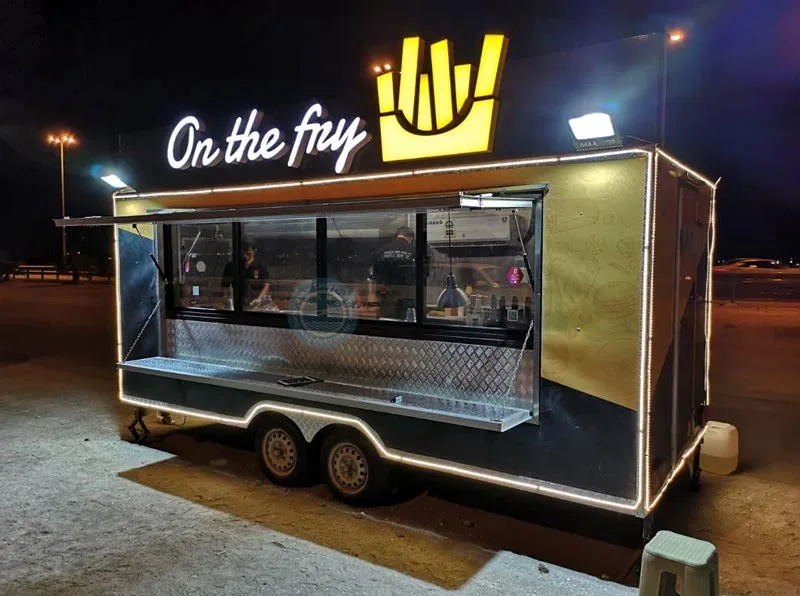 In addition, our company can equip the 16ft catering trailer with top-notch equipment for your latest business endeavor. Investing in this 16 foot food trailer for sale is a wise decision. It is sure to yield great returns, on the condition that you gain a thorough understanding of your business and target market.
This is a video of Camp 16 foot food trailer for sale. In this video, you can see the whole trailer display, double-sided service window design, external power supply, tow bar, brake, ambient light and jack design, tail light design, inner structure, stainless inner wall and countertop. To see more video of Camp food trailers, you can visit our Youtube channel here:
https://www.youtube.com/channel/UCs1S65hkkn_OcS8N8nPGC2w
.
To emphasize, we can customize the size and color of this food trailer. Besides, we can customize the full kitchen equipment according to your real demand. If you wish to order an food trailer for sale like this one, or you would like to have a custom style catering trailer built, then, contact us now by clicking the chat button. We want you business! Moreover, we can design and install your graphics or custom wrap in-house as well. All what we want to do is to help you get the food trailer you want.
Interior Of A 16ft Concession Trailer
The interior of a 16-foot food trailer typically includes a kitchen area with appliances, counters, and storage space. The kitchen may include a commercial-grade refrigerator, freezer, stovetop, oven, microwave, sink, and prep area. Counters may be made of stainless steel and often have shelves, drawers, and cabinets for storage. The following are pictures of some parts inside the 16ft concession trailer.
To emphasize, the interior structure of this 16 foot food trailer for sale will be customized acoording to customers' actual deamnd. We can customize the full kitchen equipment according to your real demand.
How To Run A 16 Foot Food Trailer Successfully
Following these tips can help you ensure the success of your business. Start by finding the perfect location, venue, and recurring route for your business. Additionally, decide on the cuisine and menu that you will serve. Make sure the menu is not too big, but includes all your popular food items. Additionally, advertise your business with exceptional graphics and keep up with social media postings. 16 ft food truck for sale is a great option for chefs looking to leave sit-down restaurants and become entrepreneurs.
Food trailer is a trend that is here to stay. If you want to increase your revenue, join the ever-growing food trailer family with your 16ft food trailer!
By the way, the custom 16 foot concession trailer for sale above is one of these trailer we have sold. But, don't worry – we can build one just like it with your own graphics design! We can also custom-build any food trailer to your exact specifications. For example, we can manufacture 7×16 concession trailer and 8×16 concession trailer. If you have any questions, please don't hesitate to contact us. We would love to work with you!
Since 2009, Henan Camp Industrial Co., Ltd has been a dependable food trailer builder. We are proud of our commitment to continually better our quality and craftsmanship. Moreover, we offer competitive prices so that our food trailers are accessible to people who are interested in mobile catering business. Therefore, don't hesitate to contact us now! Leave a message in the form below and tell us your initial plan! Our professional sales will contact you in 24 hours! So just leave a message or call us now!
Please Leave A Message In The Form Below