BBQ Concession Trailers For Sale
BBQ concession trailers for sale refer to mobile food business that specializes in the sale of barbecued food. Generally, the bbq food trailer is typically equipped with a smoker, grills, warming cabinets, and other necessary equipment for preparing and serving customers' orders. Common items sold by BBQ concession trailers include ribs, chicken breast, pulled pork, smoked sausage, and other barbecued meats. In deed, Some concession barbecue trailers may also offer side dishes such as baked beans, coleslaw, and potato salad.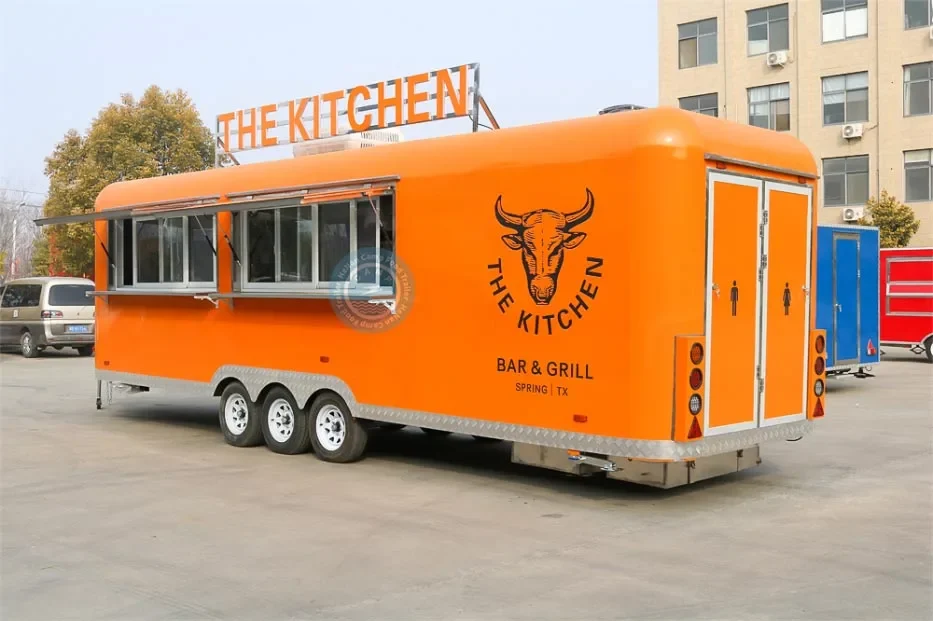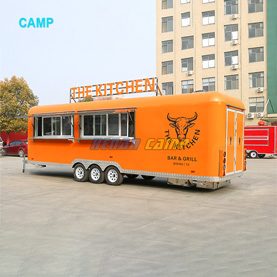 26ft BBQ Concession Trailer For Sale
Material: stainless
Inner equipment: customizable
Color: customizable
Size:10ft-36ft
Customer Feedback Of Camp BBQ Concession Trailers
This custom-made 36ft bbq food trailer for sale was designed and built for one of our customers in Curacao. This is a 36 ft food trailer in square shape. As we can see in the picture, it is a quite large one. The food concession trailer was ordered by our customer in June 2020. We sent the food trailer to our customer in September, 2020.
After receiving the food trailer, our customer added his own logo to the trailer. Then, he used it to sell BBQ, salad, French fries, fried chicken, etc. by the seaside. Our customer also used warm colored light strips to surround the food trailer, creating a pleasant and warm dining atmosphere. This food trailer has brought more customers to our customer and business is always good. Our customer was very satisfied with it and sent us the feedback pictures. You can see more detailed information of this BBQ trailer customer feedback here.
Inner Equipment Of This 36ft Large Food Trailer
This food trailer is equipped with frying pan, vertical refrigerator, grill, range hood grill, on-board air conditioner, salad table refrigerator, cooking stove, beverage refrigerator, insulated bathing pool, vertical commercial oven, light strip, etc.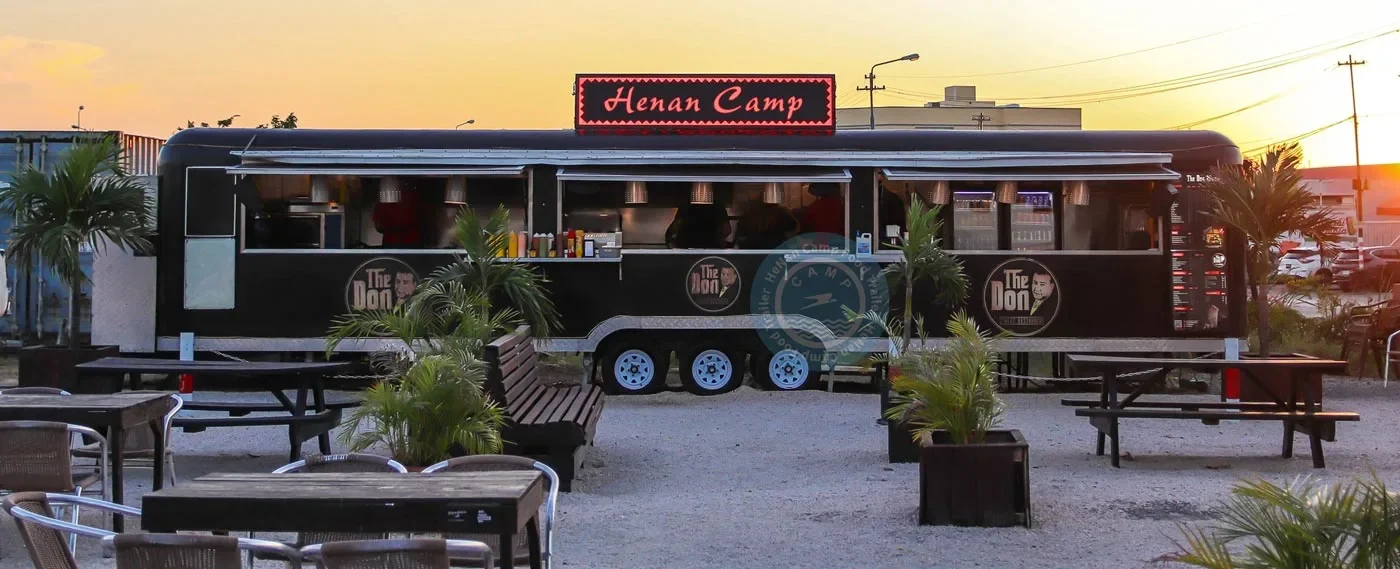 We can design and build a similar BBQ trailer for sale, or create a custom BBQ trailer that meets your needs and budget. We can finish the look with a beautiful design and graphics, or a wrap to make sure your bbq catering trailer stands out. Contact us now and let us help you turn your dream into a reality!
Video Of Camp 36ft BBQ trailer for sale
This is a video of a Camp 36ft BBQ Trailer for sale. In this video, you can see the whole trailer display, the front service windonw, and the interior structure of this bbq trailer. The interior countertop and inner wall are also made of stainless steel.
As you can see in the video, This custom bbq trailer is already equipped with some kitchen equipment.

We can customize the color and size of our bbq trailer. Also, we can help customers to equip the interior kitchen equipment of the BBQ trailers. If you have specific demand, just tell us.
Interior of A BBQ Concession Trailer
A typical BBQ concession trailer will have a stainless steel countertop, a sink and storage area, a refrigerator or freezer, a gas or electric stove, a charcoal or wood-fired smoker or grill, and a ventilation system. Depending on the size of the trailer, additional features may include a cutting board, additional counter space, a hot water heater, a cash register, and display shelving. The trailer will also typically have additional storage space for utensils, supplies, and food items.
Where To Find A BBQ Concession Trailer
Are you looking for bbq trailers for sale near me? then Camp is the place to be. Camp is a company that specializes in fully equipped bbq concession trailers for sale and is dedicated to providing quality bbq cooking trailers at affordable prices. Our company offers a wide variety of bbq food cart for sale ranging from small, single-axle trailers to large, multi-axle trailers. With a variety of sizes, styles, and features, Camp's bbq vending trailers provide the perfect solution for any business looking to get into the food-truck industry.
Camp Concession Trailer for sale is a good choice
Camp's BBQ food trailers offer all the features and amenities necessary to take your business on the road. Each trailer comes equipped with a stainless steel prep station, stainless steel sink, and a three-compartment sink system. The bbq kitchen trailers also feature a full-size refrigerator, a deep fryer, a griddle, and a stainless steel food-warming tray. Camp's bbq trailer food truck also include a propane tank and a generator for powering all of your equipment. In addition, we can equip our commercial bbq trailers for sale with a fire suppression system and a fire extinguisher.
Camp also offers customization options for their food truck bbq trailers. You can choose additional features such as a smoker, a warming oven, and an ice maker to create the perfect custom bbq concession trailers for your business. The company also offers a wide range of accessories, including awnings, sunscreens, and even custom signage. No matter you want a bbq trailer with porch, a bbq concession trailer with smoker, a bbq trailer with living quarters, a bbq concession trailer with bathroom, we can customize them for you.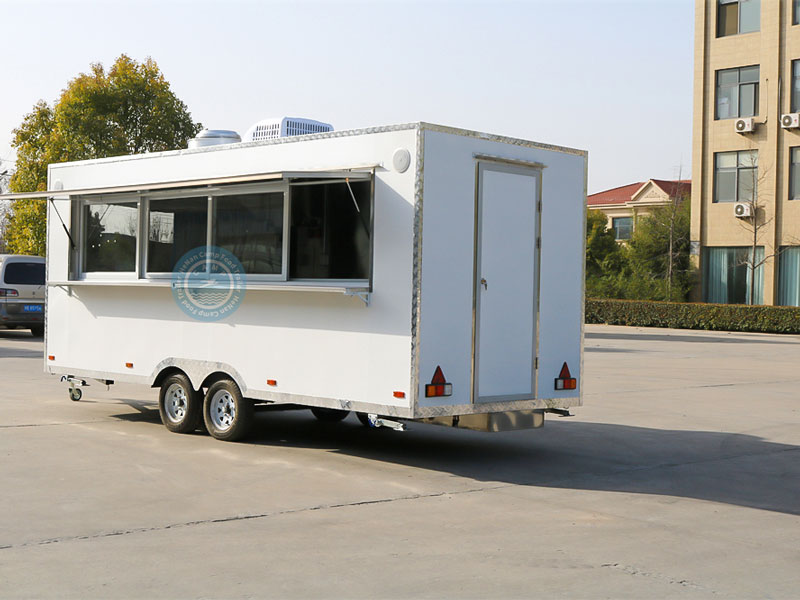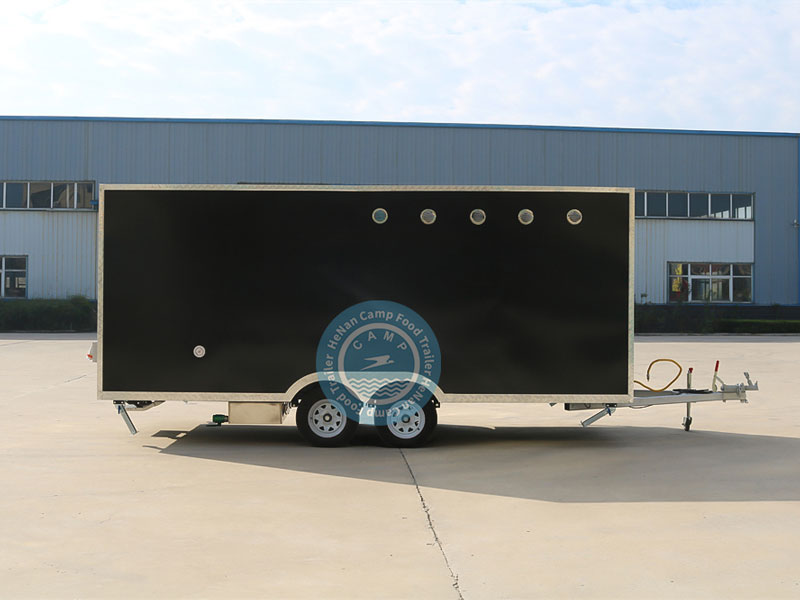 why Barbecue concession trailers are so popular
Barbecue concession trailers have become increasingly popular in recent years and are becoming a favorite among food truck owners and concessionaires alike. These versatile custom bbq concession trailers offer a great way to serve delicious meals and snacks while providing the convenience of mobility. Whether you're an experienced food truck operator or just getting started in the concession business, a barbecue concession trailer can be an invaluable asset.
One of the biggest advantages of owning a barbecue concession trailer is the fact that you can take your business on the road. With a barbecue food trailer, you don't have to worry about finding a permanent location, paying rent, or dealing with the hassle of permits and zoning regulations. You can easily move your mobile bbq concession trailer from one location to another, giving you a unique opportunity to take your business wherever your customers are.
Another reason why mobile barbecue trailers are so popular is their mobility. Many food truck owners find it difficult to park their trucks in a variety of locations, especially if they are in a highly populated city. With a mobile bbq trailer for sale, you can easily move around without worrying about parking. This makes it easier to get to different locations and serve your customers.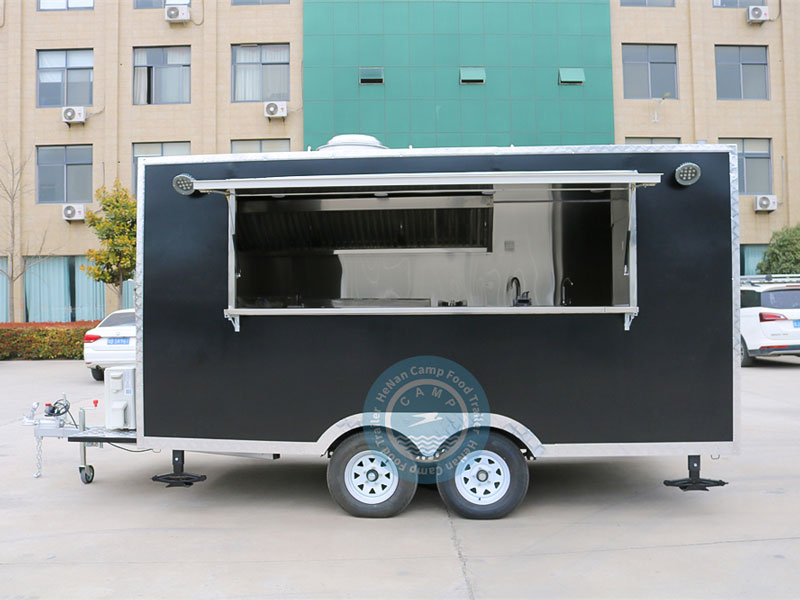 The third reason why barbecue concession trailers are so popular is that they offer a great way to serve a variety of different meals. You can easily customize your cheap bbq trailers to offer burgers, hot dogs, sandwiches, and even barbecue. This makes it easy to accommodate a variety of different tastes and dietary needs.
Bar bq trailers are also cost-effective. You don't have to worry about the high overhead costs of a traditional restaurant. You can purchase a bar bq trailer, customize it to your specific needs, and have it ready to go in no time. This makes it easier and more affordable for entrepreneurs to start their own business.
Overall, mobile bbq kitchen trailers offer a great opportunity for entrepreneurs to start their own business. They are convenient, affordable, and offer a unique way to serve delicious barbecued food to customers. With a mobile bbq concession trailer, you can easily take your business on the road, set up shop almost anywhere, and find cost-effective food business. It's no wonder why these mobile bbq trailer for sale are becoming increasingly popular.
We Offer Customized BBQ Trailers For Sale
If you're looking to start a BBQ business, Camp has the perfect barbecue grill trailers for sale to provide you. We will serve as the perfect foundation for your business. With their exceptional customer service and wide range of accessories, you can be sure that your business will be a success.
Is Barbecue Concession trailer Profitable?
Barbecue concession trailers are becoming increasingly popular among entrepreneurs looking to get into their own business. The great thing about this type of business is that it requires relatively little start-up capital and can be set up in almost any location. With the right attitude and proper preparation, a barbecue concession trailer can be a very profitable business.
How To Run A Successful Barbecue Concession trailer
The key to making a barbecue concession trailer profitable is to offer quality food at a reasonable price. Quality ingredients and fresh meats are essential for creating delicious and memorable meals. Offering a variety of menu items is also important, as it will appeal to a larger customer base. It's also important to keep the menu simple and offer items that can be prepared quickly.
market the bussiness
Besides, it's important to market the business in order to draw in customers. Advertising through word-of-mouth and local newspapers is an effective way to spread the word about the business. Social media can also be used to promote the business and build a following. In addition to providing delicious food, it is important to create an inviting atmosphere.
provide friendly service
Setting up a comfortable seating area and providing friendly service will make customers more likely to return. Finally, it is important to keep overhead costs low. This means controlling costs on food, supplies, and other expenses. Purchasing items in bulk is a great way to save money.
Overall, a mobile barbecue concession trailer can be a very profitable business. With the right ingredients, marketing tactics, and cost controls, entrepreneurs can make their business a success.
If you are looking for a barbecue trailer to take your grilling game to the next level, look no further! Camp not only provides a wide range of BBQ trailers with standard configuration, but also custom-made trailers designed to fit customers' specific demand. Whether you're planning a family reunion, a neighborhood block party, or just a weekend getaway, our food trailers are the perfect solution. We also provide a wide range of the necessary equipment and accessories to get your party started. So, don't wait any longer and contact us today to get your own barbecue trailer! Just leave a message in the from below or call us directly!
Please Leave A Message In The Form Below