A burger trailer is a type of food trailer that specializes in the sale of burgers. Typically, they offer a wide variety of different burgers, including beef, chicken, and vegetarian options. In addition, burger trailers often feature a variety of condiments, toppings, and side dishes to customize the burgers according to the customer's preferences. Also, they may serve french fries, onion rings, and other snacks.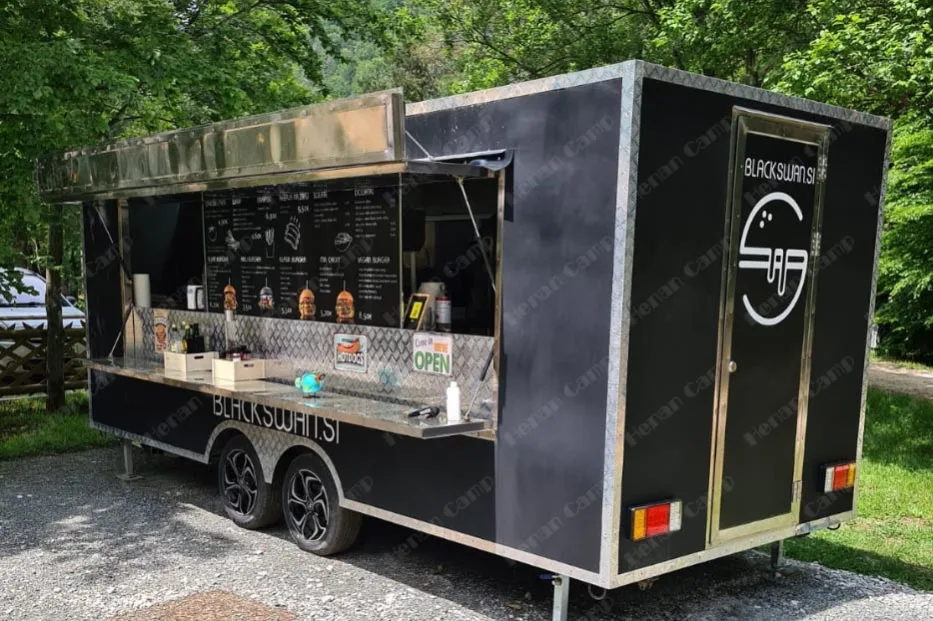 Hamburger Trailer For Sale
Material: galvanized steel
Inner equipment: customizable
Size: customizable
The above 16ft burger trailer for sale was built for one of our customers from Slovenia. Indeed, this attractive food trailer is fully loaded and a golden goose indeed. There are griddle, refrigerator, salad bar refrigerator, and range hood inside the trailer. In general, our customer uses it to prepare burgers and salads for his customers. Inside the trailer, there are plenty of work tables and shelves, allowing multiple staff members to work together. You can see more detailed information about this burger trailer to Slovenia here.
Burger Trailers For Sale Camp Provides
Camp is one of the leading burger trailer manufacturers. We offer a wide selection of trailers in different sizes to fit your needs. Generally speaking, we can manufacture and export 10ft, 12ft, 14ft, 16ft, 18ft, 20ft, 24ft, 26ft, 28ft burger food trailers. Besides, our burger trailers for sale are made from high-quality materials, ensuring they are strong and durable. What's more, we provide customizable options, allowing you to choose the shape, size, graphics design and color of the burger trailer.
In addition, we provide a wide list of ancillary equipment for customers to choose. That's to say, you can choose the accessories inside the burger catering trailer and coustomize it as you want. Hence, check out our selection today and find the perfect burger trailer for your business!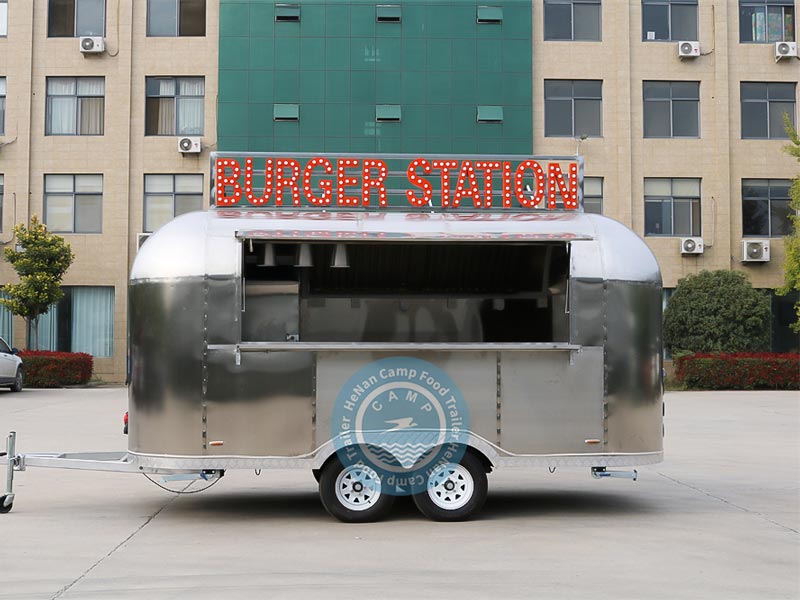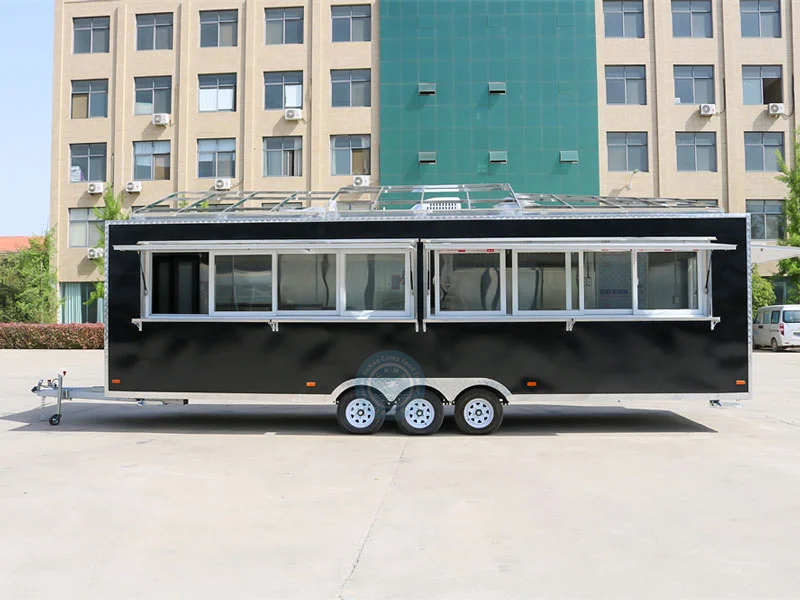 Video of A 15ft Hamburger Trailer
This is a video of 15ft burger trailer we have customized for one of our customers. In this video, you will have an overview of the exterior and interior of the burger trailer.
As we can see, the whole trailer is made of stainless steel. Inside the triler, there is a countertop, a range hood, some sinks and kitchen equipment. We can customize a food trailer for you. If you are interested in a food trailer for sale, welcome to contact us now! 
Interior Of A Hamburger Trailer For Sale
The interior of a hamburger trailer for sale typically includes a kitchen area with appliances, counters, and storage space. In general, the kitchen may include a commercial-grade refrigerator, freezer, stovetop, oven, microwave, sink, and prep area. Plus, counters may be made of stainless steel and often have shelves, drawers, and cabinets for storage. The following are pictures of some parts inside the hamburger trailer.
To emphasize, the interior structure of this burger food trailer for sale will be customized according to the customer's actual demand. Of course, we can customize the full kitchen equipment according to your real demand.
Why Burger Food Trailer Is Popular
Burger food trailers are popular because they offer a convenient and affordable way to serve delicious burgers to customers. They are easy to set up and can be moved around to different locations, allowing customers to enjoy their burgers on the go. They are also a great way to bring in extra business during peak times, such as lunchtime or on weekends. Burger food trailers also offer a wide variety of options, from classic burgers to gourmet creations, allowing customers to create their own perfect burger.
The hamburger is a popular and important part of many diets. It is a versatile meal that can be eaten at any time of the day, and can be served as a snack, lunch or dinner. As a source of protein, the hamburger can be a great way to meet dietary protein needs, and people often serve them with a variety of vegetables and other nutrient-dense foods, such as whole grains and legumes. Furthermore, the hamburger can be an affordable and convenient way to get a balanced meal.
In a word, the large demand for hamburgers also creates demand for hamburger food trailers. This is the root cause of the popularity of burger trailers.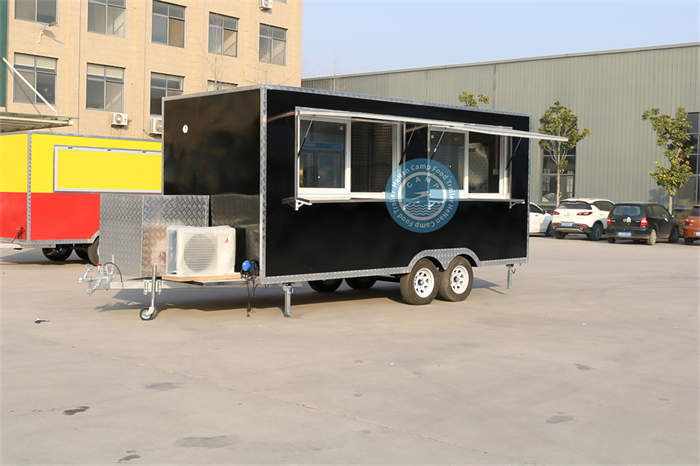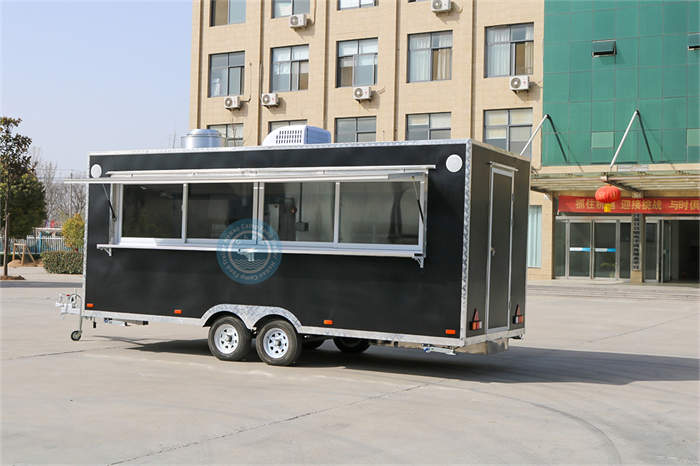 The Benefits of Operating a Burger Food Trailer
Operating a burger food trailer for sale can be an incredibly rewarding and profitable business venture. Not only burger trailers provide a great opportunity to serve a variety of delicious burgers to hungry customers, but also provide a great source of income for their owners.
One of the primary benefits of operating a burger van trailer is the low startup cost. In general, the cost of starting a burger van trailer is much lower than starting a traditional restaurant. That makes it a great option for entrepreneurs with limited capital. Additionally, a catering trailer burger van is easy to operate and require minimal staffing, meaning you can run your business with a small team.
Another great benefit of operating a catering trailer burger is the ability to serve customers in any location. With a hamburger food trailer, you can set up shop in any location. That will allow you to serve customers in areas where traditional restaurants may not be able to go. Additionally, you can easily move your hamburger trailer from one location to another, giving you the flexibility to serve customers in different areas.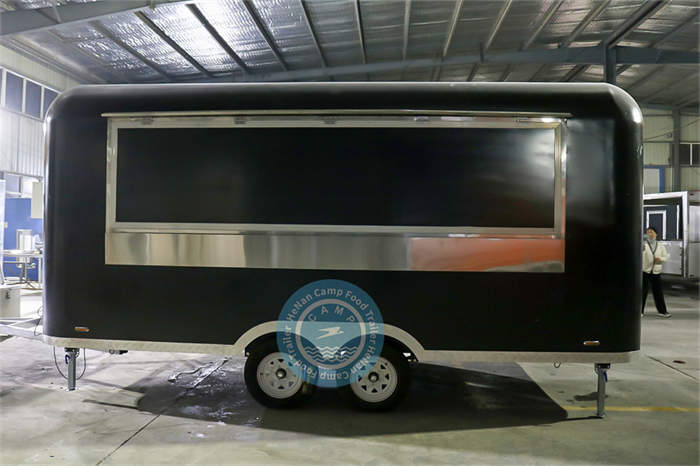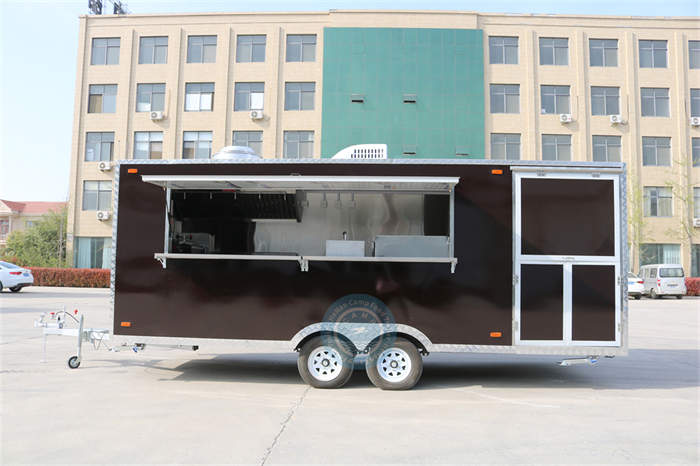 Finally, operating a burger trailer is a great way to make a positive impact in your community. As more people become aware of your business, you'll be able to provide employment opportunities to local residents. That will create a positive ripple effect in your community.
Overall, operating a horse box burger van will be an incredibly rewarding and profitable business venture. With its low startup cost, portability and ability to serve customers in any location, burger food trailers are quickly becoming a popular choice for entrepreneurs looking to start their own business.
Tips for Operating a Successful Catering Burger Trailer
Operating a successful burger trailer requires a lot of hard work and dedication. In order to ensure your burger trailer is successful, there are several tips you should keep in mind.
The first tip is to make sure your menu is well-rounded and offers a variety of options. Customers love having choices and will be more likely to come back if they can find something different each time they visit your vending trailer. Additionally, offering a wide selection of burgers can help you attract customers with different tastes and preferences.
Another important tip is to make sure your burger trailer is always clean and well-maintained. Customers are more likely to come back if they have a pleasant experience, so make sure your catering trailer burger van is clean and inviting. Additionally, make sure you are following all health and safety regulations to ensure your customers are safe.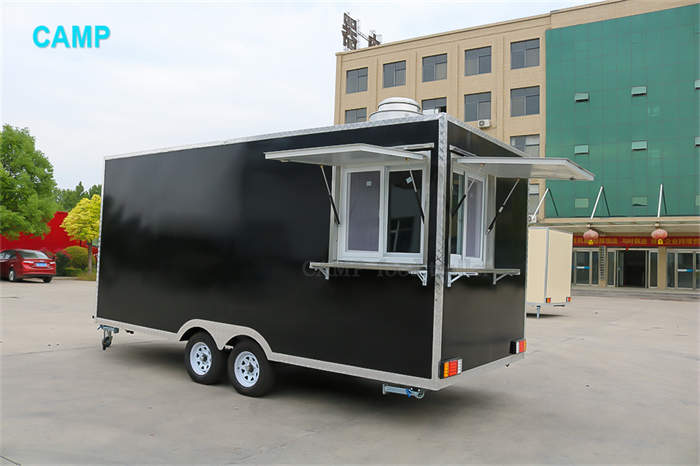 Finally, it's important to focus on customer service. Make sure your staff is friendly and helpful, and that your customers feel welcome. Additionally, offering discounts or promotions can help draw in more customers and keep them coming back.
Overall, operating a successful burger van catering trailer requires a lot of hard work and dedication. By following these tips, you can ensure your business is successful and that your customers have a great experience.
Camp Is A Good Choice For Hamburger Trailer
Are you looking for a catering burger trailer for sale now? check out our amazing burger van catering trailer for sale! We not only provide standard configuration burger trailers, but also customized products to meet your demand. We hold a CE certificate, ISO9001 certificate, and vehicle identification code. Besides, in areas where there are regulations for chassis and accessories, we will also provide the corresponding certificates for our customers. In that way, Camp Industrial Co., Ltd can guarantee that our customers can use our products without worries.
If you're interested in purchasing our catering trailer burger van for sale, please contact us by leaving a message below! Our sales will reply you in 24 hours! Or just call us directly! We'll be happy to answer any questions you may have. Just contact us now!
Please Leave A Message In The Form Below