Stainless Steel Food Trailer
The stainless steel food trailer is a popular choice for entrepreneurs in the food industry. That is because, they are made from high-quality stainless steel, which makes them highly corrosion-resistant. Additionally, they are known for their aerodynamic shape and distinctive silver exterior, as well as their modern interior comforts. 
 Generally speaking, people can use stainless steel food trailers to serve food to customers in parks, at events, or other locations. That is to say, these food trailers offer a unique way for restaurant owners and chefs to bring their food to customers.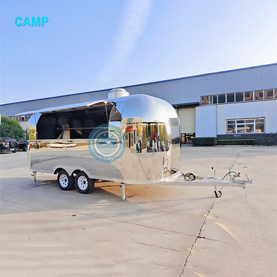 12ft Stainless Steel Food Trailer for sale
Material: stainless steel
Inner equipment: customizable
Size: customizable
Customer Feedback Of Stainless Steel Concession Trailer
Our stainless steel concession trailers has been exported to many countries all over the world. Therefore, the following are some pictures and videos of our cases. Below are feedback pictures sent by our customers from Qatar and New Zealand. The 13ft airstream food trailer was used by one of our customers from Qatar. He uses this food trailer to sell snacks on the street. The 26ft airstream food trailer was bought by one of our customers from New Zealand. He uses the food trailer to sell BBQ.
Camp has manufactured many custom food trailers for customers all over the world. Correspondingly, our customers speak highly of our trailer.  Besides, our stainless steel concession trailers really bring our customers wealth and happiness. No matter our customers use our food trailers as coffee trailer,  pizza trailer,  ice cream trailer, or hot dog trailer, they got great benefits from them. As a result, the following are some of our customers and our trailers.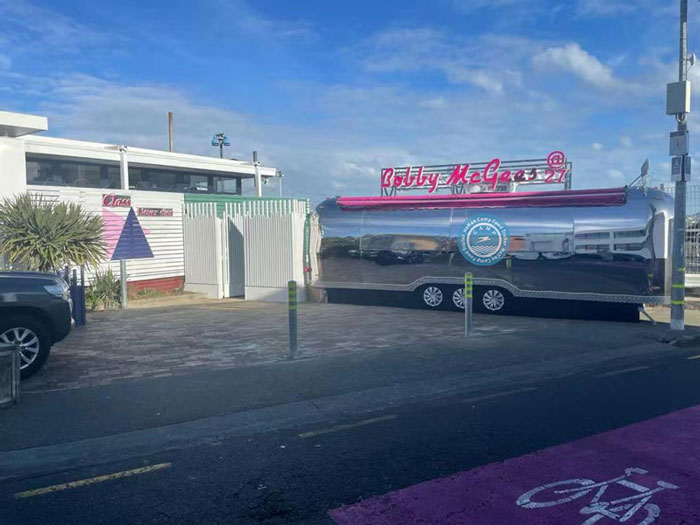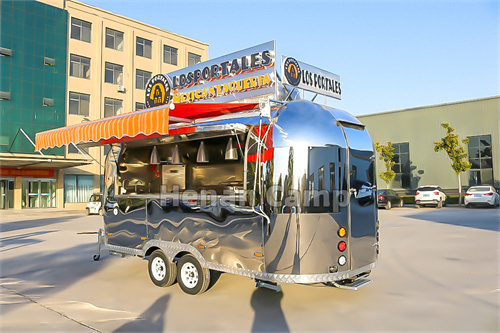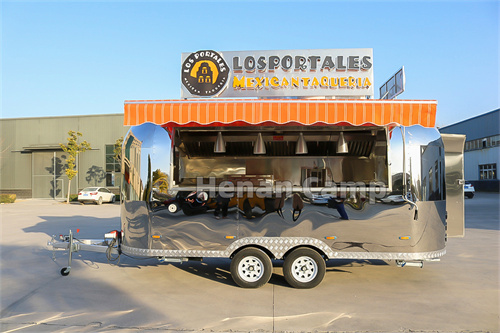 Video of camp Hot Selling Stainless Steel Food Trailer
This is our customized stainless steel food trailer, the whole body and interior equipment are made of stainless steel. According to customer needs, we customized the top billboard, kitchen equipment, and adopted a different back door design from other stainless steel food cart.
If you wish to order a stainless steel food cart for sale like this one, or you would like to have a custom catering trailer built. Then, contact us now by clicking the chat button! Moreover, we can design and install your graphics or custom wrap in-house as well. Just contact us now!
Overview Of The Interior Of An Stainless Steel Food Trailer
A stainless steel food trailer can provide a functional, efficient space for food preparation and service. The interior typically features a U-shaped countertop, a kitchenette with sink, refrigerator, and storage space, and a serving window. The following are some pictures of the interior of our fully equipped food trailer. To emphasize, we can help customers customize the stainless steel food trailer according to customers' actual demand.
Stainless Steel Food Cart For Sale - Why Buy It
Are you looking to start a food business? Consider a stainless steel food trailer! These versatile and durable mobile kitchens are a popular choice for entrepreneurs in the food industry. Made from high-quality stainless steel, these trailers offer several advantages for your culinary endeavors.
First and foremost, stainless steel is known for its excellent corrosion resistance, making it perfect for food preparation and storage. This material is easy to clean and maintain, ensuring a hygienic environment for your food preparation processes.
Another benefit of stainless steel food trailers is their versatility. You can customize the interior layout to suit your specific needs, whether you're planning to serve hot meals, sandwiches, smoothies, or even desserts. With the right equipment and storage options, you can create a compact yet efficient workspace that maximizes productivity.
Moreover, stainless steel trailers are equipped with modern amenities to support your cooking operations. Depending on your requirements, you can install commercial-grade appliances such as ovens, grills, fryers, refrigerators, and sinks. These trailers also come with ample storage space for ingredients, utensils, and other necessary supplies.
One of the great advantages of a food trailer is its mobility. Unlike a brick-and-mortar restaurant, you can take your business on the road and tap into different markets or events. Whether it's a local festival, farmers market, or corporate gathering, your stainless steel food trailer allows you to bring your delicious offerings directly to your customers.
When it comes to branding, food trailers offer ample space for eye-catching graphics and signage, helping you attract attention and create brand awareness. With a well-designed and visually appealing exterior, you can stand out from the competition and entice potential customers to try your delectable creations.
In conclusion, a stainless steel food trailer provides a fantastic opportunity to enter the food industry or expand an existing business. Its durability, versatility, mobility, and branding potential make it an excellent investment choice for aspiring food entrepreneurs. So, why wait? Start planning your food trailer venture and bring your culinary dreams to life!
We Offer Customized Stainless Steel Food Cart For Sale
If you are interested in running a stainless steel food trailer, Camp will be a good partner for you. With more than 10 years' manufacture and export experience, Camp is a food concession trailer vendor you can rely on.
Main Advantages of camp Stainless Steel Concession Trailer:
In the first place, we can customize trailer size, appliances, light belt, logo and colorful luminous words.
Second, the mirror stainless steel with streamlined design makes the trailer looks vintage and classic.
Third, with modern kitchen facilities added inside which can meet your demand of dealing with foods.
What Is The Cost Of A Stainless Steel Food Trailer?
The cost of an stainless steel food trailer for sale depends on the size, age, and condition of the trailer. In general, prices typically start from $5000. However, you can get a quite competitive price from Camp. Why? That is because we are professional food trailer manufacturer and exporter in China. Furthermore, we have advanced manufacturing technology and perfect sales system. In this case, that allows us offer our customers all over the world stainless steel food cart for sale with nice price.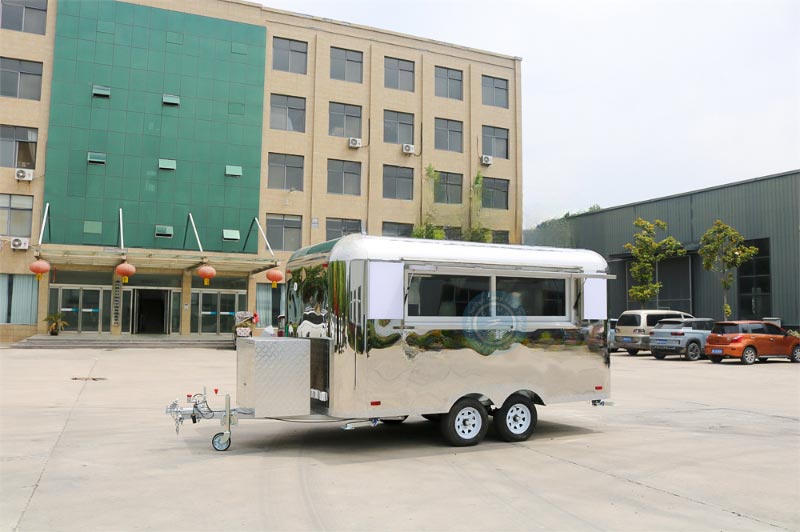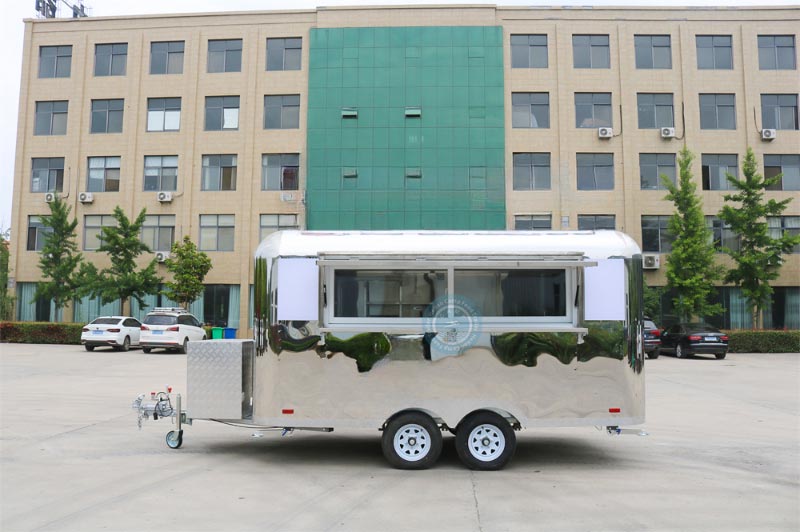 Things To Consider Before Buying An Stainless Steel Food Trailer For Sale
First and foremost, you will need to determine what your budget is for the stainless steel concession trailer you are interested in purchasing. In this case, this will help to narrow down your search and determine what type of food trailer you can realistically afford.
Stainless steel food trailers come in a variety of sizes and layouts. Therefore, you should consider the number of people who will be operating in the trailer, as well as how much storage space you need.
Keep in mind, the location you plan to use your stainless steel food trailer will determine what type of food trailer you need. For example, if you plan to use it for camping, you will need to make sure the trailer is able to handle rough roads and off-road terrain.
Since the startup costs and overheads are lower, the risk is lower. In that way, it means that you can experiment with different ideas more easily and without as much risk of losing money.
Keep in mind, stainless steel food trucks require regular maintenance to keep them in good condition. Therefore, make sure you are ready to perform regular maintenance and inspection on your stainless steel food trailer to ensure it is in good working order.
As we all know, stainless steel food trailers are expensive investments, so you should consider purchasing insurance to protect your investment. For this reason, make sure to shop around for the best rates and coverage.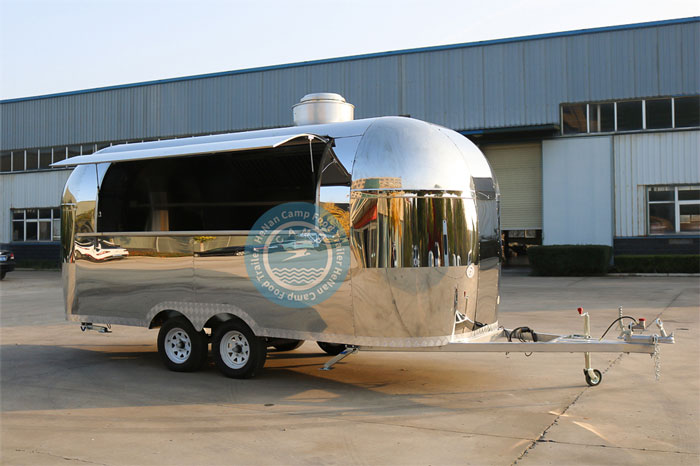 If you are interested in any type of our stainless steel food trailers, please don't hesitate to leave a message now! Just give us your contact information and a brief description of what you are looking for! We will get back to you in 24 hours! Contact us now, you will be getting closer to your career and wealth!
Please Leave A Message In The Form Below