Hot Dog Food Trailer For Sale
A hot dog food trailer for sale is a mobile food trailer that is designed to prepare and serve hot dogs, sausages, and other similar food items. Usually, it consists of a small kitchen area with a griddle, fryer, and other cooking equipment. Sometimes, it can also include a counter, refrigeration, and a serving window. As a professional food trailer manufacturer, Camp can manufacture similar hot dog food trailers for sale as this page shows or customize one according to your actual demand.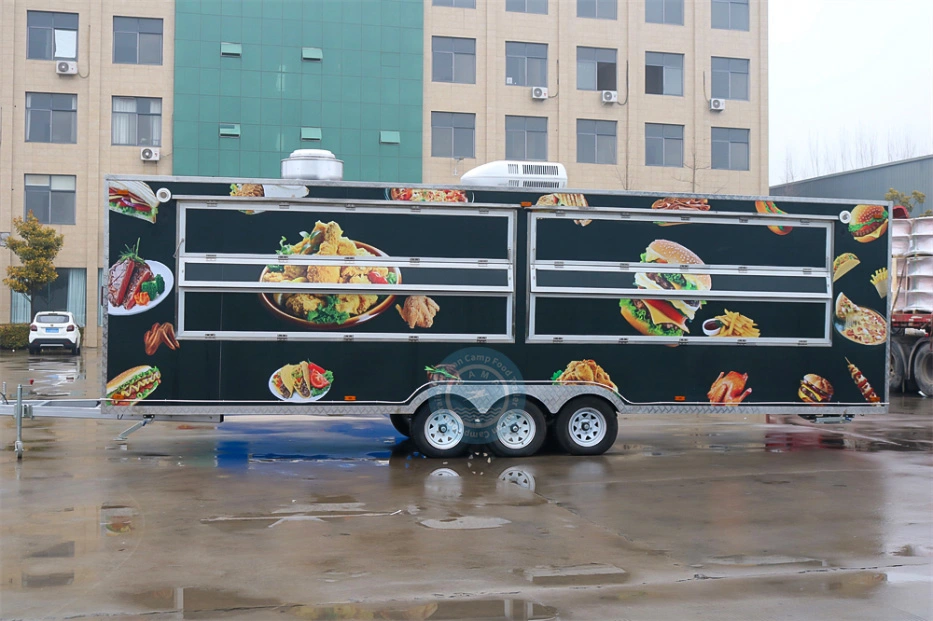 hot dog food Trailer For Sale
Material: stainless /galvanized steel
Inner equipment: customizable
Size: 10ft-36ft
Export Cases of Camp Hot Dog Trailer For Sale
The following food trailer belongs to one of our customers in The United States. As you can see in the picture, our customer use this food trailer to sell many kinds of foods. For example, hot dogs, burgers, pizza, chips, tacos, and fried chicken etc.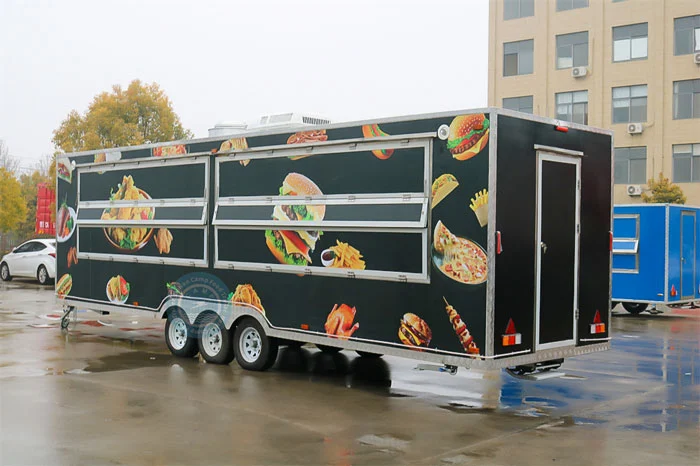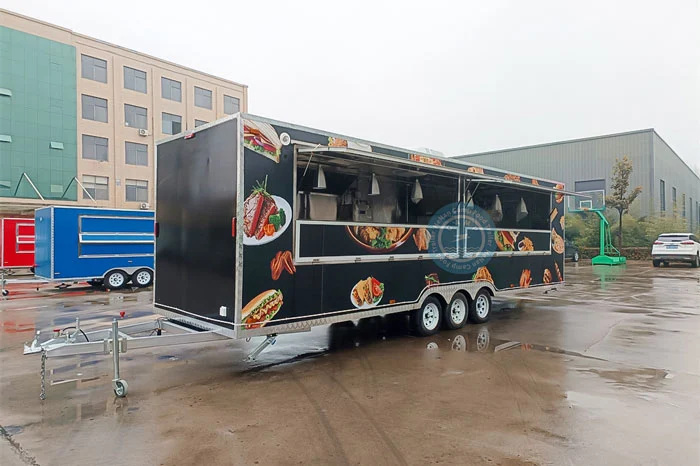 This is a 26ft food trailer. To some degree, it is a large one. Our customer is able to serve so many kinds of foods with this trailer. Therefore, the business is always very good. This food trailer is a great investment for this customer.
Hot Dog Food Trailer For Sale Camp Provides
Camp is an experienced hot dog food trailer manufacturer and exporter. We offer a vast selection of concession trailers that come in multiple dimensions to suit your requirements. In general, our hot dog food trailers can range from 10ft to 36ft. Besides, all of our trailers are made from strong, high-grade materials to ensure longevity. For example, the stainless steel hot dog trailer. Additionally, we provide customization options so you can select the size, shape, and color of your trailer.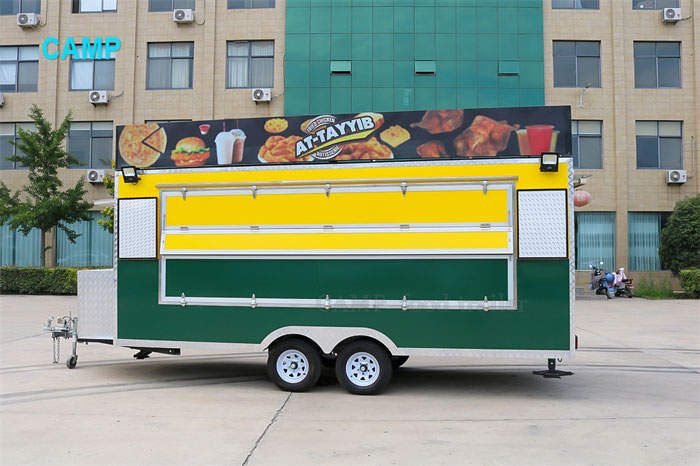 To serve customers better, we provide a wide list of ancillary equipment for customers to choose from. Here, you can see our ancillary equipment list. You will have multiple choices. For instance, if you want to buy a corn dog concession trailer, we can customize it. In a word, you can get the perfect custom hot dog trailers that meet your demands from Camp.
Video of A 26ft Hot Dog Trailer For Sale
This is a video of Camp 26ft hot dog food trailer for sale. In this video, you can see the whole trailer display and the inner structure of it. As we can see, there are countertops, fire extinguishing device, sinks, an oven, a griddle, and shelves inside the hot dog trailer. You will get a better knowledge of this trailer after watching this video.  
To emphasize, the kitchen equipment inside the hot dog trailer will be customized according to customers' actual demand. Besides, our company can customize the shape, color, size and the inner equipment according to customers' real demand. Moreover, we can design and install your graphics or custom wrap in-house as well. All we want to do is to help you get the food trailer you want. 
Interior Of A Hot Dog Food Trailer For Sale
A hot dog food trailer typically consists of a counter, a preparation area, a sink, several storage shelves and other kitchen equipment.  To emphasize, the interior structure of a hot dog trailer for sale will be customized according to customers' actual demand. Of course, we can customize the full kitchen equipment according to your real demand.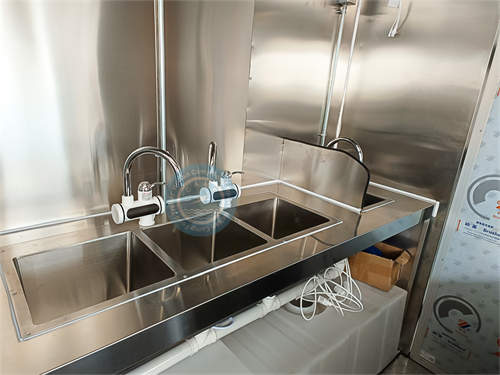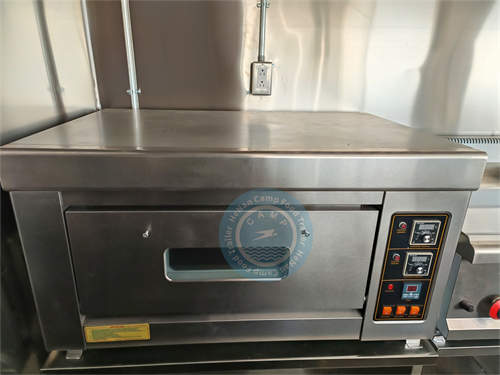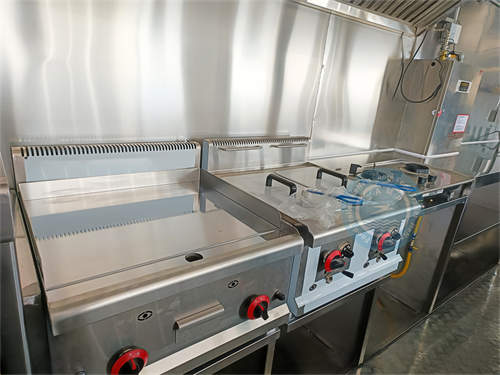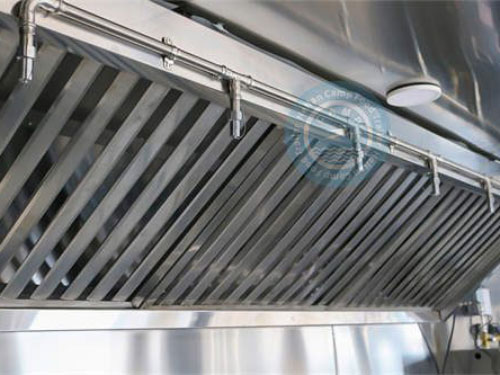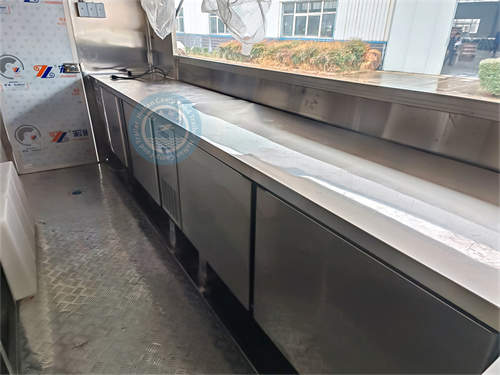 Hot Dog Food Trailer Detailed Parameters:
Hot Dog Trailer Standard Configuration
Item
Description
Dimension
250/300/400/500/600/800*200*210cm [Customizable]
Axle
1/2/3 axles
Tyre
4/6 pcs,vacuum tires
Chassis
Integral steel, Suspension treated, Anti-rust coating
Bodywork
Galvanized steel, Heat preservation cotton, Aluminum Composite Panels
Drawing bar
1 set
Jacks
4 pcs
Color
Optional
Lights
6 LED tubes
Flooring
Non-sliping aluminum floor with drain
Workbench
201/304 Stainless steel, with shelves and extending table
Water system
Water sinks*2 ,Water buckets*2, Hot and cold water taps,12v mini water pump
Electricity
Muti-functional sockets, Electric box and cables, External power supply connection
Is Hot Dog Trailer Business Profitable?
Yes, the hot dog trailer business can be profitable. As with any business, success depends on factors such as location, pricing, customer service, and marketing. If you have the right combination of these factors, it's possible to make a good profit from a hot dog food trailer.
Why Hot Dog Trailers Are Popular?
Let's start with the history of the hot dog. The hot dog is believed to have originated in Germany in the late 1700s, where it was known as a sausage in a bun. It gained international popularity in the late 1800s when German immigrants brought the dish to the United States. It was first sold by street vendors in New York City and Chicago. Since then, the hot dog has become an iconic American food, often associated with summertime and outdoor events.
In many countries around the world, the hot dog is now a staple of the American diet. In the United States, hot dogs are one of the most popular items at ballparks, stadiums, and outdoor events. Furthermore, the hot dog is also a popular item on fast food menus, and packaged hot dogs are sold in supermarkets.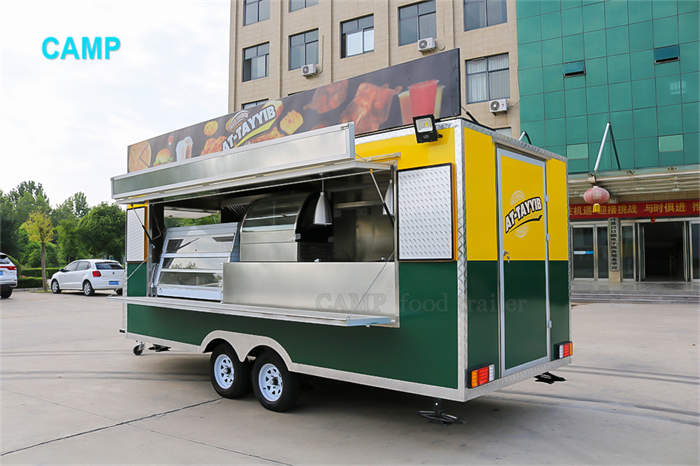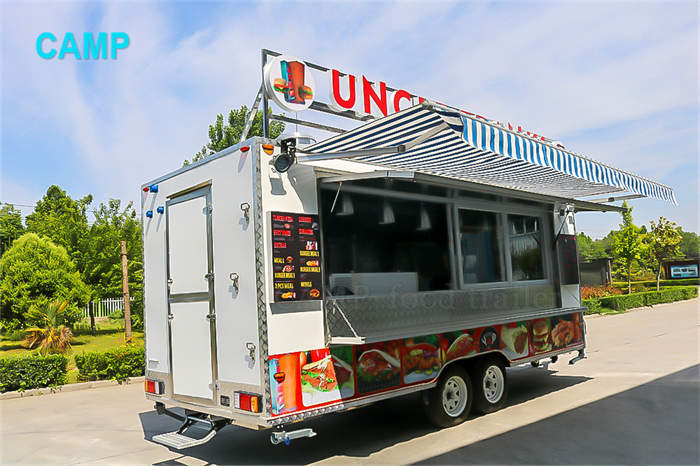 The hot dog industry has grown significantly since its early days, with a variety of hot dog brands and products available. Hot dog sales have increased over the years, with Americans consuming an estimated 20 billion hot dogs annually. Also, hot dogs are a popular choice for food service establishments. In this case, hot dog restaurants and hot dog vending trailers have become increasingly popular.
In conclusion, the large demand for hot dogs promotes the increasing demand for hot dog trailers.
Hot Dog Concession Trailers: The Perfect Mobile Food Service Solution
Are you looking for a convenient, economical, and efficient way to sell hot dogs? Hot dog concession trailers are the perfect solution! A hot dog concession trailer is a mobile food service unit that is designed to serve up delicious hot dogs to hungry customers. Hot dog vending trailers come in a variety of sizes, shapes, and designs and can be customized to meet your specific needs. What's more, these mobile food service units are easy to tow and operate, making them an ideal choice for those who want to start their own hot dog business. Whether you want to set up shop at a local market or host an outdoor event, a hotdog concession trailer is the perfect way to serve up quality hot dogs to your customers.
Tips for Choosing the Right Hot Dog Trailer 
Choosing the right hot dog trailer can be a daunting task. Not only do you need to consider which features are most important for your business, but you also need to make sure the mobile hot dog trailer is the right size to meet your needs. Here are some tips to help you choose the perfect hot dog trailer for sale for your business:
1. Choose the right size.
You need to make sure the hot dog food trailer for sale is big enough to accommodate all of your hot dog needs.
2. Consider the features.
Look for hot dog concession trailers for sale that comes with the features you need, such as an oven, prep area, and storage space.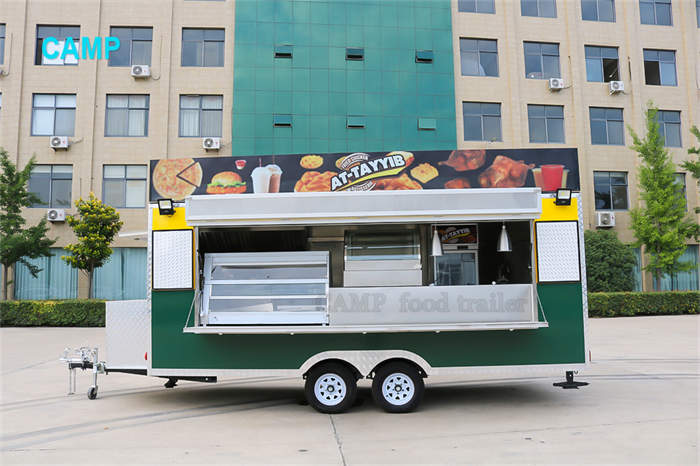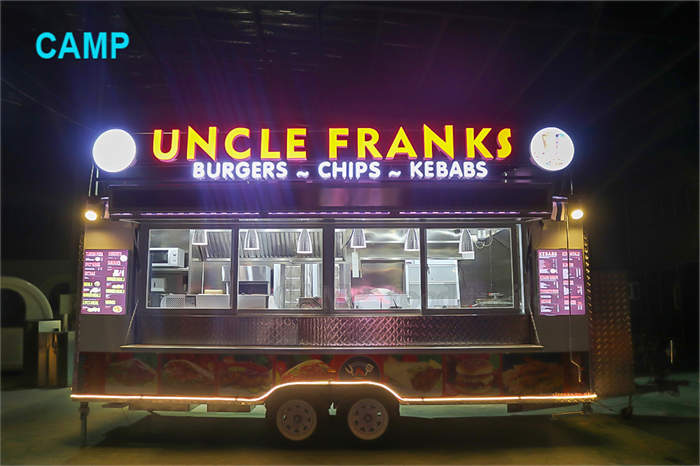 3. Choose the right style.
Hot dog stand trailers for sale come in a variety of styles, so choose one that fits your business's aesthetic.
Hot dog trailers for sale can be expensive, so make sure you choose one that fits within your budget.
The Benefits of Owning a Hot Dog Concession Trailer 
Owning a hot dog trailer cart comes with a lot of benefits. Not only is it an affordable way to start your own business, but it also gives you the flexibility to move your business wherever you need. Here are a few of the benefits of owning a hot dog cart trailer:
Small hot dog trailers are relatively affordable, making it easy to get started.
Hot dog trailers make it easy to move your business from one location to another.
3. Variety of menu options.
We can customize hot dog food carts to serve a variety of food items, such as burgers, fries, and more.
4. Branding opportunities.
Concession hot dog trailers provide an ideal way to advertise and promote your business.
Whether you're just starting out or looking for a way to grow your existing business, investing in a hot dog concession trailer for sale will be a great choice. With the right vending trailer, you can serve up delicious hot dogs to your customers while increasing your profits.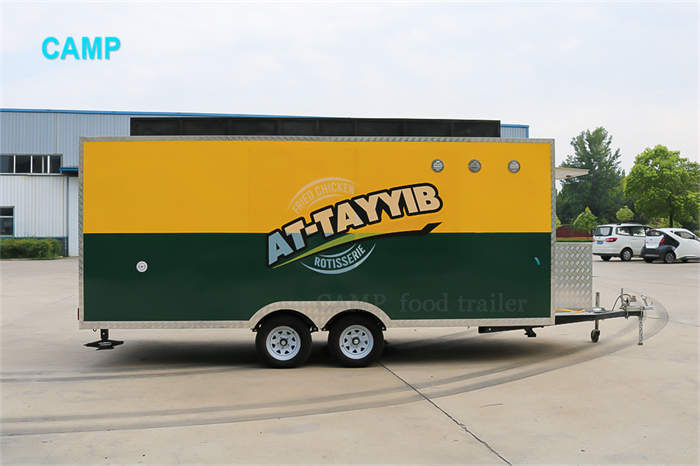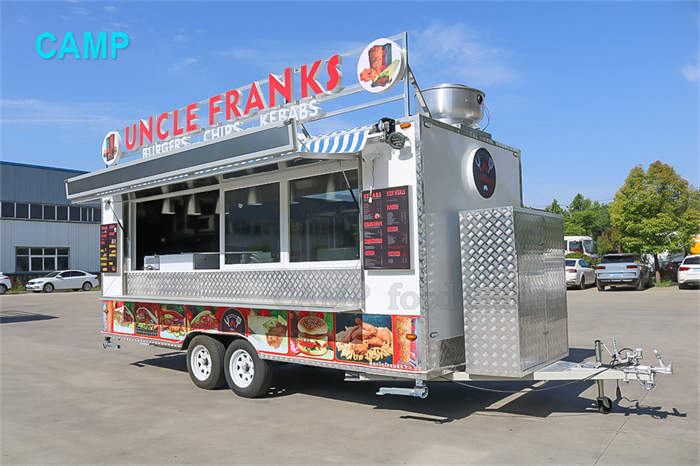 Are you searching for hot dog trailers for sale near me right now? If so, you've landed on the right page! it's time to buy a hot dog trailer! With an enclosed hot dog trailer, you can bring your business anywhere you want to go. You can set up shop in busy areas and capitalize on the high foot traffic. Not only that, but you can also offer an expanded menu with all the fixings no matter where you are. So don't wait any longer, get an enclosed hot dog trailer for sale today and start serving up delicious hot dogs to your customers!
Just leave a message in the form below, our sales will reply in 24 hours! Or call us directly!
Please Leave A Message In The Form Below