Food Concession Trailers for Sale
A food concession trailer is a type of mobile vending vehicle typically selling food or other goods at concerts, festivals, fairs, and other public events. As a matter of fact, It usually has all the necessary equipment for serving food including a deep fryer, a grill, a refrigerator, a prep counter, and a sink. What's more, some concession trailers also come equipped with a generator, so you can operate even when there is no access to electricity.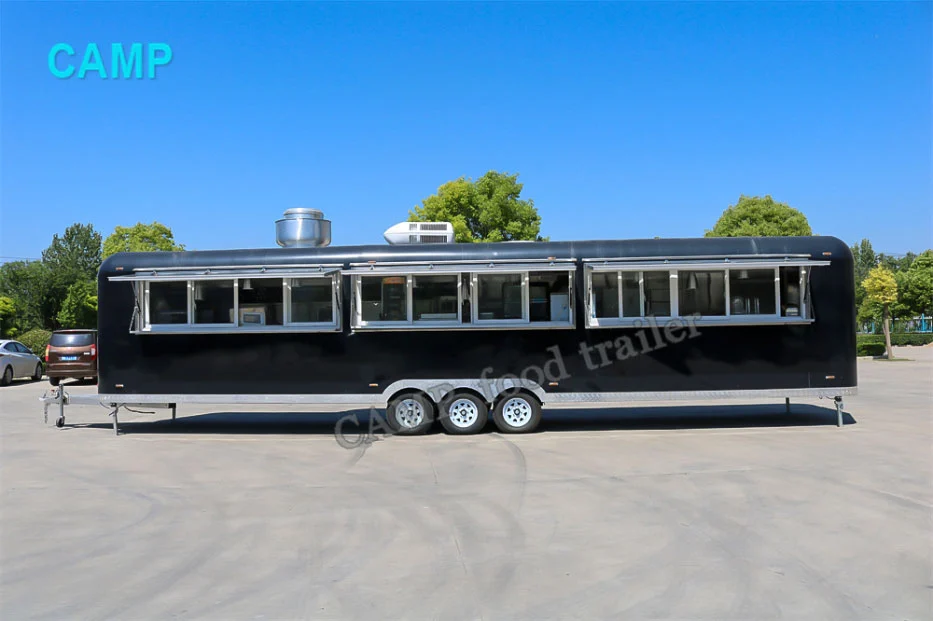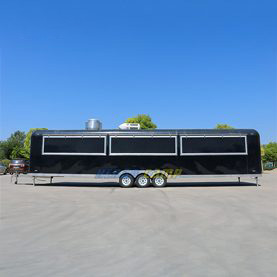 36ft Food Concession Trailer For Sale
Material: stainless /galvanized steel
Inner equipment: customizable
Size: 10ft-36ft
Our Concession Stand Trailers In Countries All Over The World
Our concession stand trailers for sale have been exported to many countries around the world. To emphasize, our concession trailers are designed with latest technology and quality materials. Therefore, they meet the highest standards of safety and performance. In addition, the concession food trailers are both durable and easy to maintain, making them ideal for use in different climates and terrains. Furthermore, these trailers are lightweight, yet strong enough to carry a variety of equipment. As a matter of fact, from refrigeration systems to mobile kitchens and concession stands, our concession stand trailers can accommodate a variety of needs. Therefore, our customers can rest assured that their concession trailers will last for years to come and will remain a dependable source of quality food service. The following are some of our work.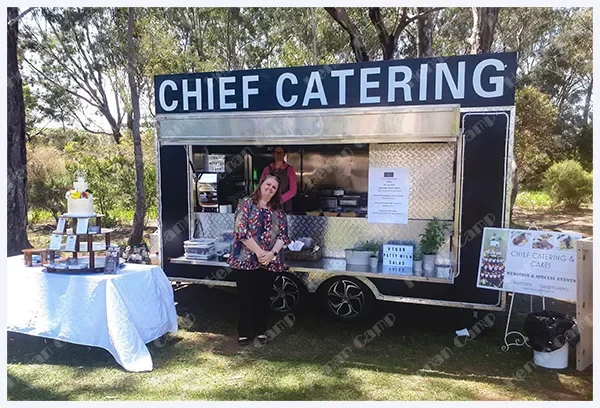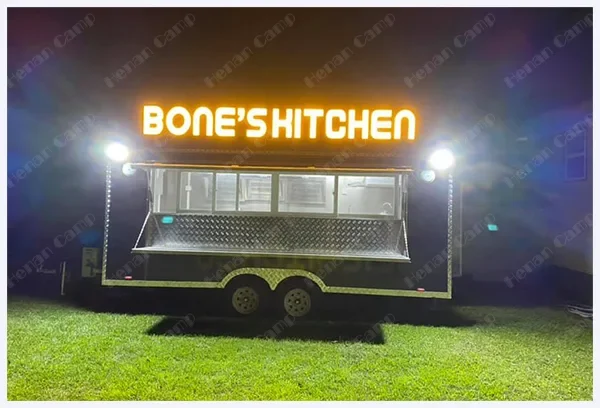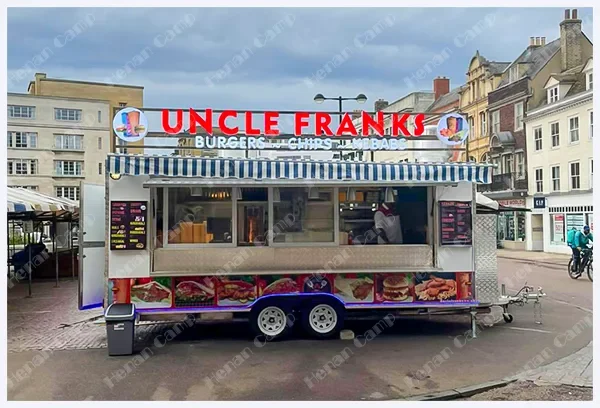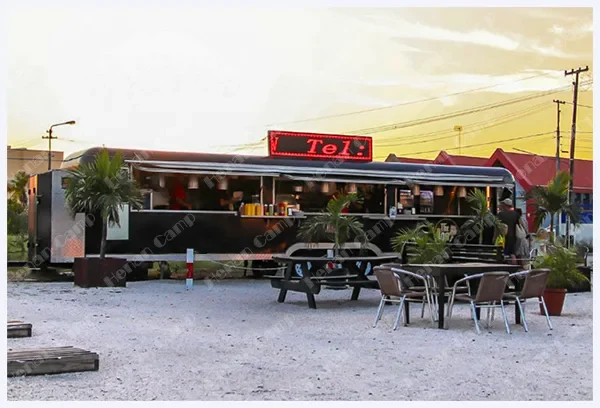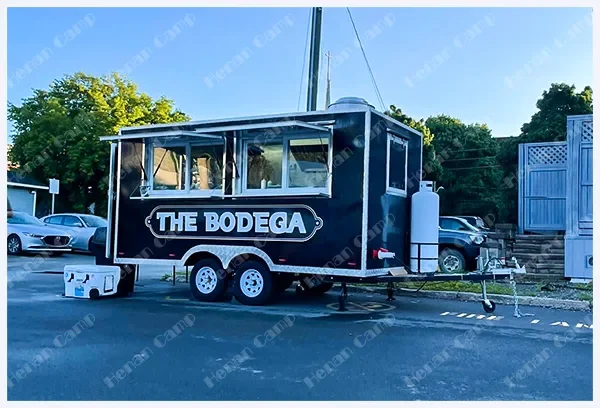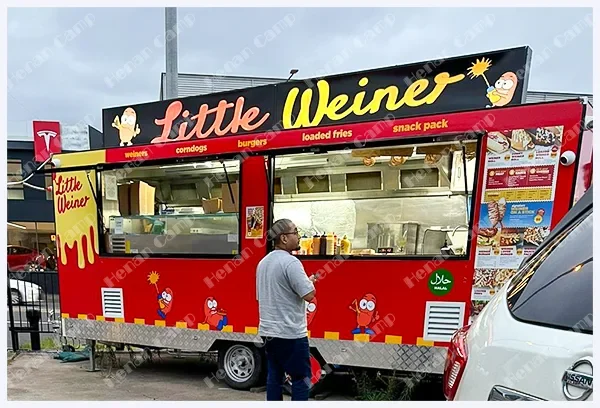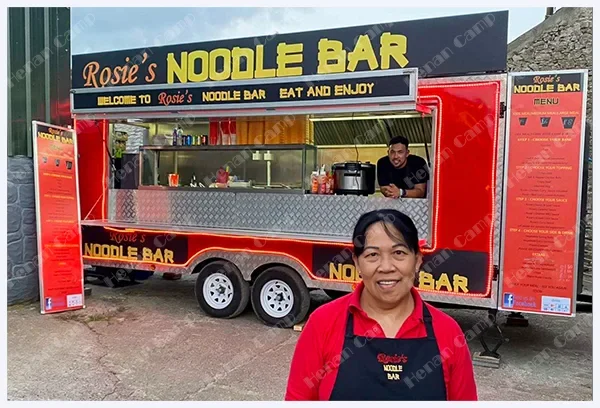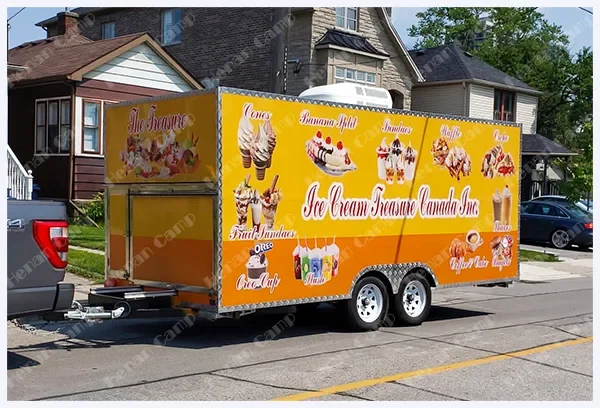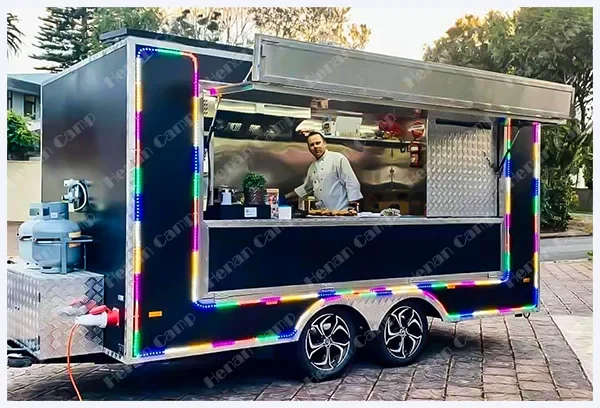 We can manufacture similar food trailers like the above or customize one according to your actual demands. Also, you can choose the shape, color, size, raw materials, exterior decoration, and interior equipment of the trailer. Whatever type of food trailer you want, we can manufacture the perfect one for you. So, if you are interested in any type of food trailer, please don't hesitate to contact us now!
Food Concession Trailers For Sale Camp Provides
Camp provides various types of food concession trailers for customers to choose from. The sizes can range from 10ft to 36ft. The following are some pictures of our hot-selling types. To serve customers better, we provide a wide list of food trailer accessories for customers to choose from.  In a word, you can get the perfect custom food trailers that meet your demands from Camp.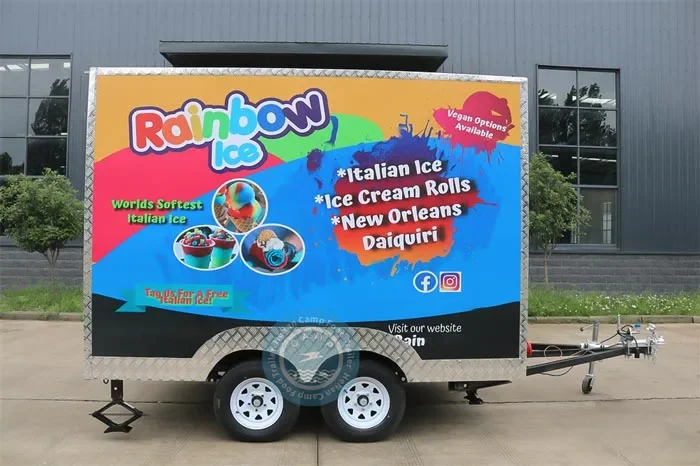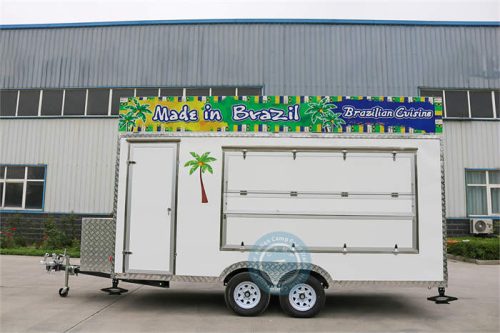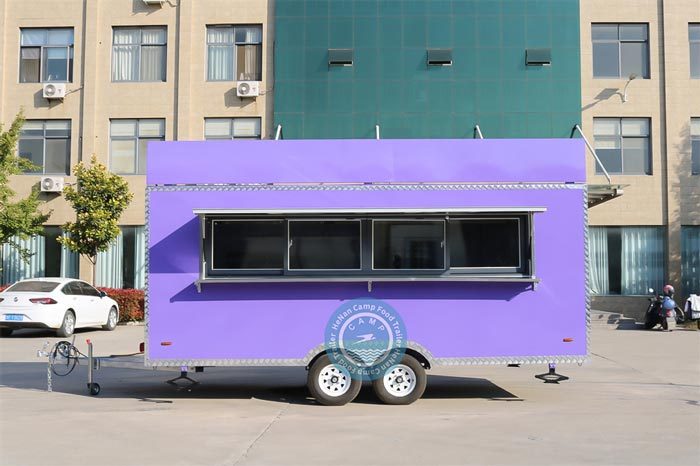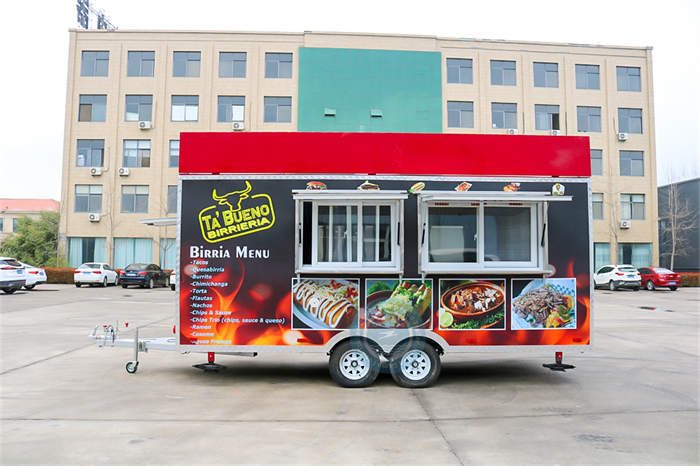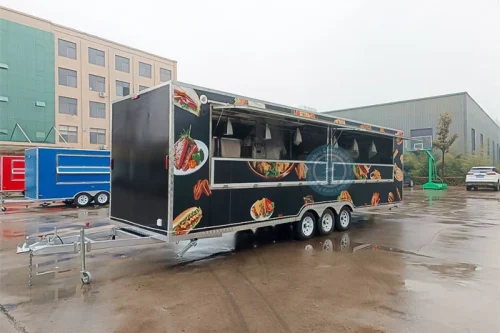 How to find food concession trailers for sale near me? You can refer to Camp Machinery here. We can provide food concessions trailer for sale ranging from 4m small concession trailers to 11m large concession trailers. Moreover, our concession stands for sale offer a light-angle special design with smooth lines and colorful light strip decoration.
Also, you can customize it in terms of size, appliances, color, light belt, logo, and colorful luminous words. For customers, you can use them to make ice cream, coffee, burgers, kebab, fried chicken, and more! We can provide customers with many different optional accessories to choose from. In other words, you can fully customize it according to your needs. Therefore, no matter whether you want a concession trailer with a standard configuration or you want a concession trailer with porch, concession trailer with bathroom, concession trailer with fryers, concession trailer with kitchen, concession trailer with living quarters, concession trailer with restroom, we can provide it to you.
Video of A 18ft Food Concession Trailer
This is a video of 18ft food concession trailer for sale from Camp company. From this video, you will have an overview of the exterior and interior of this concession trailer.
Inside the trailer, there are mainly some countertops, sinks, and shelves etc. We will customize the kitchen equipment inside the trailer according to customers' actual demands.  
To emphasize, our company can customize the shape, color, size and the inner equipment according to customers' real demands. All we want to do is to help you get the food vending trailer you want. 
A food concession trailer typically consists of a counter, a preparation area, several sinks, several storage shelves and other kitchen equipment. To emphasize, the interior structure of a food trailer will be customized according to customers' actual demand. We can customize the full kitchen equipment according to your real demand.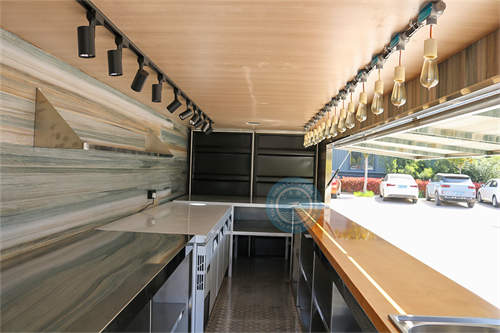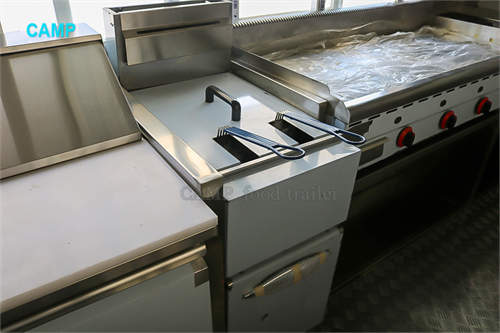 Are Concession Trailers For Sale A Good Investment?
Concession trucks and trailers for sale are great investment for entrepreneurs looking to start a business.
In the first place, they are relatively inexpensive to purchase, and have low overhead costs. In general, people can take them to almost any location. Additionally, they can be easily customized to fit whatever food type or product you are selling, making them very versatile.
However, it's important to keep in mind that the success of a concession trailer food business will depend largely on the local market, so it's important to do your research and understand the local demand for the type of food you are planning to serve.
We Offer Customized Food Concession Trailer For Sale
If you're looking to start mobile food concession trailer business, Camp has the perfect one to provide you. We will serve as the perfect foundation for your business. With rich experience and wide range of accessories, we are able to help you run a successful food trailer business.
Tips For Running A Concession Trailer Successfully
Understand your local market, the type of food you will be selling, and who your customers will be. Generally speaking, this will help you determine the types of products you should offer and the best locations to set up your concession trailer.
2. Invest in Quality Equipment:
Invest in quality equipment for your concession trailer. Then, it will help you serve your customers better and keep your food fresher.
Develop a menu that will appeal to your customers and keep them coming back.
4. Don't Forget the Little Details:
Make sure to include the little details like condiments, utensils, napkins, and other items that your customers might need.
5. Keep Your Concession Food Trailer Clean:
Maintain a clean concession food trailer. Not only will it help keep your customers safe, but it will also help make your retail concession trailer look more professional and inviting.
6. Provide Excellent Customer Service:
Make sure that your customers always feel welcome and appreciated. Keep it in mind, and treat them with respect and kindness.
Develop a menu that will appeal to your customers and keep them coming back.
Keep your concession food trailer organized so that you can quickly and efficiently serve your customers.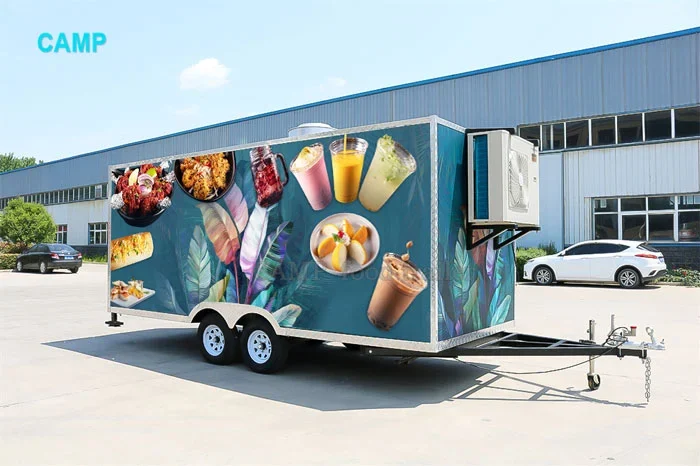 What To Consider Before Buying A Concession Kitchen Trailers For Sale
Consider the size and weight of the concessions trailer for sale, as this will dictate what kind of vehicle you need to tow it.
2. Concession Trailer Prices:
Determine your budget and find a concession trailer that fits within it. If you want to find a concession trailer cheap, concession trailers for sale under $5000 will be a good choice.
Consider what you will be using the concession stand trailer for and make sure to get one that meets your needs.
Make sure the food concession trailer has adequate ventilation for cooking and food preparation.
Make sure you have the proper licensing and permits to operate a food concession trailer in your area.
Make sure that the electrical system is up to code and can handle all of your equipment.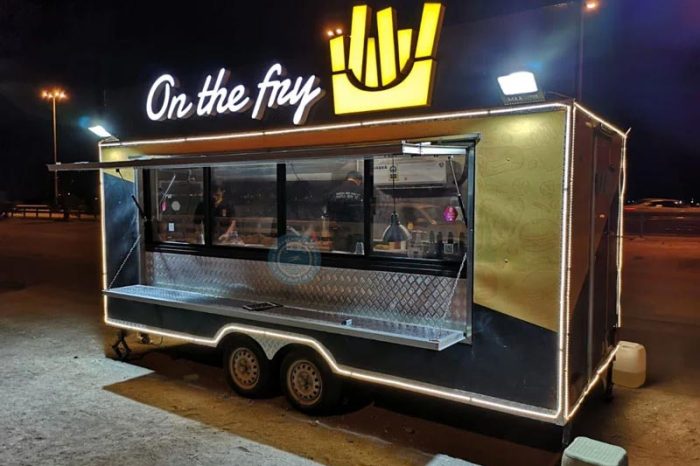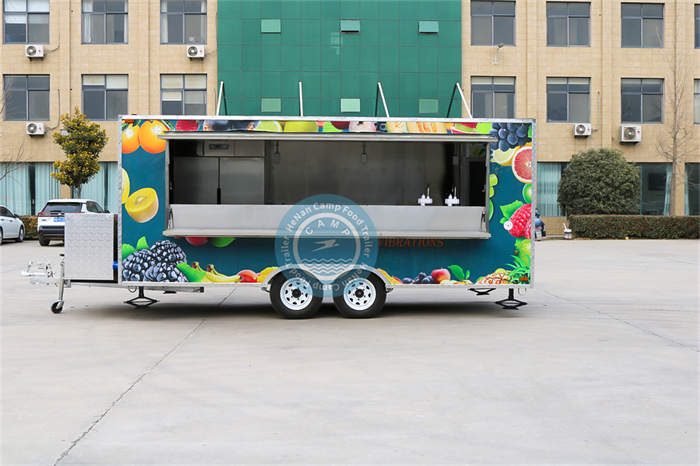 Find Reliable Food Concession Trailer From Camp
There are many concession trailer companies and concession trailer dealers all over the world. Camp is a good choice for customers among worldwide concession trailers builders. Camp concession trucks and trailers offer a wide selection of features that make them an ideal choice for starting a mobile food business. Especially, these trailers are built with durable, high-quality materials and designed to meet the highest standards of food safety. What's more, they are easy to maneuver and can be customized to suit your specific needs. That is to say, we can provide custom-built concession trailers and mobile kitchens. In particular, our concession trailers come with a large range of optional equipment, including refrigerators, sinks, grills, and more, allowing you to easily prepare and serve a variety of foods. According to your specific demands, we can help you configure a concession trailer fully equipped.
Finally, Camp concession trailers in stock are affordably priced and offer great value for money. Our concession kitchen trailers can bring you more profits.
Are you interested in buying a concession food trailer? Don't hesitate to contact us now! Just leave a message in the form below! Tell us what kind of food you are interested to deal with, or any questions you have, we will get back to you as soon as possible!
Please Leave A Message In The Form Below