Pizza Food Trailer For Sale
Are you looking to get into the mobile food business? If so, a pizza food trailer for sale is the perfect opportunity. With a pizza food trailer, you can take your delicious creations to festivals, events, and even residential neighborhoods. Plus, you can use it to showcase your unique recipes to a wider audience. Whether you specialize in Italian-style pizzas, classic American pies, or something entirely new, a pizza food truck trailer for sale is a great investment.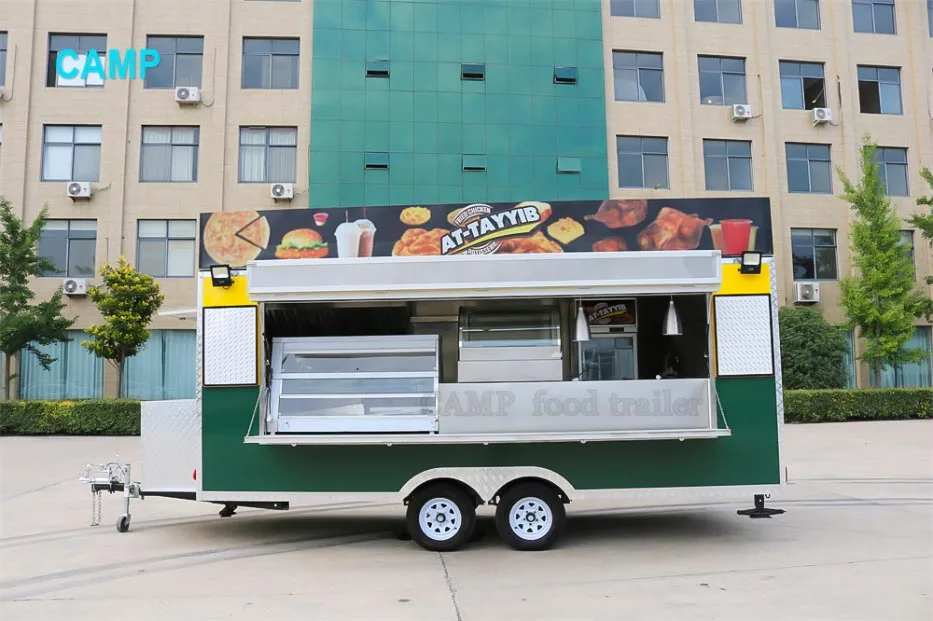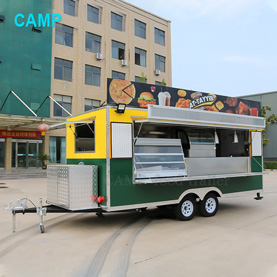 16ft pizza food Trailer For Sale
Material: stainless /galvanized steel
Inner equipment: customizable
Size: 10ft-36ft
A pizza catering trailer is a type of vehicle used to prepare, cook, and serve pizza. Typically, It features a fully-equipped kitchen, including a pizza oven, refrigerator, and storage for ingredients and supplies. However, it may also include a counter for serving customers. What's more, the exterior of the trailer will typically feature signs, graphics, and other decorations to draw attention.
Customer Feedback of Camp Pizza Food Trailer For Sale
The following are two of our pizza food trailers exported recently. From the pictures below, you can see that these two pizza trailers are designed to sell many kinds of foods. These foods include pizza, burgers, fried chicken, taco, chips, kebab, and drinks. With these food trailers, our customers are able to serve various types of foods, which can bring them more profits.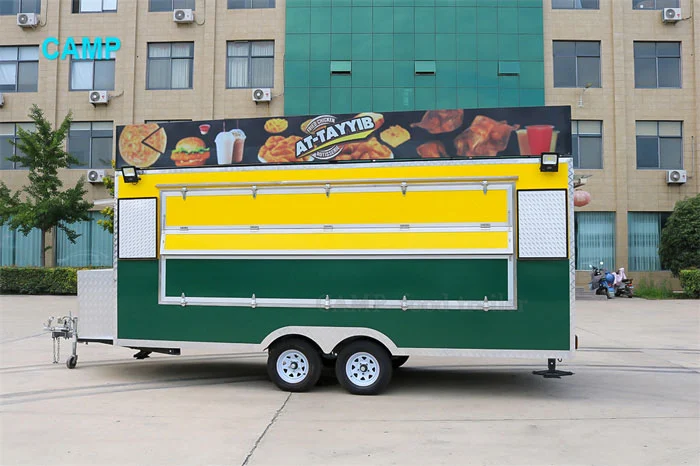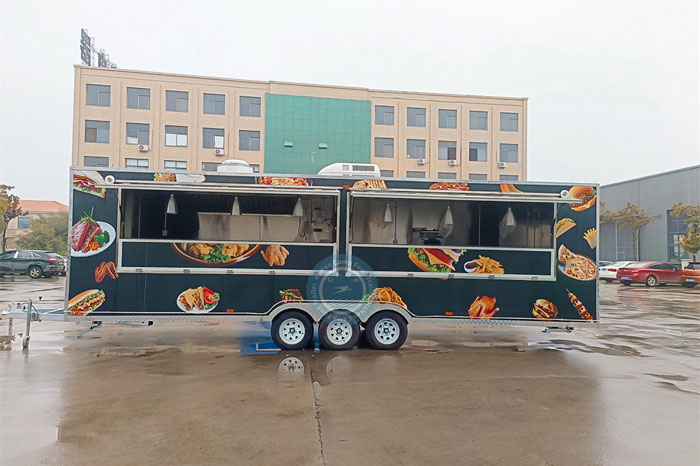 The interior of these food trailers are customized according to customers' requirements. Our company can help to design and equip the food trailers and maximize the interests of customers. If you want to invest in a mobile pizza trailer, don't hesitate to contact us now!
Mobile Pizza Trailer For Sale Camp Provides
Camp can provide customers with mobile pizza trailers with sizes ranging from 10ft to 36ft. As we can see from the pictures above, a mobile pizza trailer has tires so that people can move it very conveniently. In general, it includes a pizza oven which can be fueled by gas or wood-fired, a stainless steel countertop, and a refrigerated storage unit. Obviously, the oven is the centerpiece of the mobile pizza trailer, allowing you to cook your pizzas to perfection. While the countertop provides a workspace for prepping the pizzas, and the refrigerated unit keeps the ingredients fresh and ready for use.
A portable pizza trailer is a convenient and cost-effective way to serve freshly-made pizza to your customers. With a portable pizza trailer, you can bring your pizzeria to the customer, instead of the customer coming to you. Also, you can bring your pizza trailer to festivals, fairs, and other events. We can say that it is a great way to create a unique and memorable experience for your customers.
Video of A 16ft Pizza Food Trailer For Sale
This is a video of a 16ft pizza food trailer for sale from Camp company. From this video, you can have an overview of the exterior and interior of this trailer. As we can see, the exterior of this pizza food trailer is wrapped with beautiful logo and pattern sticker. Inside the trailer, there is mainly a countertop, a food displayer, and some kitchen equipment. 
Generally speaking, we will help customers design and equip the food trailer perfectly to suit its size. That means, we can customize food trailers and maximize customer benefits. Welcome to contact us and customize the food trailer you like. 
Interior Of A Pizza Food Trailer For Sale
A pizza food trailer typically consists of a counter, a preparation area, a sink, several storage shelves and other kitchen equipment.  To emphasize, the interior structure of a pizza food trailer for sale will be customized according to customers' actual demand. Of course, we can customize the full kitchen equipment according to your real demand.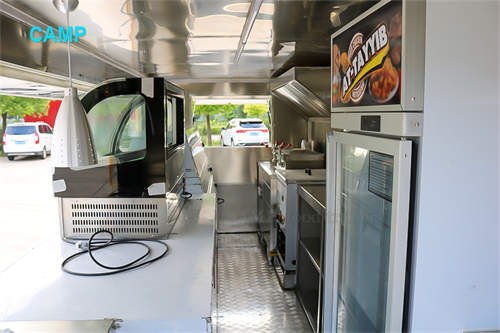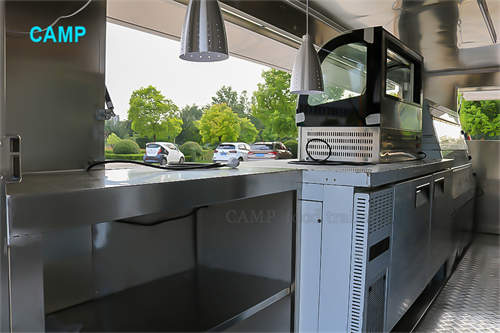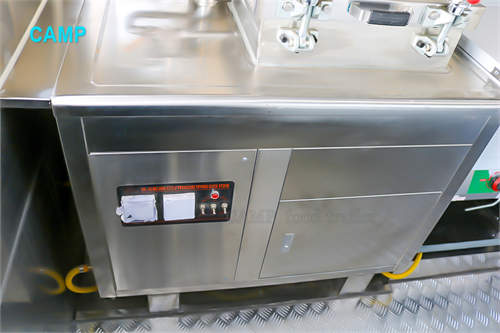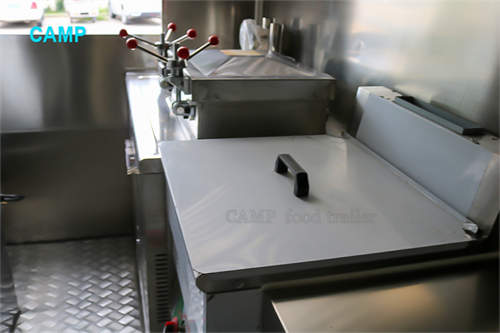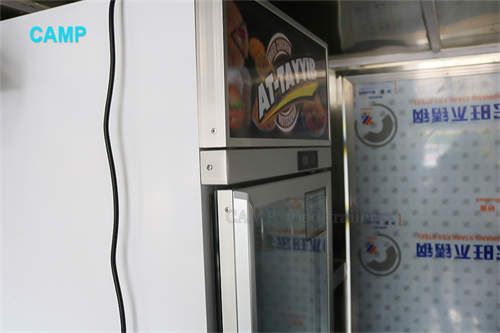 Factors To Consider When Buying A Pizza Food Trailer For Sale
When you're looking for a pizza food trailer for sale, there are several things to consider.
1. Find One That Meets Your Needs
First, you'll need to find one that meets your needs. Make sure it has enough room to store ingredients, prep food, and store equipment.
2. Make Sure The Trailer Has The Necessary Amenities
Secondly, you should make sure the trailer has the necessary amenities, such as a generator, sink, refrigerator, and air conditioning.
3. Start By Researching Different Vendors
Thirdly, when you're looking for a pizza food trailer for sale, you'll want to make sure you get the best deal possible. So, start by researching different vendors and comparing prices. Usually, you can find discounts for pizza trailers for sale online through Google, eBay, Alibaba etc.
4. Make Sure You Have The Necessary Permits And Licenses
Finally, you should make sure you have the necessary permits and licenses to operate the pizza trailer. Depending on your location, you may need a mobile food vendor license, a health department permit, and a business license. Make sure to do your research and get the necessary paperwork in order before you purchase a pizza trailer for sale.
With these tips, you'll be ready to hit the road with your very own pizza concession trailer. With your delicious creations in tow, you'll be able to attract customers and make profits.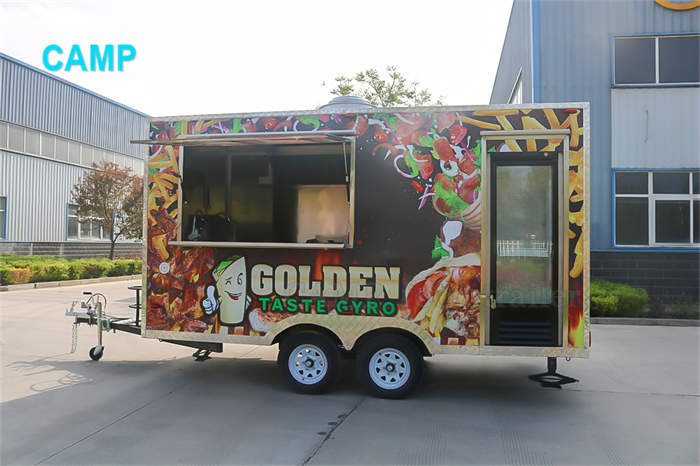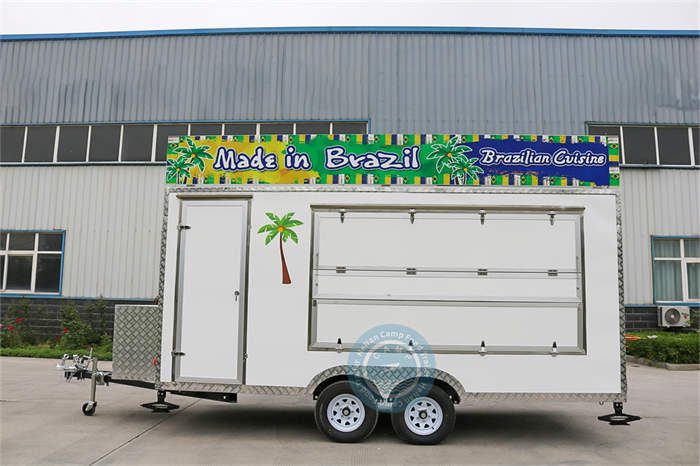 How About Invest In A Pizza Concession Trailer For Sale
Investing in a pizza concession trailer for sale is a great way to start a business and make a profit. Pizza concession trailers are becoming increasingly popular with entrepreneurs, as they are easy to operate, cost-effective, and can bring in a lot of money. However, it is important to do your research and understand the costs involved before investing in this type of business. For instance, predict in advance the costs of purchasing a pizza concession trailer, obtaining the necessary permits and licenses, and the costs of hiring staff. Additionally, you need to consider the cost of marketing and advertising your business to ensure people know about it. In a word, a mobile pizza concession trailer might be a profitable business. But you should make research and take the above things into consideration before investing in it.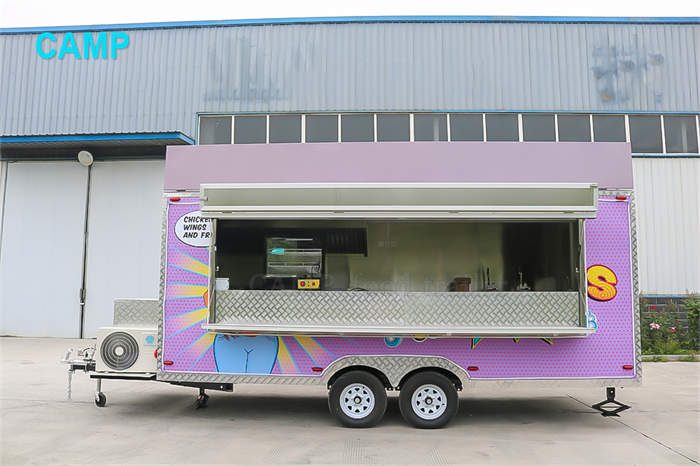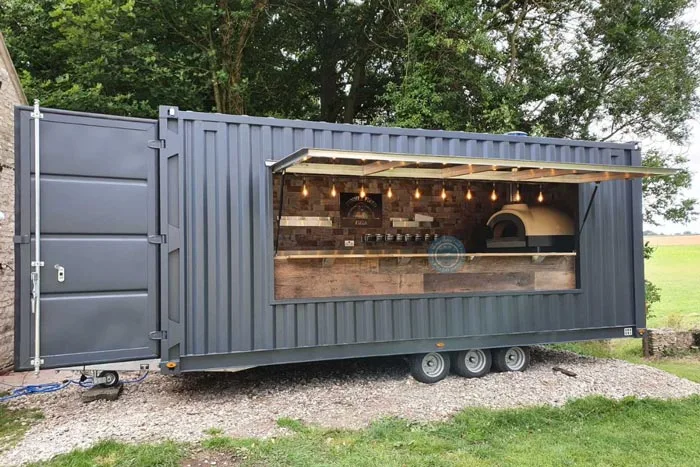 Why Mobile Pizza Kitchen Is Popular
Mobile pizza kitchens are becoming increasingly popular due to their convenience, portability, and affordability. To put it another way, they allow pizza vendors to set up shop in a variety of locations, such as festivals, events, and farmers' markets. That is to say, pizza vendors get rid of investing in a fixed brick-and-mortar restaurant. Besides, the concession trailers provide pizzerias with the opportunity to expand their customer base. Because they can reach people who may not have access to their services now.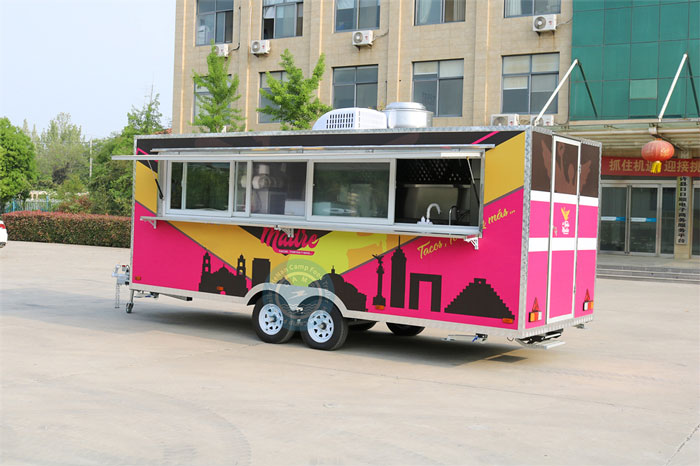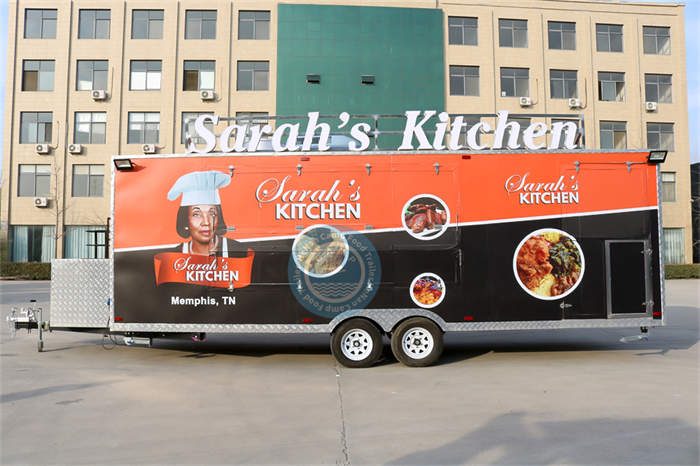 Pizza's Popularity Makes Mobile Pizza Kitchen Profitable
Pizza is an Italian dish with a flatbread base topped with tomatoes, cheese, and other ingredients. As we all know, it is a popular dish all over the world. What's more, people can eat it as a snack, for dinner, or for lunch. Usually, people eat it with garlic bread and salad and other numerous topping options.
Pizza is one of the most popular and widely consumed foods in the world. It is an extremely popular food item in the United States and is perhaps a $45 billion industry. According to data from the National Restaurant Association, pizza is the third most popular restaurant menu item in America, after burgers and sandwiches. Also, pizza is a popular option for take-out and delivery. Obviously, it is a convenient and affordable option for busy families. In addition, pizza has seen a boost in popularity due to its versatility, with a variety of toppings and styles available for consumers to choose from.
The popularity of Pizza promoted the sustainable development of the pizza industry. In order to serve customers better and more conveniently, pizza concession trailer manufacturers have developed mobile pizza trailers to meet people's demands.
Find Reliable Pizza Food Trailer For Sale From Camp
If you're looking for a great way to start your own mobile pizza business, don't hesitate to Camp now! As an experienced pizza concession trailer manufacturer, Camp can provide you high-quality pizza trailer for sale allowing you to provide delicious fresh pizza on the go. We also provide customized service. For example, body color, stickers, signage, etc. can be customized. If you are interested in buying a mobile pizza trailer or have any questions, just leave a message in the form below, our sales will reply in 24 hours!
Please Leave A Message In The Form Below