The taco trailer for sale at Camp is a mobile eatery that serves tacos, burritos, and other Mexican-style cuisine. It's a great way to bring delicious Mexican food to any event or gathering. The typical taco trailer is a small, enclosed food trailer with a kitchen, seating, and other amenities. The taco cart trailer can be pulled behind a vehicle and set up at events, festivals, or other gatherings.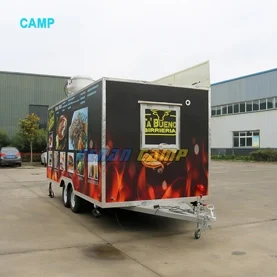 Material: stainless /galvanized steel
Inner equipment: customizable
Size: customizable
Inside a taco trailer, there is usually a kitchen that includes a prep area and refrigeration and storage. In general, the kitchen is equipped with a griddle, deep fryer, and other cooking equipment to prepare tacos, burritos, and other Mexican dishes. The taco food trailer may also include a sink, tables and chairs, and other amenities.
Export Cases of Camp Taco Trailer For Sale
This is a 18ft taco food trailer we have customized for one of our customers from Spain. From the pictures you can see that our customer use this food trailer to sell many kings of foods. This food trailer can not only make tacos, but also many other kinds of popular food. In this way, our customer can serve more customers and get more economic benefits.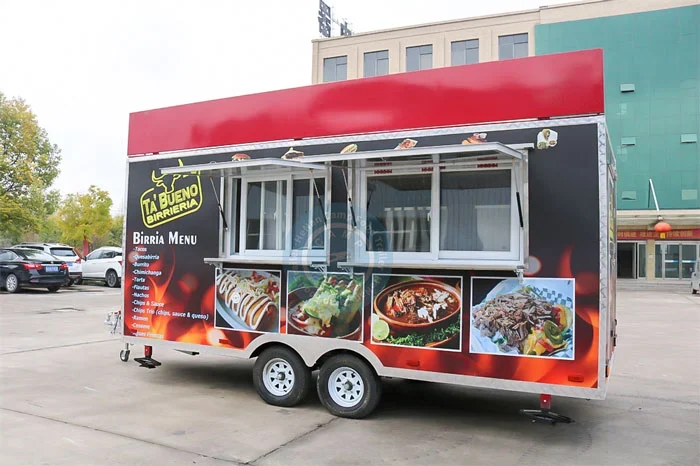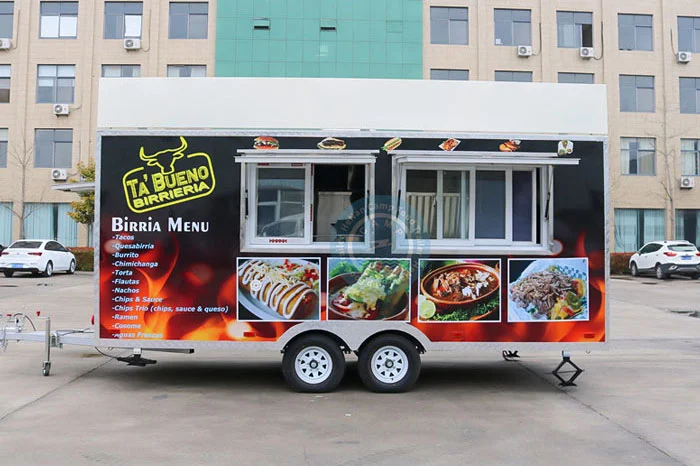 We can manufacture a similar food trailer or customize one for you according to your real demands. We can customize the shape, color, size and kitchen equipment inside the food trailer for customers. Therefore, if you are interested in a food trailer, please don't hesitate to contact us now!
Taco Trailers For Sale Camp Provides
Camp is a company that specializes in providing the best quality taco concession trailers on the market. We custom-build each taco trailer to meet the specific needs of each customer. Therefore, we can ensure that the trailer fits their lifestyle and business needs. We design our taco trailers for sale to be mobile, allowing you to move them from location to location and serve as many customers as you need. We offer a variety of options to choose from such as single or double-axle trailers, open or closed serving windows, and a wide selection of colors and decorations.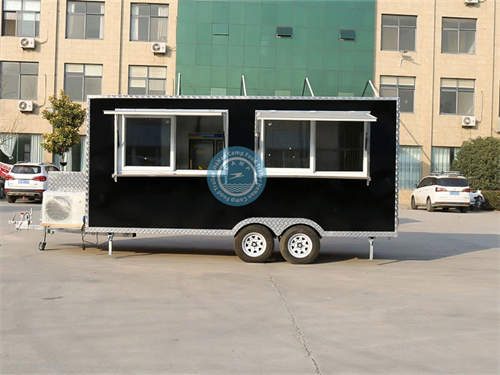 Our taco trailers for sale come with a variety of features such as commercial-grade stainless steel appliances, counters, and storage. We also provide custom graphics and branding to make your taco concession trailer stand out from the crowd. With our taco concession trailer, you'll have everything you need to start your own taco truck business and serve delicious tacos to your customers.
Video of A 18ft Taco Trailer For Sale
This is a video of Camp 18ft taco trailer for sale. In this video, you can see the whole trailer display and the inner structure of it. As we can see, there are countertops, fire extinguishing device, sinks, and shelves inside the taco trailer. You will get a better knowledge of this trailer after watching this video.  
To emphasize, the kitchen equipment inside the taco trailer will be customized according to customers' actual demand. Besides, our company can customize the shape, color, size and the inner equipment according to customers' real demand. Moreover, we can design and install your graphics or custom wrap in-house as well. All we want to do is to help you get the food trailer you want.
Interior Of A Taco Food Trailer For Sale
A taco food trailer typically consists of a counter, a preparation area, a sink, several storage shelves and other kitchen equipment.  To emphasize, the interior structure of a taco trailer for sale will be customized according to customers' actual demand. Of course, we can customize the full kitchen equipment according to your real demand.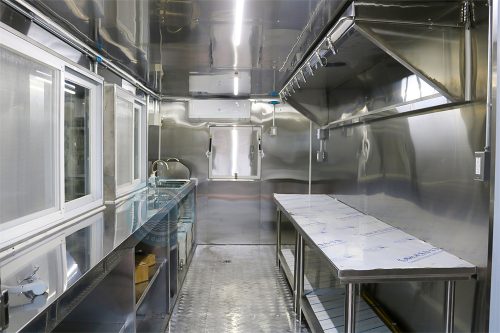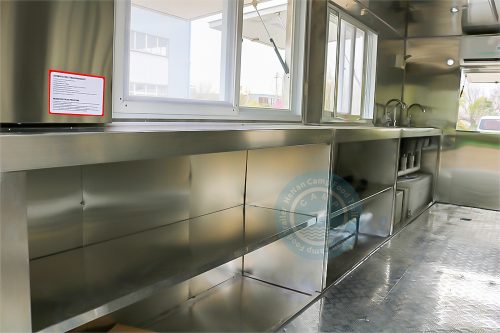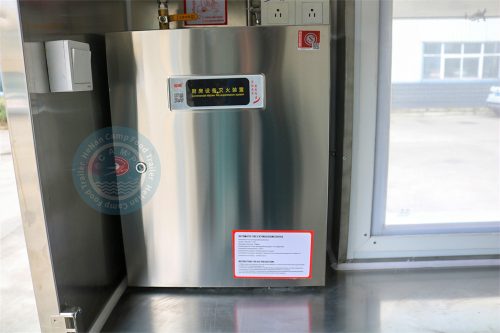 How About Invest In A Taco Concession Trailer For Sale
Investing in a taco trailer for sale is definitely an interesting business venture. However, there are a few things to consider before making such an investment. First, you'll need to consider the cost of the taco cart catering, the necessary equipment, and the permits and licenses required to operate it. You'll also need to consider the cost of food, advertising, and labor.
Additionally, you'll need to research the local market and the competition to determine if there is a demand for the types of tacos you plan to offer. Finally, you'll need to create a business plan that outlines your intended goals and strategy.
Why Taco Trailers Are Popular?
Yes, a taco trailer for sale can be a very profitable business venture. The cost of setting up a small taco trailer is relatively lower than other food businesses. You can expect to invest anywhere from a few thousand dollars to over $50,000 depending on the size and scope of your taco trailer.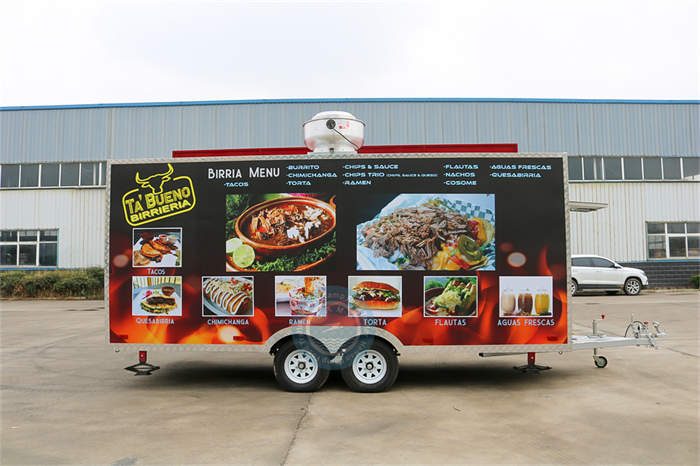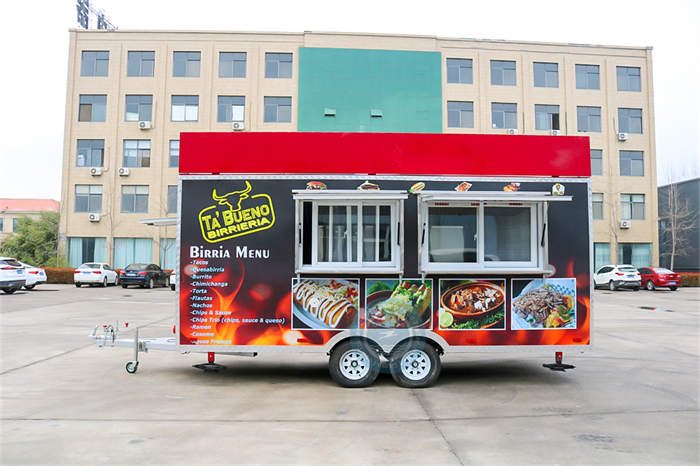 1. They Provide A Convenient Way To Serve Mexican Food
Taco trailers are popular because they provide a convenient way to serve Mexican food at events. They are also relatively inexpensive to rent or purchase. Often, they require minimal setup and maintenance. Some taco trailers are even equipped with a generator, which allows them to be set up and operated in remote locations.
2. They Can Be Customized To Match The Theme Of An Event Or Gathering
Taco trailers can also be customized to match the theme of an event or gathering. For example, a taco stand trailer might be decorated in bright colors. Also, it may feature Mexican-style music to create a festive atmosphere. Some taco trailers even have signature items and signature cuisine tailored to the event or location.
The taco concession trailer business is a great way to make money from selling Mexican cuisine. It's also a great way to enter the food service industry without spending a lot of money. In many cases, taco trailer owners are able to take advantage of existing events, festivals, and other gatherings to generate business.
Overall, a taco concession trailer for sale is an efficient and cost-effective way to bring delicious Mexican food to any event or gathering. With careful planning and the right equipment, it's possible to create a profitable business with a taco truck trailer.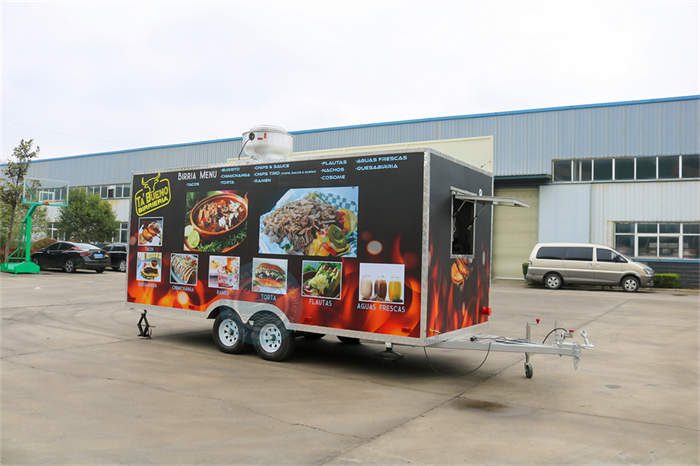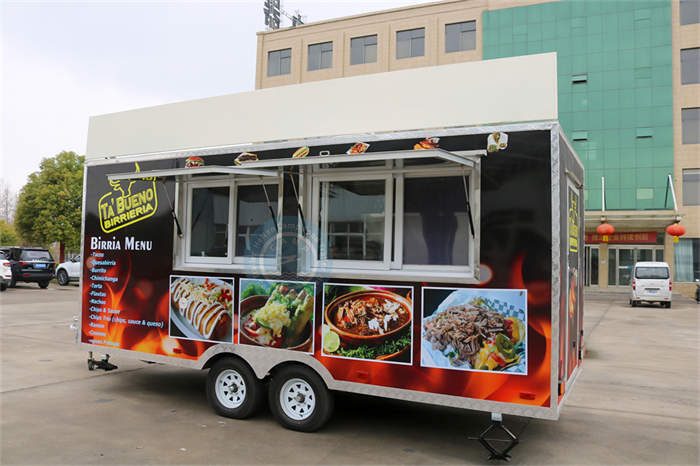 How Much Does A Taco Trailer Cost?
The cost of a taco trailer can vary widely depending on size, features, and quality of materials. Prices can range from around $5,000 to over $50,000.  Are you dreaming of having a customized taco cart for sale? Look no further than Camp! We can help you bring your vision to life, all within your budget. Get in touch with us today and we'll provide you with a detailed proposal – so don't wait any longer – time is money!
Just leave us a message in the form below! Tell us what size of taco trailer for sale you want or any questions you have. Our professional sales will reply you in 24 hours! Or you can also call us directly!
Please Leave A Message In The Form Below