At first glance, this airstream ice cream trailer for sale is a sight to behold. We can say it is a dazzling, gleaming, classic airstream trailer. Usually, people equip it with refrigeration and shelving to serve up delicious flavors of ice cream. In short, this trailer is a modern spin on the classic airstream look. With a beautiful design, it will turn heads and draw in customers.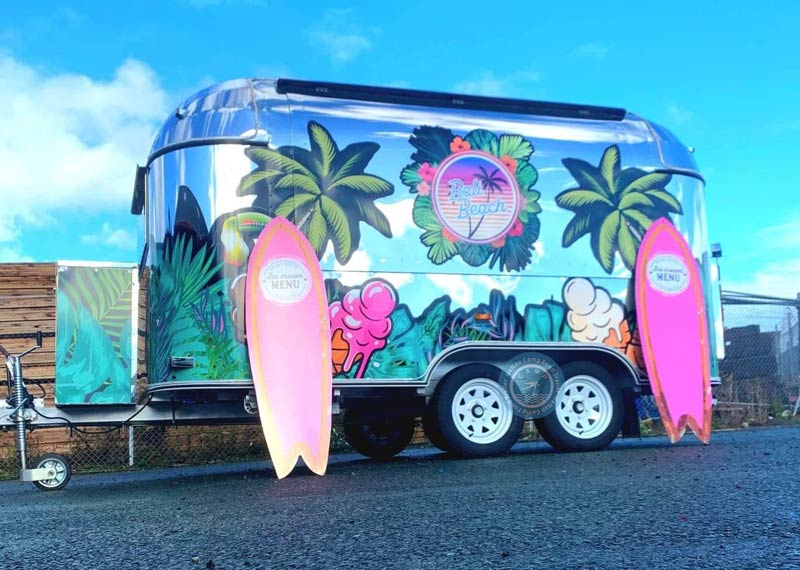 Unique Design
Moreover, this airstream ice cream trailer for sale is totally reimagined. It can inspire people with its bright and bubbly looks so they can make, serve, and serve delicious flavors of ice cream. What's more, the custom-created interior is spacious and functional, providing plenty of room to fill with the necessary equipment.
The airstream ice cream trailer for sale is the perfect choice to provide a unique and fun space to serve up their sweet treats. Due to its beautiful look, it will grab the attention of passersby. While its double-door entry area provides easy loading and unloading of equipment.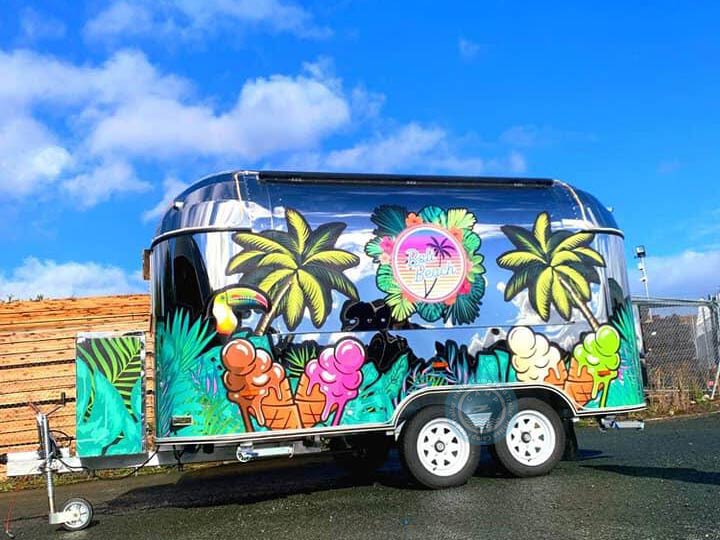 Highly Customizable
Plus, its wide array of customization possibilities makes it a great fit for nearly any need. You can choose from the color scheme to the different interior features. What's more, it's easy to tailor this airstream ice cream trailer to your specific requirements. And with its compact, lightweight design, it's a snap to transport to events or locations.
The sky's the limit when it comes to what the airstream ice cream trailer can do for you. Whether you're looking to create an inspiring space to serve up frozen goodies or a charming backdrop for a photo session, this trailer is just the ticket. You can see the custom airstream food trailer in the following video: https://youtu.be/vLflyu3dLzM.
For those who want to provide a unique and fun way to serve up their ice cream, there's no better way to do that than with this eye-catching airstream. Its striking design and custom options make it a great fit for any business looking to stand out from the competition. Furthermore, its exterior and interior styling provide a wonderful backdrop to enjoy your treats indoors or outdoors.
Easy To Transport
And last, but not least, the airstream ice cream trailer has been built with the utmost care. Its light aluminum construction ensures the trailer will last for many years of use. At the same time, it is also very convenient to transport.
Airstream Ice Cream Trailer For Sale Parameters
Mobile Cart Food Cart Standard Configuration
ITEM
DESCRIBE
Dimension
400*200*210cm [Customizable]
Axle
1/2/3 axles
Tyre
2/4/6 pcs,vacuum tires
Chassis
Integral steel, Suspension treated, Anti-rust coating
Bodywork
Heat preservation cotton, Aluminum Composite Panels
Drawing bar
1 set
Jacks
4 pcs
Color
Optional
Lights
6 LED tubes
Flooring
Non-sliping aluminum floor with drain
Workbench
201/304 Stainless steel, with shelves and extending table
Water system
Water sinks*2 ,Water buckets*2, Hot and cold water taps,12v mini water pump
Electricity
Muti-functional sockets, Electric box and cables, External power supply connection
Why Choose Camp Airstream Ice Cream Trailer For Sale
With over a decade of expertise in the food trailer field, Camp is certifiably well-equipped to offer you skilled advice and services. Moreover, we are familiar with food trailer regulations and requirements in many countries, so we can provide the certifications and documentation you need without any concern.
Are you in the market for a stunning way to serve up ice cream? Then, the airstream ice cream trailer is the perfect solution for you! With its beautiful, classic design and durable construction, you can create the perfect environment for your customers to enjoy your treats. So don't wait – get your airstream ice cream trailer now and make your treats shine!