The following is a customized 18ft noodle food trailer we have manufactured for a UK customer. As we can see from the picture, the noodle trailer has a bright red color. Above the trailer, we customized the personalized billboard according to our customer's requirements.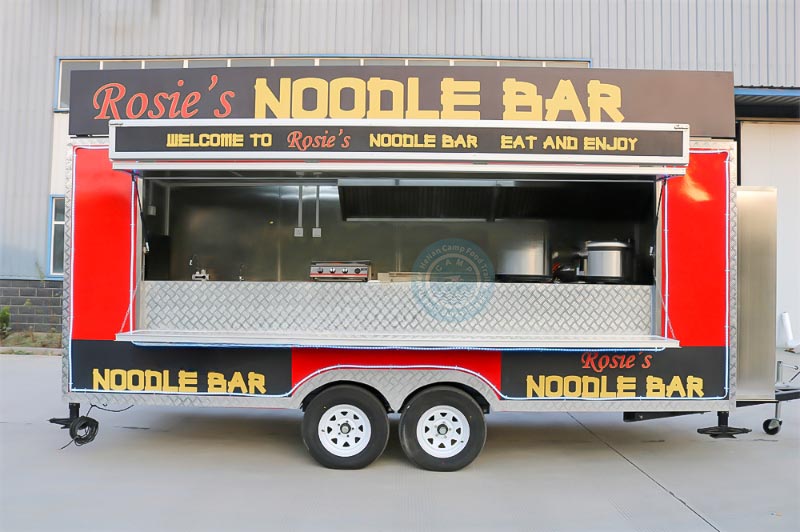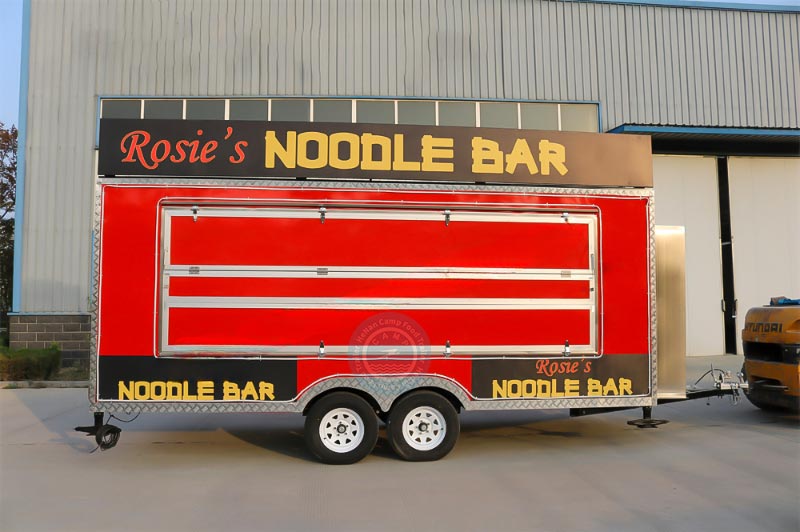 Detailed Information Of This 18ft Noodle Food Trailer
This noodle serving trailer adopts stainless steel body. Plus, the workbench and inner wall inside the car body are all made of food-grade stainless steel. What's more, we have equipped it with kitchen equipment. For example, sink, gas stove, fryer, two large capacity rice cookers, wok, steamer, cooking pot, etc.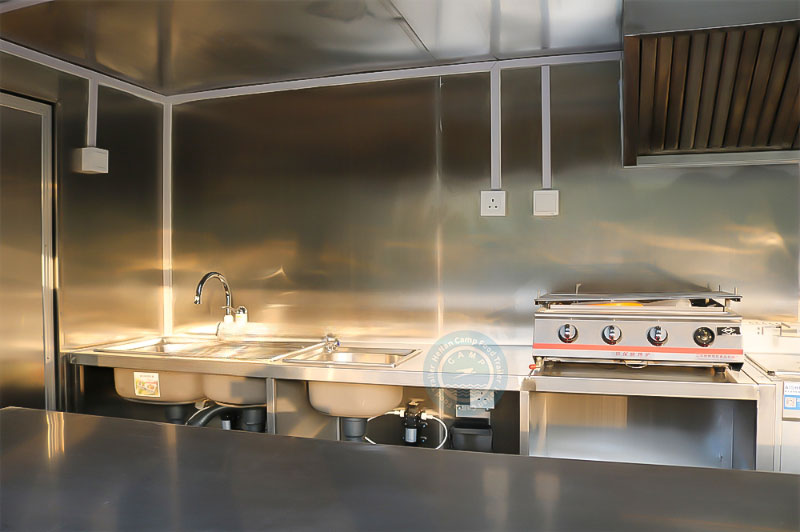 Since our customer advised us to make the food trailer sparkle at night, we put up some light strips with multiple colors around the noodle vending trailer to create a special glow.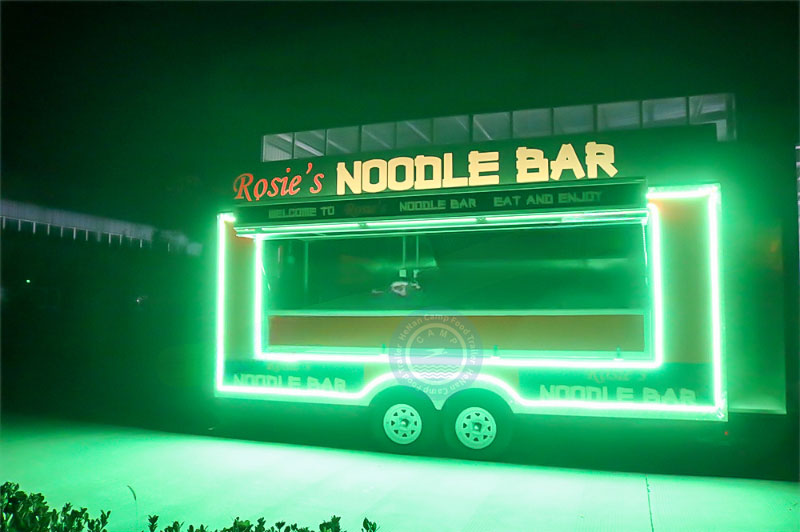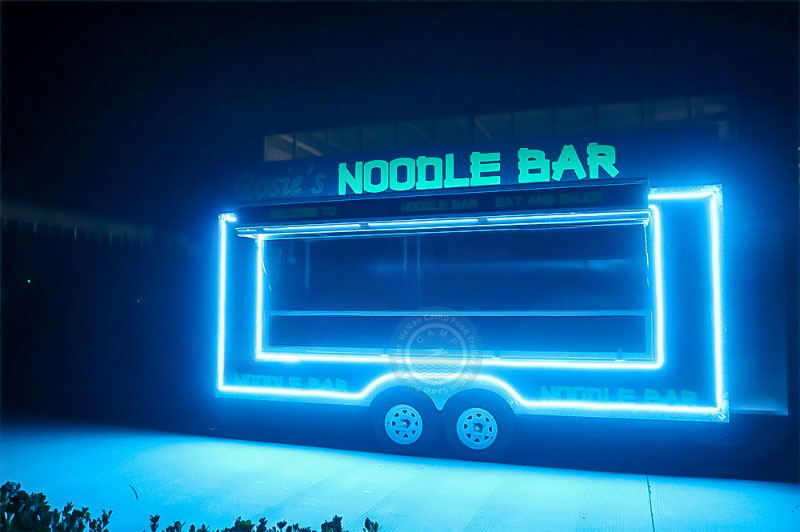 This UK client is a retired Asian chef. Once, she had the opportunity to work in a Chinese restaurant for a period of time. During this time, she noticed that the local residents had an affinity for noodle dishes. Therefore, she decided to pursue her passion for making noodle food. Soon, she started this mobile noodle kitchen featuring this type of cuisine. Our client is confident that her passion and drive will lead to success. In fact, in the later feedback, the customer told us that the noodle kitchen trailer business is very good. What's more, she also hired an employee to help.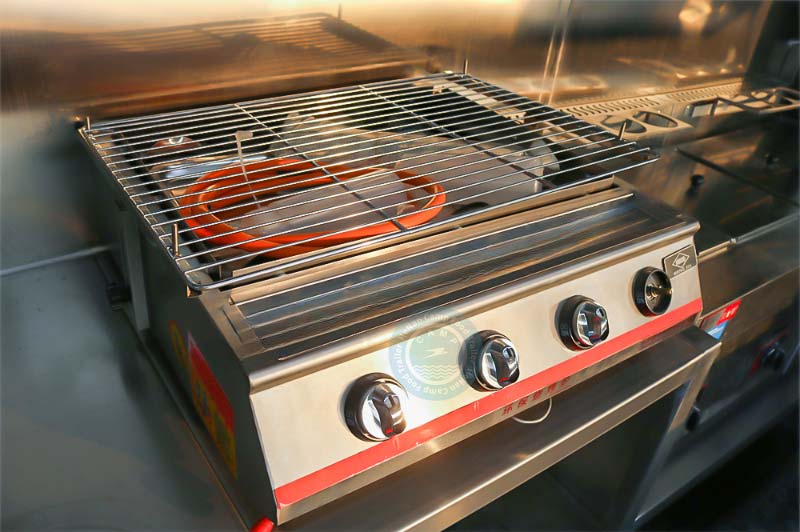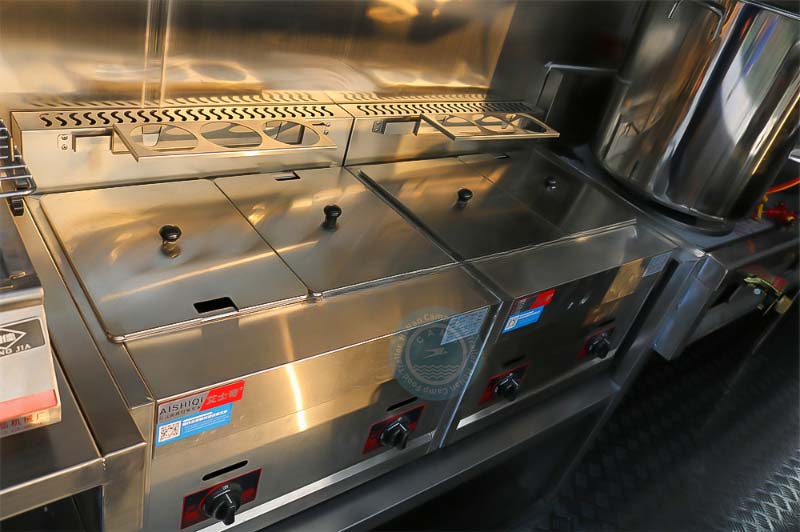 Why Choose Our 18ft Portable Noodle Trailer
Are you in the market for a versatile, reliable noodle trailer? Look no further than the 18ft Noodle Trailer! Boasting an impressive selection of features, this trailer is the perfect choice for food-serving concessionaires, mobile business owners, and caterers alike.
Durable
Moreover, this trailer's durable construction is built to last. It combines high-grade aluminum and stainless-steel construction that's able to withstand the toughest conditions.
Plus, comfort and convenience are in abundance with the 18ft Noodle Trailer. An ample amount of counter space helps you accommodate your customers quickly and efficiently. Meanwhile, plenty of storage ensures all of your supplies stay organized and secure.
Easy To Customize
In addition, this trailer allows you to easily customize it for your particular business needs. The optional air-conditioner unit and heating system will ensure customers stay comfortable. Meanwhile, the interior mood lighting helps create a bright and welcoming dining atmosphere.You can see some of our 18ft food trailer video here:
Easy To Move
Moreover, this trailer's impressive mobility makes it easy to move from venue to venue with ease. It features a double-axel design that allows you to traverse any terrain with ease. Additionally, the trailer's significant weight capacity makes it ideal for hauling large amounts of supplies and equipment. And the quick-tilt mechanism makes for easy loading and unloading.
All in all, the 18ft Noodle Trailer is a fantastic choice for anyone looking for an easily-moveable and hard-working trailer. With its stellar features, robust design, and superior safety components, this trailer is the perfect mobile business solution.
What To Consider When Purchasing A Noodle Trailer
When shopping for an 18ft noodle trailer, you can consider the following essential factors. Purchasing a noodle trailer is an important decision and one that shouldn't be taken lightly. After all, it requires a significant investment of time, money, and effort. Therefore, it is essential to do your research and understand the necessary considerations. Below are some of the key points to think about when shopping for an 18ft noodle trailer.
Think About The Size
The right size will depend on the size of your business operation. A bigger trailer may be more efficient and provide more room for equipment and supplies, but it can be prohibitively expensive. Conversely, a smaller trailer may save you money upfront but can be too cramped for larger operations or frequent restocking. 16ft food trailers and 18ft food trailers are very hot types, and many of our customers choose these two types of food trailers.
Examine The Construction
Quality construction is of the utmost importance to ensure longevity and dependability. Investigate the materials used and their durability for long-term use, as well as any customizing options available. Additionally, check for warranties and guarantees from the manufacturer.
Consider The Aesthetics
While this may seem like a secondary point, it's actually important. That's because a well-designed trailer will help the business to stand out and draw attention to your products. It's important to choose a design that captures the eye, reflects your brand aesthetic, and resonates with your target customers.
Evaluate Your Needs
In addition, evaluate your needs. Are you serving hot or cold dishes? Is there a need to refrigerate items? What type of equipment or appliances are essential to meet your needs? Consider these questions as you search for the perfect trailer for your business.
Pay Attention To The Safety
Then, pay attention to the safety and ease-of-use features. Be sure to look for quality upgrades such as heavy-duty brakes and electrical systems, secure locks, and safety guards. This is especially important if your trailer will be towed for long distances.
Consider The Cost
Finally, be sure to consider the cost. While you want to invest in quality, it is also important to stay within your budget. Do some research and compare prices to be sure you are getting the best deal for your dollar. Additionally, find out if there are any taxes or add-ons required by local or state laws.
In conclusion, there are several important factors to consider when purchasing an 18ft noodle trailer. Research the size, construction, aesthetics, needs, safety features, and total cost to make an informed decision. By following these steps, you can ensure that your purchase is the right choice for your business.
Find Camp To Get The Portable Noodle Shop You Want
Are you looking for a noodle food trailer for sale now? Don't hesitate to reach out to Camp! We are an experienced manufacturer and exporter with professional manufacturing workers and a knowledgeable sales team. We provide trailers with or without kitchen equipment and allow customers to choose the size, color, and shape. Plus, our trailers are built to the regulations of diverse countries. Additionally, we have over 10 years of experience and understand our customers' needs. Let us know if you need customized food trailer solutions. Just leave us a message and our sales will get back to you in 24 hours!