Good news comes from our factory! One set 18ft food trailer with grill we have customized for one of our American customers is ready. The following are some pictures and video of this trailer we took in the factory.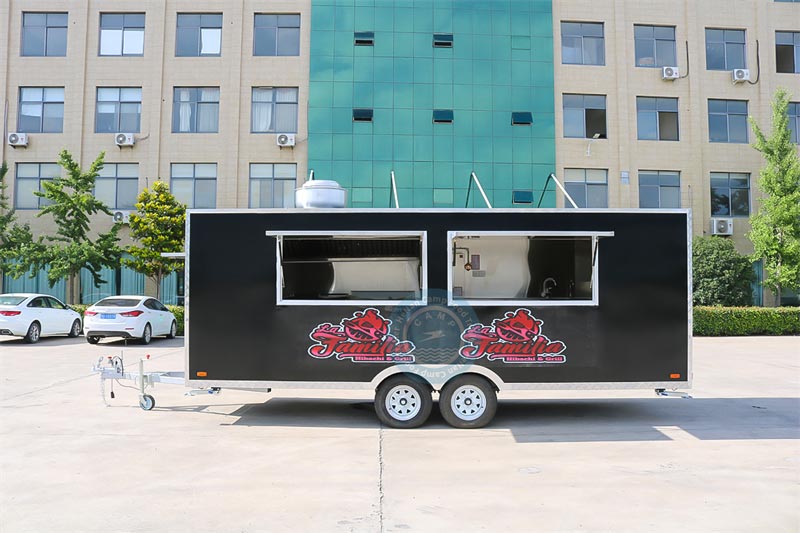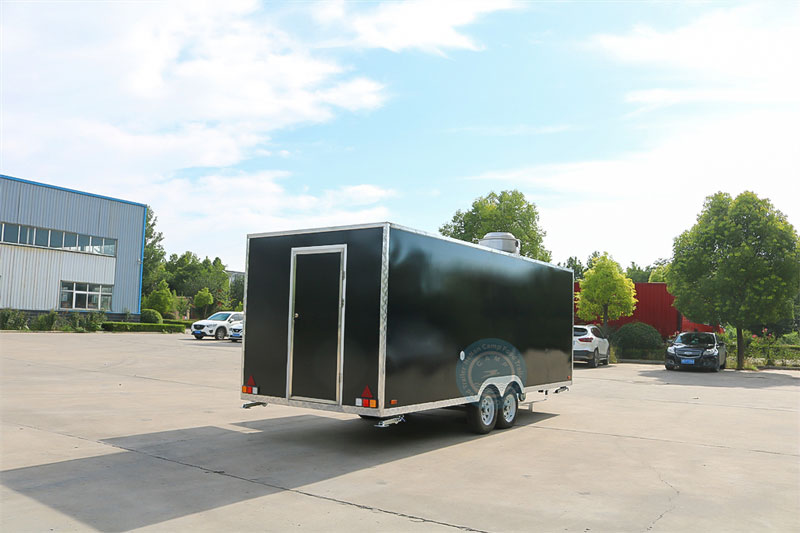 General Information Of This 18ft Food Trailer With Grill
As we can see from the picture above, this trailer is a square food trailer. According to the customer's requirement, we have painted the trailer with black color. Below the window of this grill trailer, you can see two stickers. From that, you can see this food trailer mainly sells BBQ food. Below is the video of this trailer we took in the factory: https://youtu.be/zruTNmjd5FE.
Inner Overview Of This 18ft Food Trailer With Grill
As we can see from the below picture, inside this fully equipped food trailer, there is already some kitchen equipment. They are mainly some sinks, countertops, a deep fryer, a griddle, a range hood, and fire protection system etc. After receiving the trailer, our customer will add some other appliances he needs.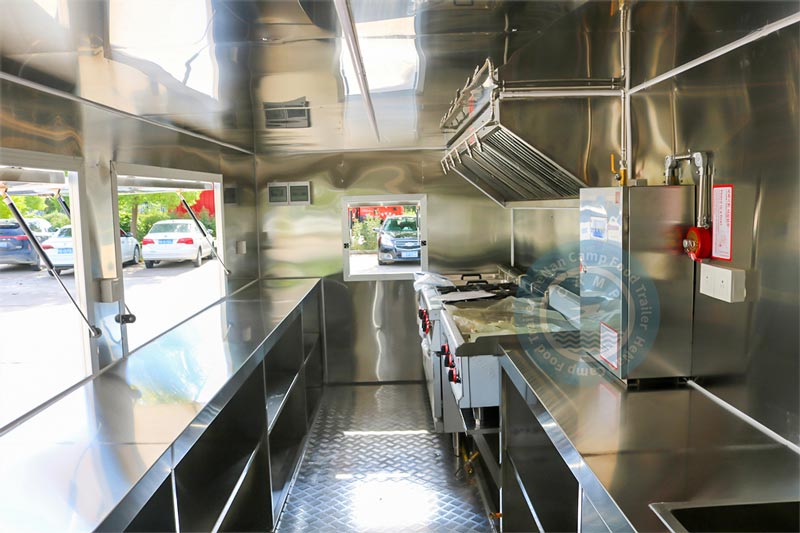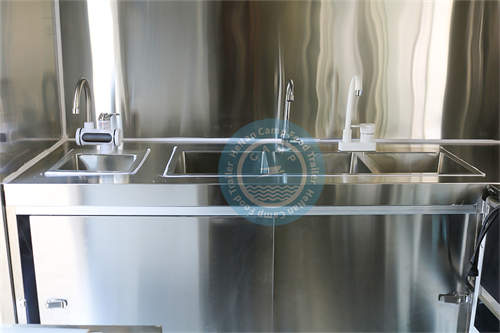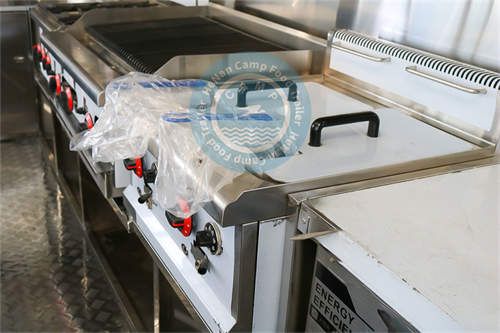 Usage Of This 18ft Food Trailer With Grill
We have customized this food trailer according to the customer's requirements. Therefore, our customer can use it soon after receiving it. Our customer mainly use this trailer to sell BBQ food, which is very popular among people. We believe that our customer's business will be very good. In another way, this street food trailer will bring great economic benefits to our customer.
Find Camp To Get The Custom Food Trailer You Want
Are you looking for a food trailer for sale now? Don't hesitate to contact Camp here! Camp is an experienced food trailer manufacturer and exporter. Our team includes professional manufacturing workers and a knowledgeable sales team. Generally, we can provide customers with a food trailer with or without kitchen equipment. Furthermore, we can create a custom trailer in any size, color, and shape that the customers wish. Additionally, we manufacture trailers that are in accordance with the regulations of diverse countries. Most important, we sell food trailers directly from the factory. In that way, our food trailer prices are very competitive. The following is a 26ft bar and grill trailer we have customized for an American customer.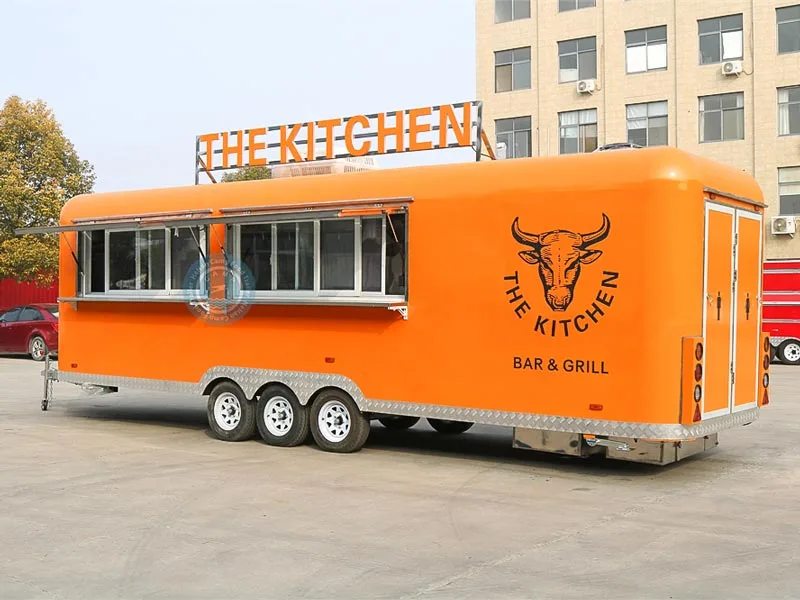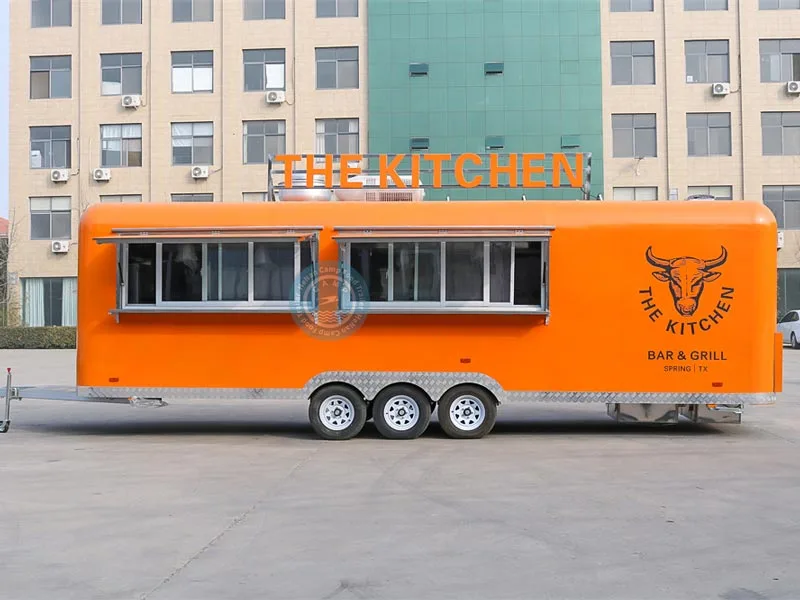 If you're looking to buy a customized food trailer, we can help! With over 10 years of experience, we have a profound understanding of the diverse needs of our customers in different countries. We can help to solve your worries. Just leave us a message via the form below and our sales will get back to you in 24 hours!