Recently, we had the pleasure of exporting our 13ft donut food trailer to Australia for one of our esteemed customers. We were delighted to hear that he was more than satisfied with this trailer. After using the donut trailer for a period of time, our customers sent us some feedback pictures of this trailer.
The following are some pictures of our Australian customer's feedback. The donut trailer is wapped with appealing stickers and the business is always very good.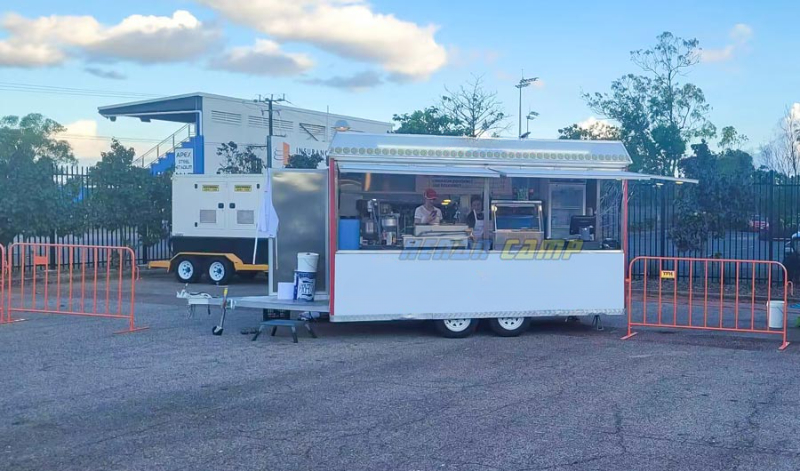 Why Our Australian Customer Chose Us
While attending an event, our customer noticed that many food trailer operators selling a variety of snacks. That sparks an idea within him to create his own mobile food business.
While being very careful with this idea, our customer conducted thorough research and located another of our customers in Australia. he then traveled to the customer's business and inspected the trailer, and was pleased with the quality of our products. Subsequently, she contacted us to begin customizing his own food trailer.
Customization Process Of The Food Trailer
Initially, our customer was interested in a smaller round food trailer, which has an appealing appearance. However, its capacity was limited, and he wanted to install some other equipment such as standing drink fridge. After discussing his ideas with us, we finally decided to customize a 13ft square food trailer that fulfilled his needs.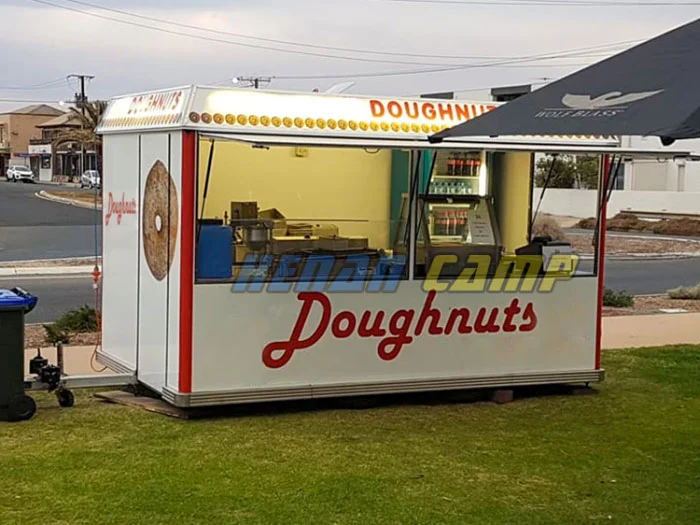 During this period, we also introduced to her some local requirements for food trailers in Australia, such as gas system, water system, brake system, etc. Our customer was very satisfied with our service. In terms of price, because it was Christmas, we offered a discount for our customer. Therefore, we had a happy deal in the end.
Our food trailers all adopt standard container packages, due to the large size of this food trailer, we shipped it by sea.
Video of This 13ft Donut Trailer
This donut trailer complies with AU standards. Inside this donut trailer, it is equipped with laminated marble table top, a 1.5mm stainless steel cupboard, a standing drink fridge, single hand washing sink, and a work table. You will get a better knowledge of this donut trailer after watching this video. To see more of our food trailer video, you can visit us on Youtube here: https://www.youtube.com/@CampFoodTrailer.
Good Reviews From Our Australian Customer
After receiving the food trailer, our customer sent us some pictures of the trailer. The donut trailer arrived in perfect condition. All the equipment inside the food trailer was in accordance with local requirements. Prior to shipment, we had conducted a thorough inspection of the anti-water/ electric circuit, etc. It was evident that all equipment was kept in good condition during transportation. Our customer was very satisfied with the goods she received.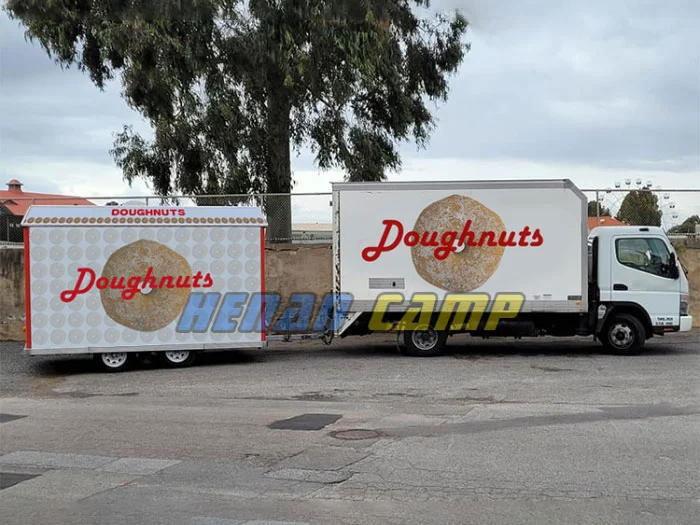 As a professional food trailers manufacturer and exporter, Camp Industrial Co, Ltd is specializing in providing customers with all types of food trailers. Plus, we can customize the shape, color, size, and inner equipment of the food trailers according to customers' actual demands. If you are interested in any type of food trailers, please don't hesitate to contact us now! Just leave a message in the form below, our sales will reply in 24 hours!