Mobile Bakery trailer For Sale
A mobile bakery trailer is a bakery that can be moved from one location to another. It is a great opportunity for those that want to start a bakery business but do not have the funds to invest in a brick-and-mortar store. what's more, the mobile bakery trailer allows entrepreneurs to take their businesses on the road. Besides, they can serve their treats to people in different locations.
A mobile bakery trailer has all the necessary equipment and tools needed to produce baked goods. Usually, It has an oven, a refrigerator, a freezer, a sink, preparation tables, and storage shelves.
16ft Mobile Bakery Trailer For Sale
Material: stainless /galvanized steel
Inner equipment: customizable
Size: 10ft-36ft
The mobile bakery trailer is a great way to expand the reach of the business and expand the customer base. Generally speaking, it allows the baker to travel to different areas and serve fresh-baked goods. Also, the bakery trailer helps the baker to save on overhead costs such as rent and utilities.
The mobile bakery food trailer also allows the baker to stay up to date with the latest trends and recipes. By keeping the bakery food trailer stocked with the latest ingredients and supplies, the baker can stay ahead of the competition. Also, they can serve their customers the better quality goods.
The bakery trailer for sale is a great way to start a business without the hassle of having to invest in a large space. Also, it is a great way to increase the visibility of the business and reach out to more customers. With a mobile bakery trailer, the bakers can serve their treats to people in different locations. Also, they can give customers the opportunity to enjoy freshly baked goods.
Customer Feedback of Camp Mobile Bakery Trailer
The following are some of the feedback pictures our customers send us.  The left one belongs to one of our customers in Sweden. It is a 16ft mobile bakery trailer in round shape.  The right one is a 13ft bakery trailer that belongs to one of our customers in USA. Both two customers use these mobile food trailers to sell baked foods. The business is always very good.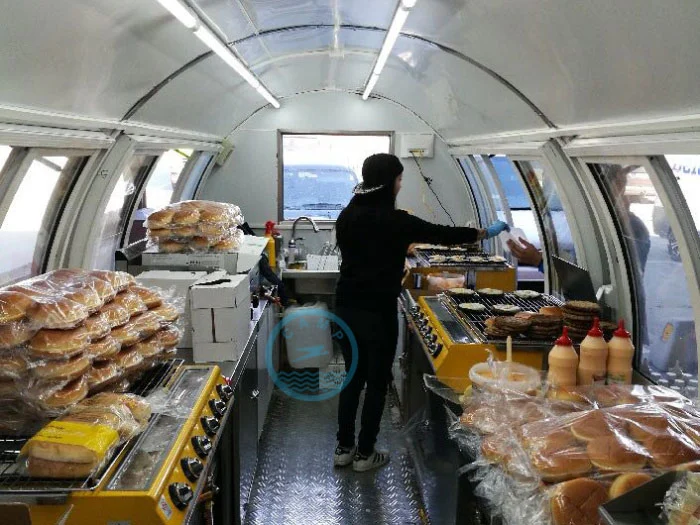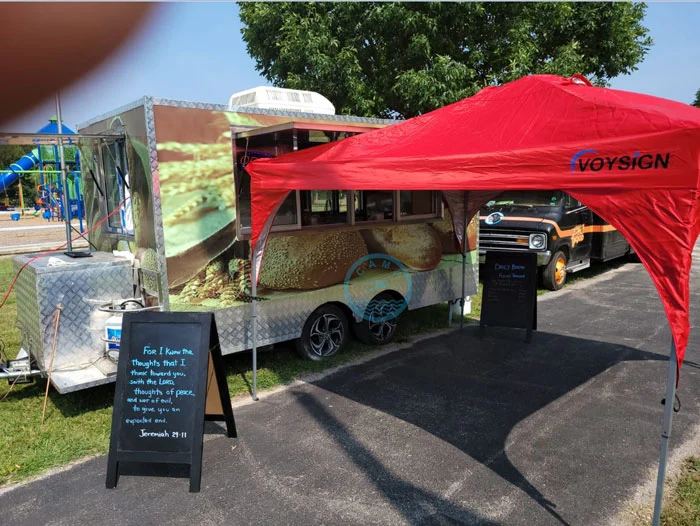 We can manufacture similar food trailers like the above or customize one according to your actual demands. You can choose the shape, color, size, raw materials,  exterior decoration, and interior equipment. Besides, we have a wide list of food trailer accessories for customers to choose from. Whatever type of food trailer you want, we can manufacture the perfect one for you. So, if you are interested in a mobile bakery trailer for sale now, please don't hesitate to contact us now!
Mobile Bakery Trailers Camp Provides
Camp provides various types of mobile bakery trailers for customers. For example, the sizes can range from 10ft to 36ft. Plus, the shape can range from a square shape to a round shape. The following are some pictures and videos of some of our hot-selling mobile bakery trailers.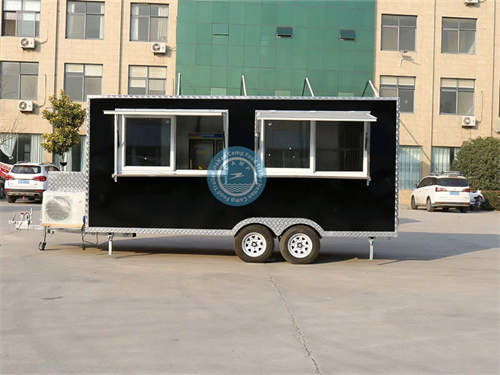 Video of A 16ft Mobile Bakery Trailer
This is a video of Camp 16ft mobile bakery trailer. In this video, you can see the whole trailer display and the inner overview of this trailer. Inside this bakery trailer, there are mainly some sinks, countertops, shelves, oven and some other kitchen equipment. Our customer will use it to sell baked foods.
This 16ft food trailer is a hot seller, many customers choose this type. Generally speaking, we can design and equip the food trailer perfectly to meet customers' demands. All we want to do is to help you get the food trailer you want. If you are interested in our bakery trailers, don't hesitate to contact us now!
A bakery trailer typically consists of a counter, a preparation area, several sinks, several storage shelves, an oven and other kitchen equipment. To emphasize, the interior structure of a food trailer will be customized according to customers' actual demand. We can customize the full kitchen equipment according to your real demand.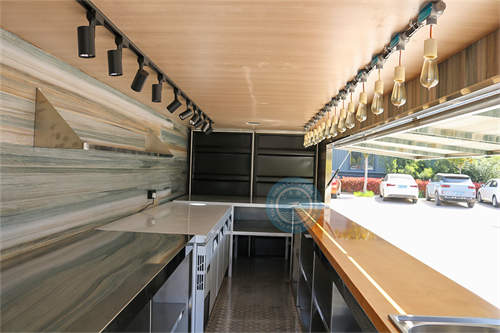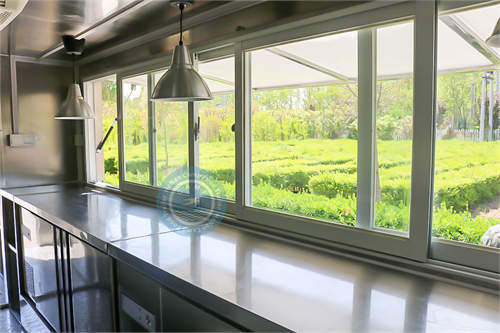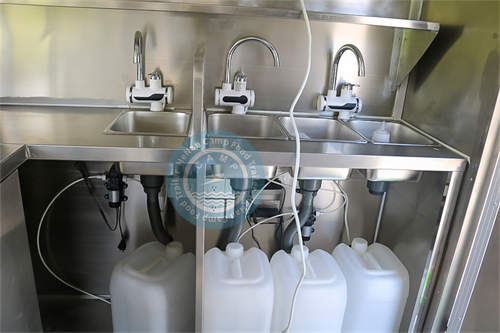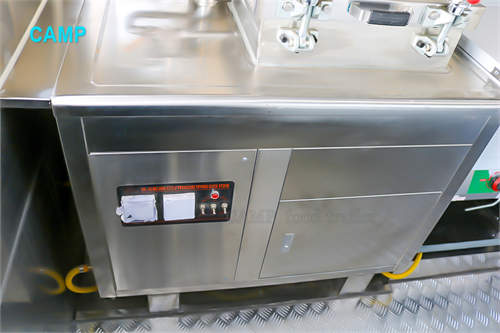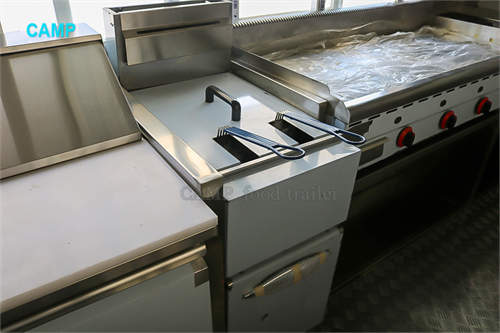 Mobile Bakery Trailers: A Rising Trend in the Food Industry
The food industry has seen many changes over the years, with one of the newest trends being the mobile bakery trailer. This unique business model has been gaining in popularity as more entrepreneurs look to capitalize on this growing market. In the following, we will explore the portable bakery trailers trend, discussing its advantages.
A mobile bakery trailer is a self-contained kitchen on wheels that allows bakers to take their business on the road. Typically, these portable bakery trailers have ovens, mixers, and other equipment necessary to produce and serve baked goods. This type of business offers many benefits, such as being able to serve customers at events, festivals, and other locations, while also cutting down on overhead costs
One of the biggest advantages of a mobile bakery trailer is the flexibility it offers. Unlike a traditional bakery, a portable bakery trailer can set up shop almost anywhere. This means that bakers can take advantage of busy weekends and special events, such as county fairs or festivals, to gain more exposure and increase their profits.
Another advantage of a mobile bakery trailer is the ability to reduce overhead costs. By eliminating the need for a physical store, bakers can save on rent, utilities, and other associated costs. Additionally, mobile bakery food trailers are typically much less expensive than traditional storefronts, making them an attractive option for those just starting out in the baking business.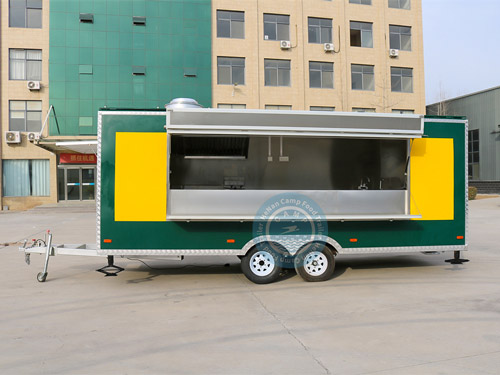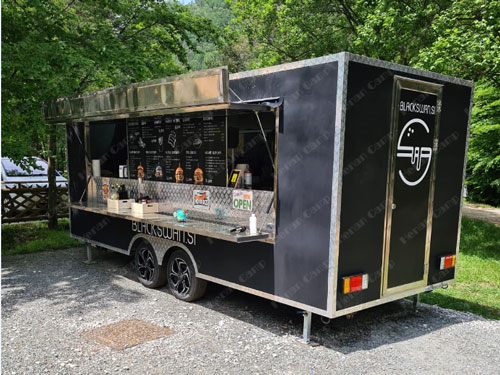 Overall, mobile bakery trailers offer an exciting and unique business opportunity that can help entrepreneurs reach more customers and increase their profits. While there may be some restrictions, these bakery trailers offer an excellent way to break into the baking industry. For anyone looking to start their own mobile bakery business, this trend is definitely worth considering.
Why Portable Bakery Trailers Are Popular
Portable bakery trailers are becoming more and more popular for many reasons, with the most prominent being their convenience for customers and the unique experience they bring. The popularity of these portable bakery trailers has grown significantly in recent years, and here we will explore why.
1. Bread is an important staple of Western food culture
From sandwiches to toast, bread is a part of everyday life for many people. As such, there is a constant demand for freshly baked bread, and a mobile bakery concession trailer provide a convenient way to deliver it. By bringing the bakery to the customer, it becomes easy for people to get their hands on freshly baked bread without having to travel to a store.
2.baking trailer provides a unique experience for customers
In addition to offering freshly baked bread, the trailer bakery often features a variety of other items such as pastries, cookies, and other treats. This allows customers to have a one-stop-shop for all of their baking needs. Also, the trailers often feature interesting decorations, displays, and other features that add to the experience.
3. portable bakery trailers are much less expensive
Finally, portable bakery trailers are often much less expensive than traditional storefront bakeries. This makes them a great option for those who are looking to start a business but don't have the funds to open a full bakery. They also offer a great way for existing bakeries to expand their reach by bringing their products to different areas.
In short, portable bakery trailers are becoming increasingly popular due to their convenience and unique experience. They are a great way for customers to get freshly baked bread without having to travel to a store. Also, they allow bakeries to provide their products to a wider area. They also offer an affordable option for those looking to start their own business. All of these factors make mobile bakery trailers a great option for those looking for a unique way to enjoy freshly baked bread.
Find Reliable Bakery Food Trailer From Camp
Are you searching for a mobile bakery food trailer for sale right now? You have come to the right place. As an experienced bakery trailer manufacturer and exporter, Camp not only provides customers with standard bakery trailers, but also customized bakery trailers. We can help to customize the color, style, shape, and auxiliary equipment. In that way, customers can get the perfect portable bakery trailers for sale they want from our company. We not only provide tough quality bread trailers for sale, but also professional services from pre-sale to after-sale. Besides, we can provide the certificates and help customers to get the necessary documents. In a word, choosing Camp bakery trailers for sale can save you from worries.    
Looking to start a mobile bread trailer business? act today! Just leave us a message now and take advantage of our amazing deals on mobile bakery trailers! Our sales will reply in 24 hours! Get in touch with us today and start your journey to owning your very own mobile bakery trailer!
Please Leave A Message In The Form Below