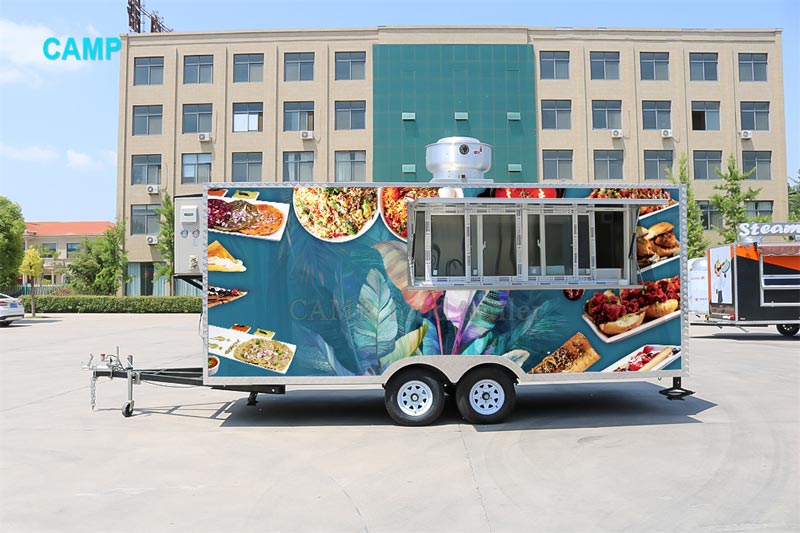 Tips: We can manufacture a similar 16ft snack bar trailer like the above, or customize one according to your specific requirements. For example, you can choose the size, color, shape, graphics kitchen equipment, etc. Just leave a message to tell us about your ideas!
This is a customized 16ft snack bar trailer we have manufactured for one of our American customers.  As a factory integrating production and design, Camp Industrial Co., Ltd. provides custom-made snack bar trailers for sale at factory prices. Please feel free to contact us.
Model: FS500
Body size: 5000*2000*2000mm,
Usage: snack bar trailer, hot dog trailer, fried chicken trailer, donuts trailer, barbecue trailer, juice bar trailer, crepe trailer, burger trailer, kebab truck etc. 
| | | |
| --- | --- | --- |
| Quantity(Units) | 1 | >1 |
| Est. Time(Days) | 30 | To be negotiated |
This beautiful 16ft snack bar trailer was built for one of our American customers. As you can see, we have decorated the exterior of the snack trailer according to the customer's requirements. Inside the snack bar trailer, there are plenty of work tables and shelving space. That allows multiple staff to work inside. Also, you can modify it to add a pantry or storage room, if needed. Besides the work tables and shelving, we have equipped the snack trailer with various kitchen equipment. As you can see, the kitchen equipment mainly includes four sinks, a deep fryer, a stove, a range hood, etc. With these kitchen equipment, our customer will be able to supply many kinds of snacks.
Camp 16ft Snack Bar Trailer Display Video
Welcome to see this display video of our 16ft snack bar trailer! 
As the camera pans over the exterior, admire the eye-catching design, unique branding, and vibrant colors that make our Snack Bar Trailer stand out in any crowd. Whether you're at a bustling festival, a vibrant fair, or an exciting sporting event, this trailer is a true attention magnet.
Then, we invite you inside the trailer, where you'll discover a fully equipped kitchenette that boasts state-of-the-art appliances and ample workspace. Witness the innovative layout, optimized for efficiency and convenience, allowing you to effortlessly prepare and serve mouthwatering treats.
Be inspired by this display video as it showcases the endless possibilities of mobile food service. Imagine yourself behind the counter, delighting customers with your own culinary creations. Get ready to embark on an exciting journey of taste and success.
We can build a similar snack trailer for sale, or we can customize a snack trailer according to your needs and budget. Generally speaking, we can manufacture custom snack bar trailers for sale ranging from 10ft to 36ft. Also, we can create a beautiful design and install graphics or a wrap to make sure your snack bar trailer stands out from the crowd. Therefore, don't hesitate to contact us now, you can rely on us!
Some Of Our Snack Bar Trailer Cases
The following are some of the snack bar trailer we have manufactured for our customers. As a matter of fact, we can provides customers snack bar trailers with the size range from 10ft to 36ft. We provide both standard snack bar trialers and custom snack bar trailers. You can choose the size, color and graphic design et. Welcome to contact us to customize you food trailer!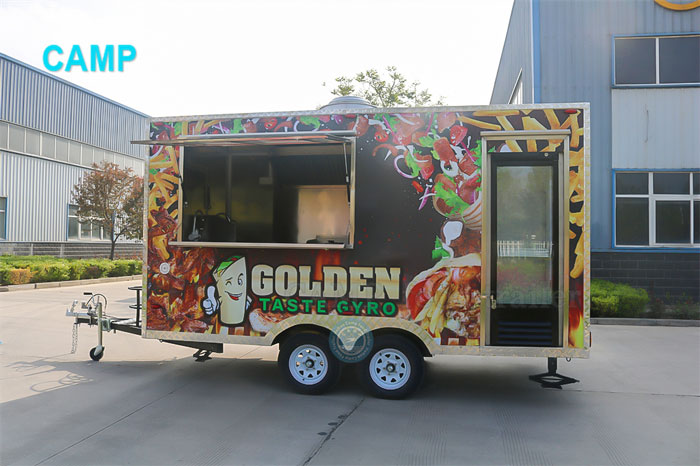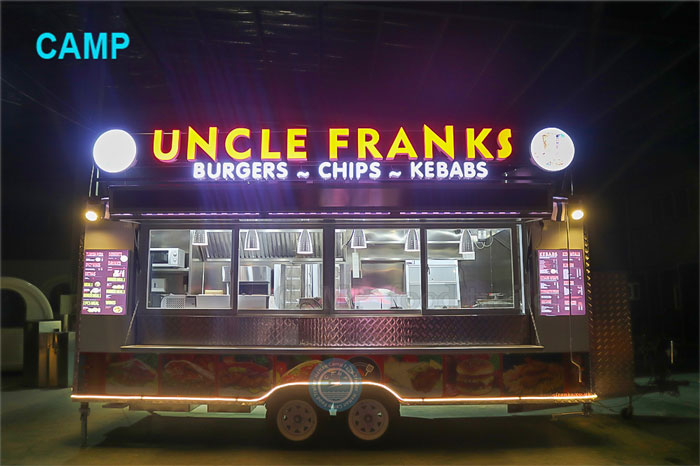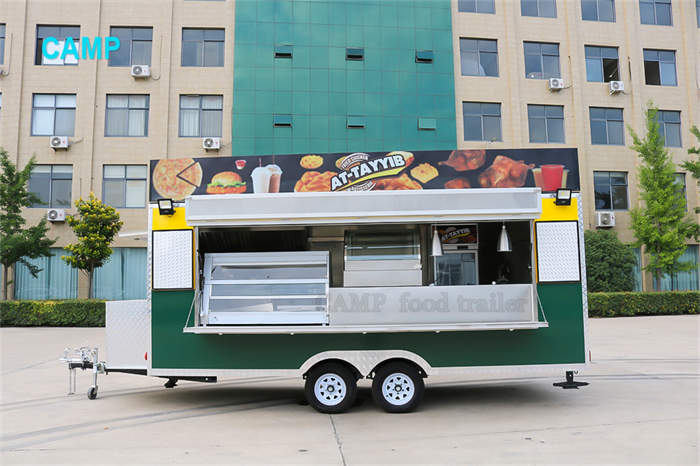 Why Choose Our Snack Bar Trailers For Sale?
Versatility: Our snack bar trailers for sale are customizable. Specifically, we can customize the size, body color, stickers, signage, and kitchen equipment of the food trailer. That means, we allow you to create a unique space tailored to your culinary creations. Whether you're selling mouthwatering burgers, crispy fries, or indulgent desserts, these trailers can accommodate it all.
Mobility: Take your business on the road! Our snack bar trailers for sale are equipped with wheels, making it easy to set up shop wherever the hungry crowd may be. From bustling city streets to local festivals, the possibilities are endless.
Eye-Catching Design: Stand out from the competition with our stylish snack bar trailers for sale. Designed to attract attention, these trailers boast a sleek exterior that will leave a lasting impression on potential customers.
Ample Storage Space: We will design the layout of the mobile snack trailer reasonably. Especially, our snack bar trailers for sale are designed to maximize space, ensuring you have all the essential ingredients and supplies right at your fingertips.
Quick and Efficient Operations: Time is money, especially in the food industry. For this purpose, we can equip snack bar trailers for sale with state-of-the-art equipment, allowing you to serve up delicious treats without compromising on efficiency.
Why People Choose To Run A Mobile Snack Trailer
Low Start-Up Costs: Starting a brick-and-mortar restaurant can be a costly endeavor. On the contrary, mobile snack bar trailers offer a more affordable alternative, allowing you to pursue your passion without breaking the bank.
Flexibility: With a mobile snack trailer, you have the freedom to choose your own working hours and locations. Whether you want to operate during peak lunch hours or set up at local events, the choice is yours.
Direct Customer Interaction: mobile snack bar trailers offer a unique opportunity for direct engagement with your customers. For example, build relationships, receive immediate feedback, and create a loyal customer base that keeps coming back for more.
Don't let your culinary dreams remain just dreams. Now, invest in a mobile snack trailer today and embark on an exciting journey as a food entrepreneur. The possibilities are endless, and our team is here to guide you every step of the way. Get ready to serve up delectable dishes and make your mark in the food industry with our top-of-the-line snack bar trailers. So, what are you waiting for? Contact us today and let's make your food business dreams a reality!
How To Run A Successful Snack Bar Trailer
Running a successful snack bar trailer takes planning, hard work, and a few key strategies.
Choose A High-Traffic Location. First, do your research and choose a high-traffic location for your trailer, such as a busy event or downtown area.
Create A Unique Menu. Next, create a unique menu with popular and in-demand items, and consider offering special deals or promotions. It's important to have a well-stocked inventory and keep track of your expenses to ensure profitability.
Good Customer Service. Good customer service is crucial, so hire friendly and efficient staff and provide them with proper training.
Promote Your Snack Bar Trailer. In addition, promote your snack bar trailer through social media, word of mouth, and by partnering with local businesses.
Strive For Quality. Constantly evaluate and adapt your operation to meet customer preferences and market trends. And most importantly, always strive for quality and consistency to keep customers coming back for more.
With these tips and a lot of hard work, you can run a successful snack bar trailer and satisfy hungry customers everywhere.
Camp Is A Good Partner For Food Trailer
At Camp, we are dedicated to crafting custom snack trailers that not only meet your specific needs but also exude a captivating allure both inside and out. What's more, our expertise lies in creating custom designs that make each trailer a true masterpiece in its own right. Now, discover the perfect blend of functionality and aesthetic appeal with our uniquely tailored snack trailers!
When it comes to creating a personalized mobile snack cart trailer, the key is to prioritize your unique requirements and financial capabilities. We are experienced in assisting clients in maximizing the utility of their trailers, ensuring that your building process is both easy and gratifying.
Camp offers various lengths in custom snack bar trailers from 10 ft small snack trailer for sale to 36 ft large snack bar food truck. Any size can be fit for a mobile snack cart trailer. Besides, we offer the highest quality, stainless steel, and name brand kitchen equipment, ensuring you won't be replacing them any time soon and that they will be easy to clean. Also, we provide equipment that meet safety and sanitation requirements for the food industry.
Here are some of the equipment options available for your custom snack trailer: deep fryer, freezer, griddle, oven, refrigerator, sinks,  beverage machine, storage areas, and workspace tables.
All you need is to decide your custom snack bar trailer size and your kitchen equipment. After that, our team of designers will collaborate with you to identify the most optimal placement that suits your needs. Then, just leave the rest to us and we'll take care of everything else.
At Camp, our top priority is our customers. Besides, we are dedicated to ensuring that your experience with us is as effortless as can be, with your utmost contentment in mind. Therefore, if you are looking for a mobile snack cart trailer for sale or a snack trailer company, don't hesitate to contact us now! Just leave a message in the form below, and our sales will reply within 24 hours!
Please Leave A Message In The Form Below