Lunch trailers for sale are  mobile food stall used for selling meals or snacks to customers. It's a popular option for street vendors, caterers, mobile business owners, and anyone looking for a convenient way to serve meals. With a lunch trailer, you can take your business anywhere, bringing your meals to customers wherever they may be. Here at Henan Camp, there are many types for your selection, read ahead and find the right one for your project!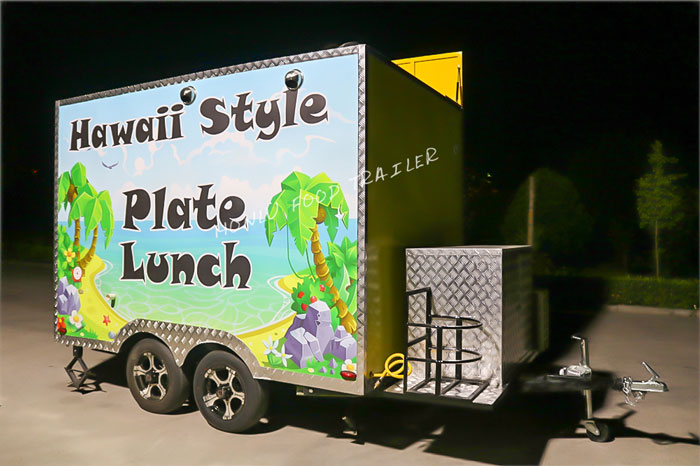 Tips: We can manufacture a similar trailer like the above, or customize one according to your specific requirements. For example, you can choose the size, body color, shape, graphics and kitchen equipment, etc. Just leave a message to tell us about your ideas!
This is a customized 10ft lunch trailer we have manufactured for one of our American customers.  As a professional food trailer manufacturer and exporter, Henan Camp Industrial Co., Ltd. provides custom-made food trailers for sale at factory prices. Please feel free to contact us.
Model: FS300
Body size: 3000*2000*2000mm
Usage:  lunch trailer or other food trailer, whatever your like.
| | | |
| --- | --- | --- |
| Quantity(Units) | 1 | >1 |
| Est. Time(Days) | 30 | To be negotiated |
Introducing Our Hawaiian Style Lunch Trailer
Here at Henan Camp, we specialize in lunch trailers. These lunch trailers come complete with a full kitchen, including, sinks, work table, overhead lights, air conditioner, gas stove, range hood, and more. They are sturdy, and can be customized to your needs. With a bright, cheerful tropical design, these lunch trailers will turn heads and draw attention wherever it goes. The following is a 10ft little lunch trailer we have manufactured for one of our American customers. Just read on and you will learn more relevant information.
We can see that the exterior of the lunch trailer is decorated with tropical-style stickers, which looks vibrant and inviting. The interior of this trailer has a compact and reasonable layout. Though this is a small size trailer, it is equipped with work tables, sinks, air conditioners, and gas stoves, which are enough for our customers to provide meals for diners. In the following, you will get to know this lunch trailer more intuitively through a video.
See more details through this lunch trailer video
This is a customized 3M Hawaii-style square food trailer. The whole vehicle adopts stainless steel body. It can be applied for selling anything from hot dogs, retail operations, flower operations, sandwiches, coffee, ice cream, etc.
The Benefits of Operating a Lunch Trailer
Running a lunch trailer offers many benefits.
Relatively Low Risk Venture
Firstly, it is a relatively low risk venture. Along with no storefront, there is no need for expensive furniture or signage. Furthermore, the overhead costs associated with running a trailer are minimal. Also, upkeep is less expensive than for a tangible restaurant.
Target Multiple Markets
Secondly, a trailer offers the ability to capitalize on location and a wide array of customers. With the mobility that a trailer provides, business can target multiple markets, which increases possible revenue.
Increase Your Business' Visibility
Thirdly, operating a lunch trailer has the potential to increase your business' visibility and gain brand recognition. By attending different events, and even traveling to different cities, you can spread the word about your business and keep people talking.
Highly Rewarding
Finally, the actual running of a trailer is highly rewarding. With the semi-autonomous nature of a trailer business, owners can work a flexible schedule. In addition, they have the satisfaction of providing an important service to their community. Therefore, owners of lunch trailers enjoy both the rewards of business and the satisfaction of serving the public.
Things To Consider Before Investing Lunch Trailers For Sale
Running a lunch trailer may sound quite tempting, yet there are many things to consider before investing a lunch trailer.
Calculate The Cost
First of all, it's important to calculate the cost. There are many variables that can affect the price of a lunch trailer, such as its size, features, appliances and any necessary renovations. Moreover, you'll also need to factor in the cost for any required licensing, permits and insurance coverage. Once you have this information, you can then set your budget and determine what type of lunch trailer you can afford.
Take The Time To Research
Then, you should also take the time to research the food vendors in your area. It is important to find out where your competitors are located, so you can determine the best place to park your trailer. Moreover, you may also want to consider incorporating popular menu items from local restaurants to gain an edge on the competition.
How To Market Your Business
Finally, you should also consider how you plan to market your business. Developing a strategy for advertising and promotions will help you generate a steady stream of customers. Moreover, be sure you have identified the best channels for reaching your target market, whether it be in print, online, radio or TV.
In conclusion, there are many factors to take into consideration when investing in a lunch trailer. Doing your research will help ensure you make the right decisions for your business. Moreover, it's important to calculate the cost, choose the most appropriate trailer, research the local competition and develop an effective marketing strategy. Investing time to plan your business properly can go a long way to get your lunch trailer up and running.
At Camp, our sales and engineers can give you useful advice. We can provide custom made lunch trailers for sale to meet your specific demand. Here, there are somethings you can tell us.
What is the plan for your lunch trailer?
Which size are you preferred?
What shape of lunch trailer you want?
What kind of food you wan to sell?
Where you want the food trailer be used?
Do you want a fully equipped food trailer?
If you can tell us in detail about the above questions, our salesman will give you professional advice for your project, he will help you do a smart and cost-saving investment. And what is worth being mentioned is that if you meet any problems, we will be online. Please remember, no matter you have bought our machine, or haven't bought our machine, we are here ready to serve you!
Our Certificate Qualification
Our food trailers have various types of certificates, such as CE certificate, ISO9001 certificate, COC, DOT, vehicle identification code. Also, in some areas where there are requirements for chassis and accessories, we will provide corresponding certificates to ensure that customers can use our products without worries.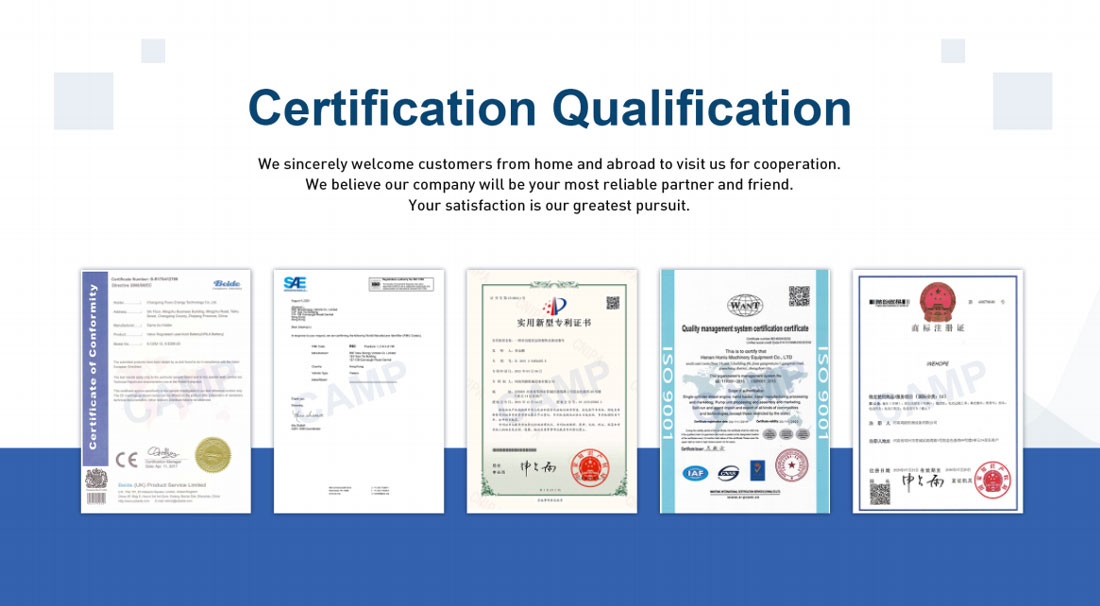 Q1. Are you manufacturer?
A1. yes, OEM,we are manufacturer with our own workshop;
Q2. What is MOQ?
A2. No matter which model 1set is our MOQ.
Q3. Do your products meet our country's standards?
A3. All our trailer will be made according to different countries standard,  including wires, taillight, outlet, sinks etc. Our trailer has British style, American style, European style, and Australian style etc. Also, the trailer will be tested on road before delivery.
Q4. Can the size, appearance and color of your food trailer be customized?
A4.Yes, all of them can be customized according to your requirements.
Q5. What kinds of kitchen equipment are available?
A5.Many kinds, such as fryers, ovens, refrigerators etc. Please contact us to get kitchen equipment.
Henan Camp industrial Co., Ltd is a professional food trailer manufacturer and exporter. If you choose us, we will provide one stop service from drawing design to fully equip the lunch trailer. Our products have CE, ISO9001, DOT, COC and other certifications. If you have other requirements, just tell us. In the following, you can see our company profile video on Youtube. To see more of our food trailer videos, you can visit our Youtube channel:
https://www.youtube.com/@CampFoodTrailer
. Our food trailers have been exported to countries such as North America: The United States, Canada, Puerto Rico, French Polynesia, Saint Kitts and Nevis, Curacao. Oceania: Australia, New Zealand. Europe: UK, France, Malta, Sweden, Slovenia, Italy, Germany, Switzerland. Asia: Georgia, Singapore, Thailand, Bahrain. Africa: Libya, Benin, Kenya etc. Many customers speak highly of our food trailers.  If you are interested in our lunch trailers for sale. Welcome to contact us now! Just leave a message in the form bellow, we will reply in 24 hours!
Please Leave A Message In The Form Below