Food Trailer with Awning for Sale
Are you searching for a great food trailer with awning for sale near me? You've come to the right place! A food trailer with awning is a mobile restaurant on wheels with a retractable cover providing shade and shelter for customers. We offer a wide variety of food trailers with awning to meet your exact needs. Not only do we have the latest and greatest of food trailer models, but our trailers are durable, reliable, and built to last. Just read head and find the right one for your project!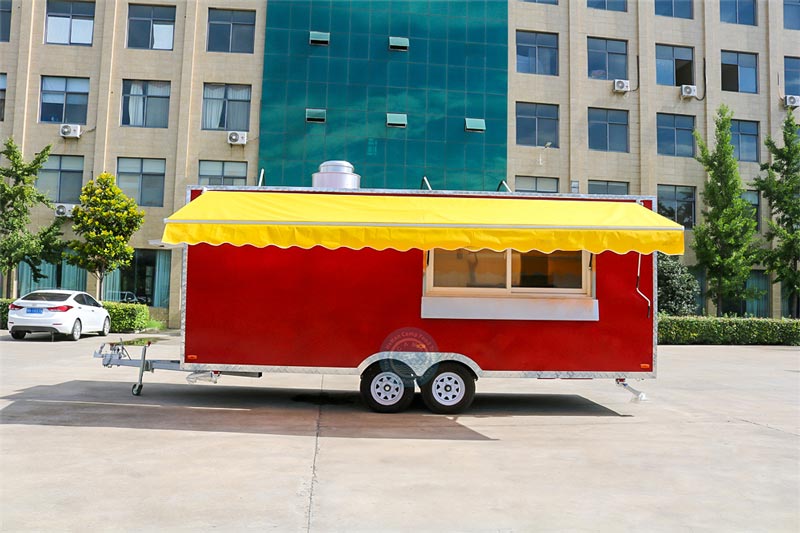 Tips: We can manufacture a similar trailer like the above, or customize one according to your specific requirements. For example, you can choose the size, body color, shape, graphics and kitchen equipment, etc. Just leave a message to tell us about your ideas!
This is a customized 18ft food trailer with awning we have manufactured for one of our American customers.  As a professional food trailer manufacturer and exporter, Henan Camp Industrial Co., Ltd. provides custom-made food trailers for sale at factory prices. Please feel free to contact us.
Model: FS850
Body size: 85000*2000*2000mm
Usage:  food trailer selling whatever you like.
| | | |
| --- | --- | --- |
| Quantity(Units) | 1 | >1 |
| Est. Time(Days) | 30 | To be negotiated |
Introducing Our Food Trailer with Awning For Sale
At our website, we are proud to offer top-of-the-line food trailer with awning for sale. Whether you're setting up shop for events and festivals or just parking in a car park to serve the lunch-crowd, these trailers offer various advantages that make them the perfect mobile kitchen solution.
Here at Henan Camp, we specialize in food truck with awning. These trailers come complete with a full kitchen, including sinks, work table, overhead lights, air conditioner, gas stove, range hood, and more. They are sturdy, and can be customized to your needs. With a bright, cheerful tropical design, these food trailers with awning will turn heads and draw attention wherever it goes. The following is a 28ft food trailer with awning we have manufactured for one of our American customers. Just read on and you will learn more relevant information.
See more details of this food trailer with awning through video
In this video, you can see the exterior and interior of this 18ft food trailer with awning. This video provides an in-depth look at a top-of-the-line food trailer with awning. It showcases all of the amazing features included with this stunning 18ft trailer. It starts off by displaying the overall design and look of the exterior which has been meticulously crafted to exude style and practicality, with a double-white fiberglass exterior finish. You will then be guided around the interior of the trailer, which is thoughtfully designed and appointed with all the best features and amenities. This includes stellar storage capabilities, a commercial-grade kitchen, running water, and a large awning which provides plenty of shade space. To see more of our food trailer videos, you can visit our Youtube channel:
https://www.youtube.com/@CampFoodTrailer
.
Why You Should Consider A Food Trailer With Awning
Awnings can provide numerous benefits for food trailer owners and their customers.
Provide Shelter
Firstly, an awning can provide shelter from the elements. Rain, snow, and extreme temperatures can make it uncomfortable and potentially dangerous for customers to access food trailers. Installing an awning can make it easier and more comfortable for customers to purchase their food. Secondly, an awning will protect both the food trailer and its customers from the sun's harmful UV rays. Customers can shelter under the awning while they wait for their food safely.
Draw More Attention
Secondly, an awning can also help food trailer owners to draw further attention to their business. An attractive, branded awning can make a food trailer stand out from the crowd. It can be an effective way to differentiate the business from its competitors and attract more customers. Food trailers with awnings tend to be a big crowd pleaser. Customers will appreciate being able to order their favorite food from an accommodating and inviting space with an awning protecting them from the weather. Furthermore, an awning can provide a variety of advertising opportunities. Food trailer owners can incorporate their logo, branding, and other advertising messages onto the fabric of the awning.
Expand The Usable Area
Thirdly, an awning can offer functional benefits for the food trailer itself. Awnings can expand the usable area of the trailer, creating more space for customers to congregate. Consequently, food trailer owners will be able to increase their customer capacity. Similarly, awnings can provide privacy and security for food trailer owners when they are not open for business.
Wide Range Of Customization Options
Finally, awnings offer a wide range of customization options. Food trailer owners have the ability to choose from a variety of colors and designs to match their unique concepts. They can also select lightweight fabrics that are durable and long-lasting.
In summary, awnings offer countless advantages to food trailer owners and their customers. From improving customer comfort and protecting from the elements to creating advertising opportunities and increasing usable space, awnings can provide a wealth of benefits. As a result, food trailer owners should strongly consider investing in an awning for their business.
Application Of food trailer with awning
These trailers can be used in selling Cupcake, Salad, Sandwich, Waffle, Hot dog, Burger, Bread, Pasta, Pizza, Crepe, Potato chip, Roasted sweet potato, Rried chicken, Bento, Sushi, Ice cream, Ice cream roll, Cold drinks, Juice, Coffee, Kebab, Barbecue etc.
Our Certificate Qualification
Our food trailers with awning have various types of certificates, such as CE certificate, ISO9001 certificate, COC, DOT, vehicle identification code. Also, in some areas where there are requirements for chassis and accessories, we will provide corresponding certificates to ensure that customers can use our products without worries.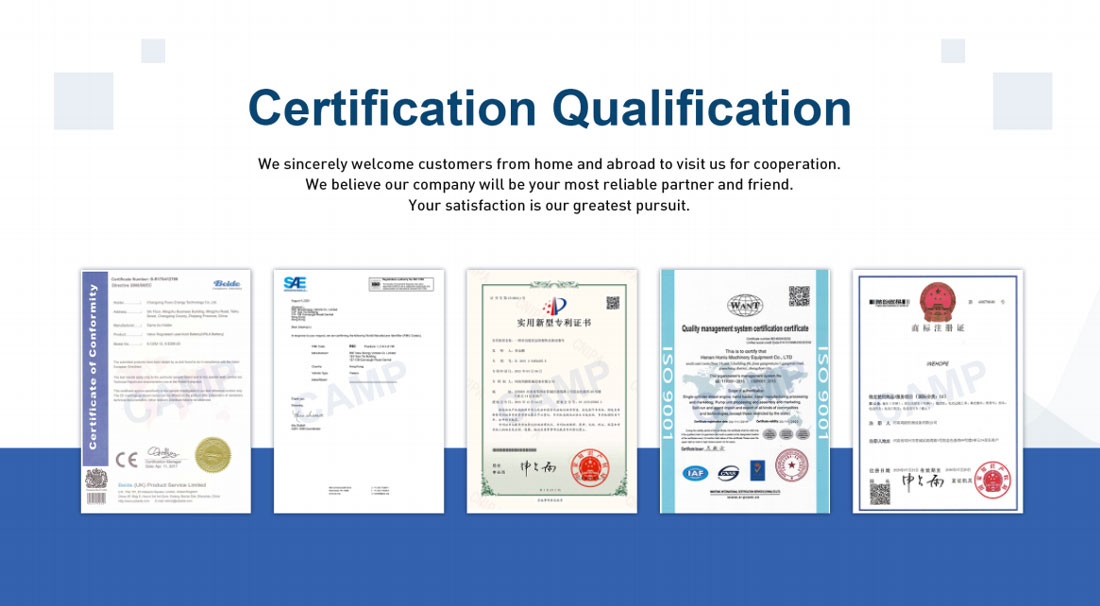 Q1. Are you manufacturer?
A1. yes, OEM,we are manufacturer with our own workshop;
Q2. What is MOQ?
A2. No matter which model 1set is our MOQ.
Q3. Do your products meet our country's standards?
A3. All our food trailers will be made according to different countries' standard,  including wires, taillight, outlet, sinks etc. Our trailer has British style, American style, European style, Australian style etc. Also, the trailer will be tested on the road before delivery.
Q4. Can the size, appearance, and color of your food trailer be customized?
A4.Yes, all of them can be customized according to your requirements.
Q5. What kinds of kitchen equipment are available?
A5.Many kinds, such as fryers, ovens, refrigerators etc. Please contact us to get kitchen equipment.
Henan Camp industrial Co., Ltd is a professional food trailer manufacturer and exporter. If you choose us, we will provide one stop service from drawing design to fully equip the food trailer with awning. Our products have CE, ISO9001, DOT, COC, and other certifications. If you have other requirements, just tell us.
In the following, you can see our company profile video on Youtube. 
Our food trailers have been exported to countries such as North America: The United States, Canada, Puerto Rico, French Polynesia, Saint Kitts and Nevis, Curacao. Oceania: Australia, New Zealand. Europe: UK, France, Malta, Sweden, Slovenia, Italy, Germany, Switzerland. Asia: Georgia, Singapore, Thailand, Bahrain. Africa: Libya, Benin, Kenya etc. Many customers speak highly of our food trailers.  If you are interested in our food trailers with awning for sale. Welcome to contact us now! Just leave a message in the form bellow, we will reply in 24 hours!
Please Leave A Message In The Form Below