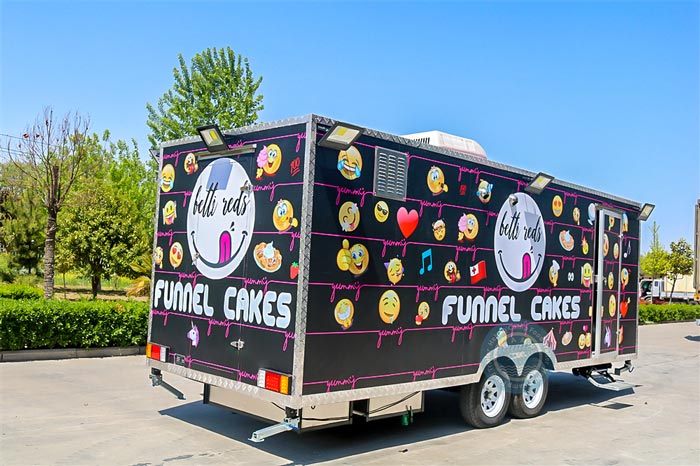 Tips: We can manufacture a similar dessert food trailer like the above, or customize one according to your specific requirements. For example, you can choose the size, color, shape, graphics kitchen equipment, etc. Just leave a message to tell us about your ideas!
Dessert Food Trailer For Sale
This is a customized 18.7ft dessert food trailer we have manufactured for one of our American customers.  As a factory integrating production and design, Camp Industrial Co., Ltd. provides custom-made dessert food trailers for sale at factory prices. Please feel free to contact us.
Model: FS570
Body size: 5700*2000*2000mm,
Usage:  bread trailer, ice cream trailer, cookies trailer, donuts trailer, cupcakes trailer, waffles trailer, pretzels trailer, pudding trailer etc. 
| | | |
| --- | --- | --- |
| Quantity(Units) | 1 | >1 |
| Est. Time(Days) | 30 | To be negotiated |
We have manufactured this 18.7ft dessert food trailer for one of our American customer. As we can see from the pictures, it is a fully equipped dessert trailer. What's more, we've decorated the outside of this dessert food trailer with stickers our customer loves.
Inside the dessert trailer, you'll find an abundance of work tables and shelves. That provides ample room for multiple staff members to work efficiently. Additionally, there are some sinks, socket, switch, range hood, air conditioner, and even a toilet.
If you want a similar dessert food trailer for sale, we can manufacture it for you. Or, if you prefer a customized build tailored to your budget and requirements, we can make it. Look no further! Take the first step towards turning your dream into reality by contacting us today!
Are you looking for a dessert trailer for running your own business? Look no further! Our dessert trailers for sale are the perfect solution for aspiring food entrepreneurs who want to hit the ground running. What's more, with their sleek design and endless possibilities, these trailers are bound to be a crowd-pleaser.
Camp Is A Good Partner For Food Trailer
At Camp, we are dedicated to crafting custom dessert food trailers that not only meet your specific needs but also exude a captivating allure both inside and out. What's more, our expertise lies in creating custom designs that make each trailer a true masterpiece in its own right. Now, discover the perfect blend of functionality and aesthetic appeal with our uniquely tailored dessert food trailers!
When it comes to creating a personalized mobile dessert food trailer, the key is to prioritize your unique requirements and financial capabilities. We are experienced in assisting clients in maximizing the utility of their trailers, ensuring that your building process is both easy and gratifying.
Camp offers various lengths in custom dessert food trailers from 10 ft small dessert trailer for sale to 36 ft large dessert food truck. Any size can be fit for a mobile dessert food trailer. Besides, we offer the highest quality, stainless steel, and name brand kitchen equipment, ensuring you won't be replacing them any time soon and that they will be easy to clean. Also, we provide equipment that meet safety and sanitation requirements for the food industry.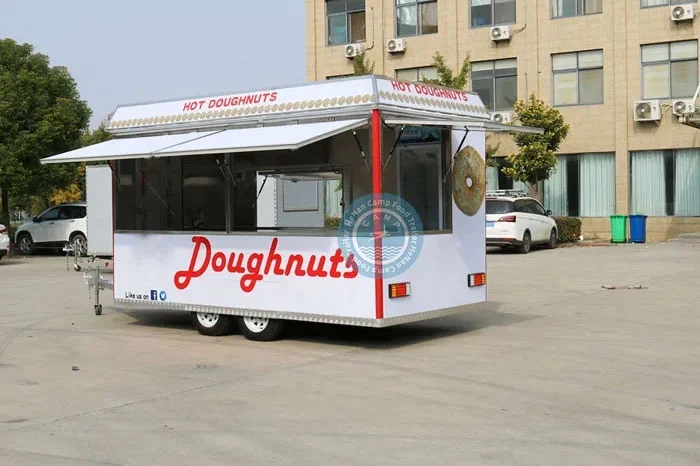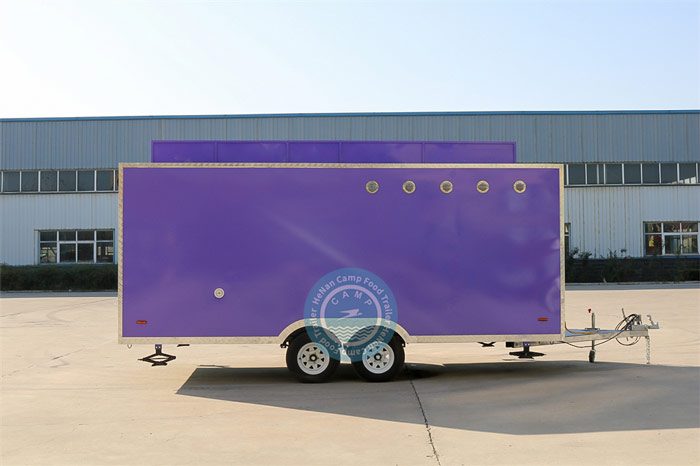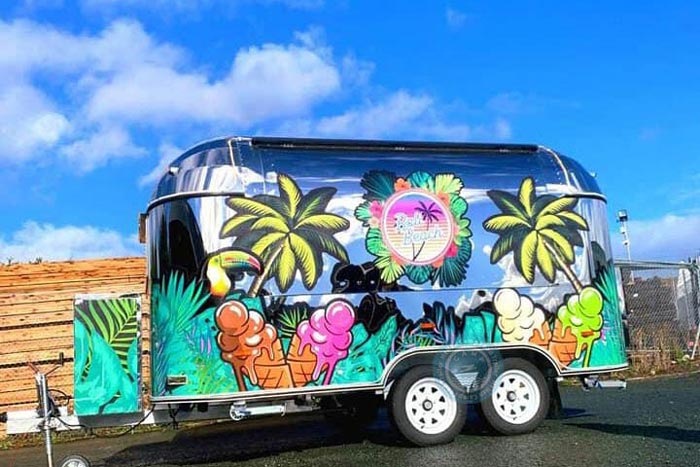 A dessert food trailer is a mobile culinary establishment that specializes in serving delectable sweet treats. Equipped with the necessary tools and equipment, these dessert trailers offer a wide variety of desserts to satisfy your cravings. From classic favorites like ice cream and cupcakes to trendy delicacies such as macarons and gourmet milkshakes. Whether it's a music festival, a local fair, or a neighborhood gathering, these vibrant dessert trailers bring joy and delight to dessert enthusiasts. With their eye-catching designs and inviting aromas, dessert food trailers provide a unique and convenient way to indulge in your favorite sugary delights.
In the world of culinary delights, there is a fascinating concept known as a dessert food trailer. Imagine a charming, mobile eatery filled with tantalizing treats that cater specifically to your sweet tooth. These appealing dessert trailers, adorned with vibrant colors and captivating designs, roam the streets and bring joy to dessert enthusiasts wherever they go.
 From sinfully rich chocolate creations to mouthwatering fruity delights, these trailers offer a delightful array of treats to satisfy all your sugary cravings.
Approaching a dessert food trailer, you will be transported into a world of confectionery wonders. The air is filled with the sweet aroma of freshly baked pastries, the sound of soft music playing in the background, and the sight of colorful displays showcasing an assortment of desserts that will make your heart skip a beat.
Indulge your senses with classic favorites such as velvety cheesecakes, flaky pastries, and creamy ice creams, all crafted with love and attention to detail. But that's not all — dessert food trailers also embrace innovation and creativity, offering unique twists on traditional favorites. Imagine devouring a decadent red velvet waffle sandwich filled with luscious cream cheese frosting or savoring a gourmet ice cream taco with a crispy, cinnamon-sugar shell.
Not only are dessert food trailers a feast for the taste buds, but they also offer a visually stunning experience. These enchanting dessert trailers are often adorned with eye-catching decorations, turning each visit into a delight for the eyes as well. Whether you're a fan of vibrant, whimsical designs or elegant, minimalist aesthetics, dessert food trailers have something to cater to every style and preference.
One of the most exciting aspects of a dessert food trailer is their ability to surprise and delight customers with ever-changing menus. Chefs and bakers often experiment with seasonal ingredients, thematic creations, and unique flavor combinations, ensuring that each visit is a new and exciting adventure.
Is A Dessert Food trailer Profitable?
When it comes to starting a food business, dessert food trailers have gained popularity in recent years. From ice cream and frozen yogurt to cupcakes and pastries, these mobile eateries have become a common sight at festivals, events, and even on street corners. But the question remains: is a dessert food trailer a profitable venture?
Location: The answer to this question depends on various factors. One of the primary considerations is location. Setting up your dessert trailer in a high foot traffic area, such as near parks, tourist attractions, or busy shopping districts, can greatly increase your chances of success. The more exposure and visibility your business gets, the more customers you are likely to attract.
Menu And The Quality Of Your Desserts: Additionally, the menu and the quality of your desserts play a crucial role. Offering a variety of delectable treats with unique flavors can help you stand out from the competition. Take the time to experiment with different recipes and ensure that your desserts are not only visually appealing but also delicious. Remember, word-of-mouth recommendations can be a powerful marketing tool.
Cost: Another factor to consider is the cost of operating a dessert food trailer. While it may initially seem like a more affordable option compared to a brick-and-mortar establishment, there are still expenses to take into account. These include purchasing or renting the dessert trailer itself, equipment, supplies, permits, licenses, insurance, and ongoing maintenance costs. It is essential to budget carefully and factor in all these expenses to determine the profitability of your venture.
Marketing And Promotion: Additionally, marketing and promotion are crucial for attracting customers. Utilize social media platforms, create an enticing website, and consider partnering with other businesses or participating in local food events. Building a strong online presence and engaging with potential customers can help generate interest and drive more traffic to your dessert food trailer.
Like any business, there are potential challenges and risks associated with running a dessert food trailer. Unpredictable weather conditions, seasonal fluctuations, and competition are some of the hurdles you may encounter. However, with careful planning, excellent customer service, and continuous innovation in your menu and offerings, a dessert food trailer can indeed be a profitable venture.
In conclusion, a dessert food trailer can be profitable if you strategically choose your location, offer delicious and unique desserts, carefully manage your expenses, and implement effective marketing strategies. It requires hard work, dedication, and a passion for creating sweet delights. So, if you have a love for desserts and a desire to bring joy to people's taste buds, a dessert food trailer for sale may be the sweet success story you've been dreaming of. Happy trailering!
If you are looking for a dessert trailer near me or a dessert van for sale, don't hesitate to contact us now! Just leave a message in the form below, we will reply as soon as possible. Or just add our Whatsapp now!
Please Leave A Message In The Form Below