Black food trailer refers to food trailers or food trucks that specialize in serving African-American cuisine. Therefore, these trailers typically serve soul food, barbeque, fried chicken and other traditional African-American dishes. In general, the menus often feature dishes from various African-American cultures, such as Cajun, Creole and Caribbean. As a mater of fact, black food trailers are becoming increasingly popular in urban areas. People can see these food trailers parked on the side of the road or at festivals and special events.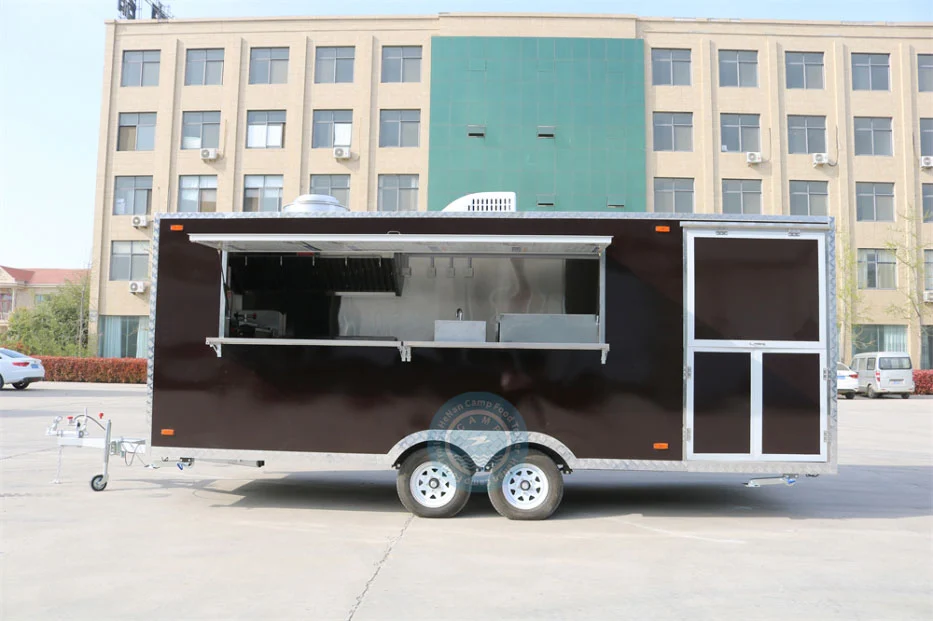 18ft black food trailer for sale
Material: stainless /galvanized steel
Inner equipment: customizable
Size: 10ft-36ft
Color: customizable
Customer Feedback Of Camp 36ft Black Food Trailer For Sale
This is a 36 ft food trailer in square shape. As we can see in the picture, it is a quite large one. The food trailer was ordered by our customer in June 2020. We sent the food trailer to our customer in September, 2020.
After receiving the food trailer, our customer added his own logo to the trailer. Then, he used it to sell BBQ, salad, French fries, fried chicken, etc. by the seaside. Our customer also used warm colored light strips to surround the food trailer, creating a pleasant and warm dining atmosphere. This food trailer has brought more customers to our customer and business is always good. Our customer was very satisfied with it and sent us the feedback pictures.

Inner Equipment Of This 36ft Large Square Food Trailer
This food trailer is equipped with frying pan, vertical refrigerator, grill, range hood grill, on-board air conditioner, salad table refrigerator, cooking stove, beverage refrigerator, insulated bathing pool, vertical commercial oven, light strip, etc.
As you can see above, Camp can provide customers with a wide list of accessories of food trailer for customers to choose. We can help you to equip your food trailer as you imagine. In a word, we not only provides customers standard configuration food trailers, but also customized food trailers.
Overview Of Camp 26ft Black Food Trailer
This is a video of a Camp 26ft black food trailer for sale. In this video, you can see the whole trailer display, the front service window, and the interior structure of this food trailer.
The interior countertop and inner wall are made of stainless steel. This trailer is perfect for catering events, festivals, and other outdoor gatherings. With its spacious design and high-quality materials, this trailer will surely be a hit at any event.
We can customize the color and size of our black square trailer. Also, we can help customers to equip the interior kitchen equipment of the food trailers. If you have specific demand, just tell us.
Video Of Camp 18ft Blue Food Trailer In Australia
This is a video of Camp 18ft square food trailer bought by one of our Australian customers. This blue food trailer has an appealing appearance.
A square food trailer is a mobile food business that is built into a box-like structure with four sides. Generally, the trailer has an open kitchen in the center and is equipped with the necessary equipment to serve customers. With its mobility, it allows food vendors to serve customers wherever they may be. Some of the more common foods served from these trailers include burgers, hot dogs, tacos, and other fast food items.
Square food trailers are also becoming increasingly popular for serving gourmet food, such as artisan pizzas, grilled cheese sandwiches, and salads. They are also becoming more common at festivals and outdoor events, providing a convenient and affordable way for vendors to serve their products.
The square food trailer in this video is a customized one. We can customize the size, color, and shape of the square food concession trailer according to your actual demand.
Just tell us your specific demand for your food trailer, we can provide the one you like.
Interior Structure of A Black Food Trailer
The interior structure of a black food trailer will vary depending on the type of business you are running. In general, the kitchen area is the heart of the black food trailer and will typically include a sink, a stove, a refrigerator, a freezer, and storage for food and supplies. Depending on the type of food you are cooking, you may also need additional equipment such as a deep fryer, a griddle, or a flat top grill. The following are some parts of a black square trailer.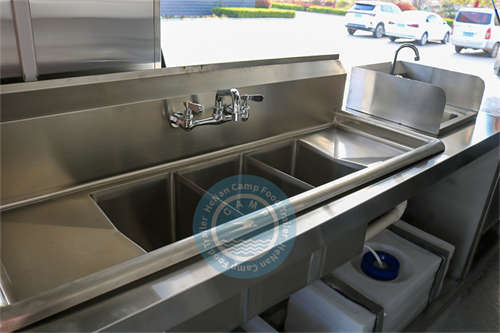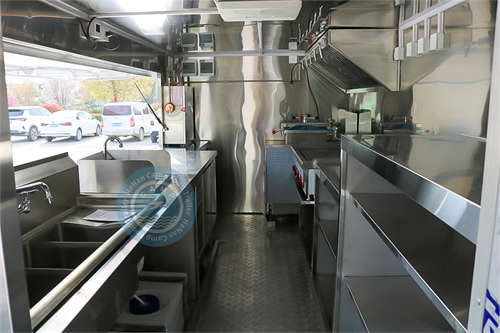 We Offer Customized Black Food Trailers For Sale
If you are interested in running a black food trailer, Camp will be a good partner for you. With more than 10 years' manufacture and export experience, Camp is a black concession trailer vendor you can rely on.
Benefits of Buying Camp Black Food Trailer
1. Professional Technical And Service Team Support
Camp takes pride in the quality of our black square food trailers. We manufacture each product with the utmost care and attention to detail in our own factory. Our company welcomes any form of inspection and offers support video viewing, as well as allowing customers to get an up-close look at our production process. In a word, we can guarantee that our food vending trailers will be long-lasting and reliable.
2. We Have Various Types Of Certificates For Customers
At our company, we supply CE and ISO9001 certificates, as well as the Vehicle Identification Code. In addition, for areas requiring certifications for chassis and accessories, we guarantee that you will receive the documents needed to guarantee you can use our products without worries.
3. Meet The Standards Of Many Countries:
Camp food trailers have been exported to over 60 countries across the world. Consequently, our sales are familiar with the distinct requirements for food trailers in each region. Further more, our team of experienced sales personnel will provide the corresponding documents to you. Likewise, if you have any custom requirements, our sales will also ensure compliance with your local regulations.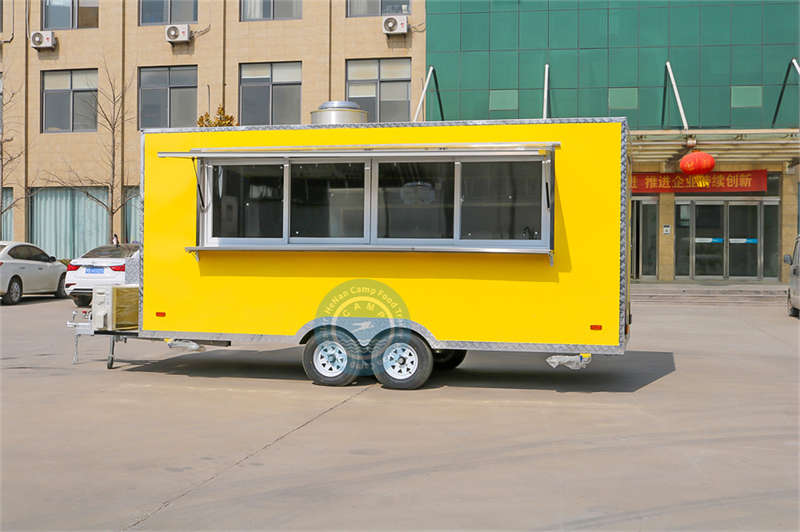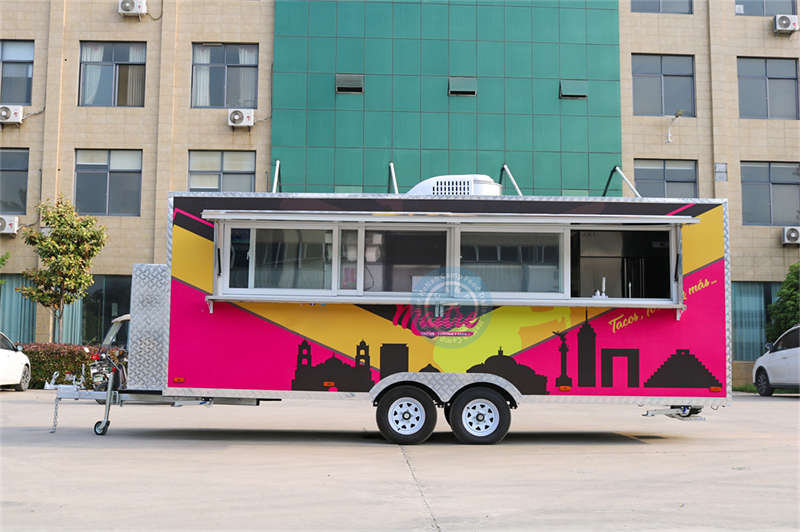 4. Many Parts Of The Black Square Food trailer Can Be Customized
At Camp, we understand that your food trailer should be as unique as your business. That's why we specialize in customizing food trailers to meet your exact specifications. As a result, we offer a wide range of options, including size, shape, color, and additional equipment, to create a mobile food trailer that fits your individual needs. Our team of experts works hard to ensure that each trailer is crafted with the highest quality materials and attention to detail. So, let us help you create the perfect food trailer for your business today!
5. Many Kinds Of Ancillary-requirements Are Available
Our ancillary equipment list include: warmer, juice dispenser, electric grill, air conditioner, electric fryer, hot dog roller, stove, sandwich grill, hot display showcase, drinks fridge, charcoal grill, gas fryer, rolling mill, mixer, range hood, gas chicken roaster, fridge, bread oven, cash register, beer dispenser, french fries warmer, manual potato tower machine, kebab grill, freezer, sealing machine, bread toaster, chicken roaster, donut ball maker, tortilla machine, stainless steel pancake machine, solid yogurt fryer, slush machine, popcorn machine, peeler machine, automatic hot dog machine, food warmer display.
Besides, all of these items can be customized to suit the size and purpose you need. If necessary, Camp is also able to provide a specialized 2D floor plan as a reference.
Development of Black Food Trailer Business
The food truck or trailer industry has been around for decades. But in recent years, a new wave of entrepreneurs has emerged—black square food trailer. From mouth-watering BBQ to vegan delights, these businesses are bringing a unique flavor to the world of mobile food.
Black food trailer offers a variety of delicious dishes. BBQ, soul food, and seafood are some of the most popular options, along with global delights like Ethiopian and Nigerian. For those looking for something a bit healthier, many of these trailers also offer vegan, vegetarian, and gluten-free dishes.
In addition to offering a variety of flavors, black food trailer is also providing a platform for culinary entrepreneurs to showcase their talents. Many restaurateurs are using black food trailers to expand their business.
These trailers have also become popular destinations for music, art, and culture. Many of these mobile businesses incorporate live performances, art exhibitions, and other events into their operations. This has made them popular hangouts for local residents and tourists alike.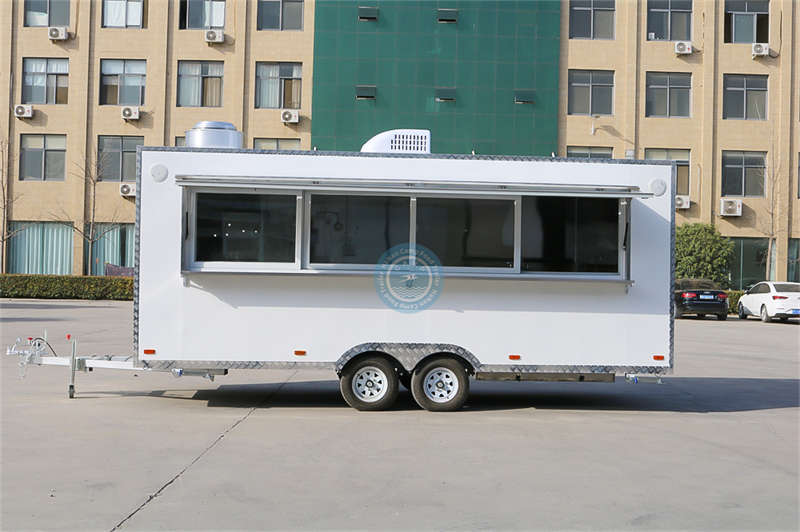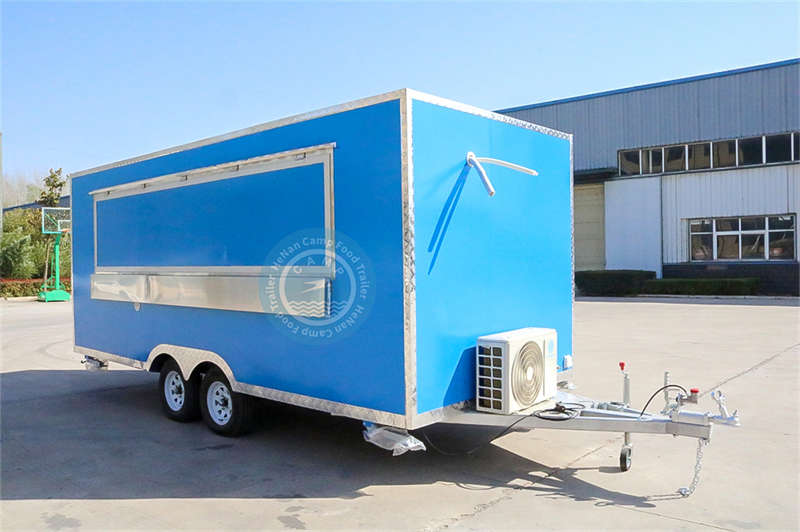 Camp Black Square Food Trailer Is A Good Choice
Black food trailer is a great way to support the community while enjoying delicious food. Whether you're looking for a unique meal or just a place to hang out, these businesses are sure to provide an unforgettable experience. So next time you're in the mood for something different, be sure to check out a black food trailer.
If you are interested in any of our black square food trailers, don't wait! Just leave a message below! Simply, tell us your contact information and a brief description of what you are searching for. We will get back to you within 24 hours! Take the first step towards your career and wealth by contacting us now!
Please Leave A Message In The Form Below