Airstream Ice Cream Trailer
Airstream ice cream trailer is a good choice for people who want to run a mobile food trailer business. Here, in Henan Camp, there are many types for your selection, read ahead and find the right one for your project!
What Henan Camp Has To Offer
As a professional food trailer manufacturer and exporter with more than 10 years experience. Henan Camp Industrial Co., Ltd provides customers ice cream trailers made of galvanized sheet or stainless steel. Among them, airstream ice cream trailers are the most popular. According to the size, we manufacture 10ft to 36ft trailers for customer's selection. Also, please remember, the standard ice cream trailers are empty. And the kitchen equipment inside the trailer will be customized according to your specific demands. If you tell us your specific requirement, we will help you to get the right one! In the following, you will see some of airstream ice cream trailers we have customized for our customers.
Airstream Ice Cream Trailer for an Canadian Customer
Last year, one of our customer from Canada bought this 13ft airstream ice cream trailer. He said, he did research, ice cream trailer is a good choice to start a business for him. Therefore, he searched on Youtube. Later, he saw our food trailer video. And he was highly attracted by our food trailer, so he contacted us. After communicating with our sales, he finally decided to buy this 13ft airstream ice cream trailer. According to his feedback, it is really a good investment. The business is very good. Now he has got great benefits from the trailer. In deed, he was very thankful to us.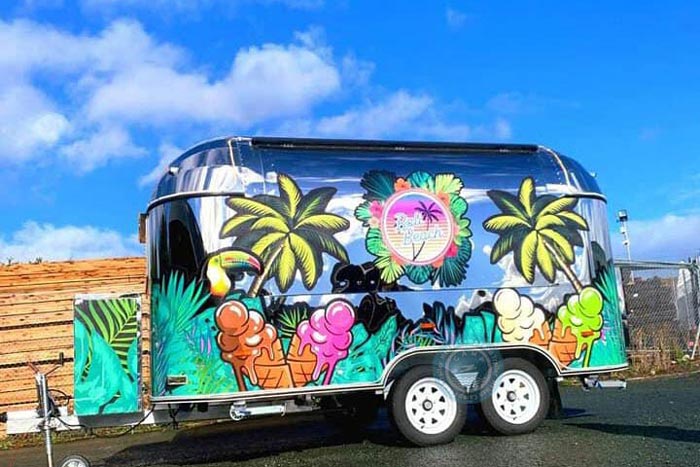 Tips: We can manufacture a similar trailer like the above, or customize one according to your specific requirements. For example, you can choose the size, color, shape, graphics and kitchen equipment, etc. Just leave a message to tell us about your ideas!
This is a customized 13ft airstream ice cream trailer we have manufactured for one of our Canadian customers.  As a professional food trailer manufacturer and exporter, Henan Camp Industrial Co., Ltd. provides custom-made ice cream airstream trailers for sale at factory prices. Please feel free to contact us.
Model: FS400
Body size: 4000*2000*2000mm
Usage: ice cream trailer or other dessert trailer, etc.
| | | |
| --- | --- | --- |
| Quantity(Units) | 1 | >1 |
| Est. Time(Days) | 30 | To be negotiated |
Ice cream is a summer favorite that everyone enjoys. It's perfect for cooling off in the summertime and for adding a little fun to any occasion. If you're looking to add a tasty, icy treat to your business or event, look no further than this airstream ice cream trailer. It's sure to make your customers happy and will be a big hit at any summer occasion.
Things You Need To Consider When You Investing An Airstream Ice Cream Trailer
A good business investment requires careful consideration. Investing in an airstream ice cream trailer is no exception. Here are some essential things to take into account when investing in an airstream for your business.
First, determine the size of the trailer. Do you want to make a big ice cream statement to attract more customers or would a smaller trailer work better? The size of the trailer depends on the specific business needs. Nevertheless, it is advisable to consider purchasing a customized trailer that will best suit your business.
Second, consider the types of flavors that you will offer. What flavors will draw the most customers? Knowing what ice cream flavors to offer will depend on the targeted audience. Of course, creamier flavors like vanilla, chocolate, or strawberry are popular, but ice cream with more unique flavors like tiramisu or cotton candy are sure to draw attention.
Third, decide on the design of the trailer. The interior and exterior should reflect the quality of the product itself. For an Airstream trailer, make sure to implement details that will make it stand out and attract customers. Some things to consider include the kind of wallpaper, accent lighting, and innovative dispense systems.
Fourth, examine the operational costs. You need to take into account the costs of purchasing the trailer, its upkeep, as well as labor costs. The best way to determine their affordability is to perform a cost-benefit analysis and evaluate the return-on-investment.
Finally, think about the best location for the trailer. The location should be highly visible and accessible for customers. Moreover, factors such as foot traffic, temperature, and type of terrain need to be taken into consideration for the most successful operation.
All things considered, a successful business needs to be closely monitored. If you are looking to make a smart investment, be sure to consider these essential points when investing in an airstream ice cream trailer for your business. Investing in the right trailer will bring your business to the top!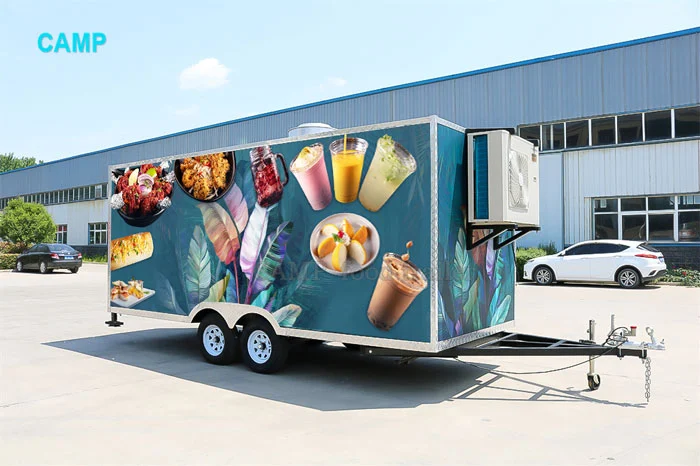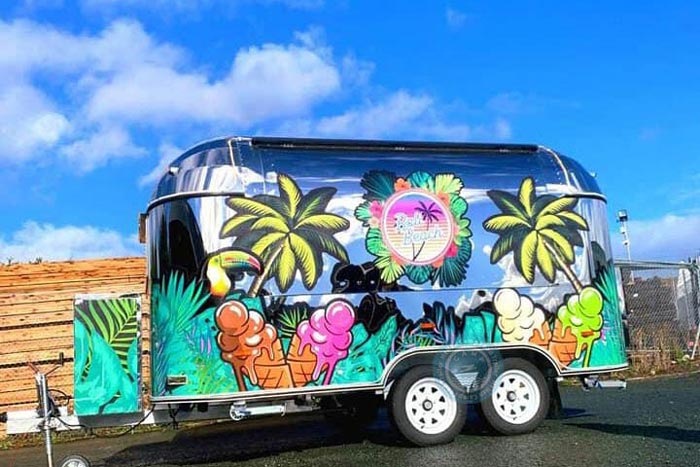 About Us - Henan Camp Food Trailer
Here, Henan Camp can give you useful suggestions and best solution. If you can tell us in detail about your considerations, our salesman will give you professional advice for your project. Generally speaking, he or she will help you do a smart and cost-saving investment. Plus, our sales will advice you the best size for your bushiness. Also, our designer will help you design the right trailer you dream of. And what is worth being mentioned is that if you meet any problems, we will be ready to help. Once our airstream ice cream trailer arrived at your destination, we will give you free technique guidance if necessary. Please remember, no matter you have bought our machine, or haven't bought our machine, we will be your side to serve you! In the following, there is a introduction video of our company, just have a look!
Why You Should Consider Our Airstream Ice Cream Trailer
First of all, our trailer is made with high quality, airstream materials that are built to last. They are durable and lightweight that will hold up to hard wear and tear. The design is stylish and eye-catching, drawing attention to your business or event. Plus, the airstream is easy to clean and maintain, so you don't have to worry about any messes.

Next, the trailer is easy to transport and maneuver. It has an easy to use hitch system, allowing you to hook it up to any vehicle with ease. Plus, it has smooth-rolling wheels and a sturdy axle that will allow you to tow it over any terrain.

Finally, this airstream ice cream trailer is affordable and great value for your money. Not only do you get a quality product, but you also get a great price. Especially for friends in the United States, United Kingdom, Canada, Australia, and New Zealand etc, our food trailer price is very competitive! Moreover, you have a wide range of options to choose from. We can customize the size and kitchen equipment according to your budget. In a word, everything we do is to help you get the perfect trailer for your business or event.
In conclusion, our airstream ice cream trailer is the perfect choice for you. It is durable and stylish. Plus, it's easy to maneuver and transport. Best of all, it's affordable and will provide you with great value for your money. Now, we have some types in stock currently on sale. Don't hesitate any more and contact us to get the latest quote! just leave a message in the form below, and we will reply in 24 hours!
Please Leave A Message In The Form Below